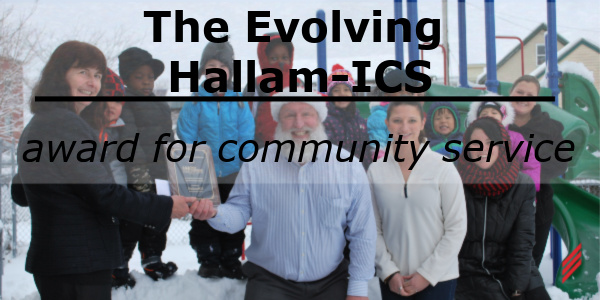 "Be the change that you wish to see in the world" – Ghandi
"How do you recognize and honor your company founder?" We were faced with this question in 2013 when Dave Hallam announced that he would be retiring from his position as Chairman of the Board. There would be gifts and celebrations, but these did not seem to fit the occasion. Then, Jeff Silcox suggested that we honor Dave by creating an award that recognizes the work of others in our communities. Perfect! Being more about giving than receiving embodied Dave and the values that he instilled in Hallam-ICS when he founded the company in 1981.
On that day, we created the Hallam-ICS Award for Community Service:
The Hallam-ICS Award for Community Service is made in honor of David Hallam, our company founder. David established social responsibility as a cornerstone of our company mission, understanding the value of giving back to the communities in which we live and work. In making this award, Hallam-ICS recognizes, supports and encourages your organization's ongoing commitment to these same ideals.
The award has been evolving ever since. In 2014, we had a small internal committee that selected four organizations, one from each region that Hallam-ICS had an office. Each organization received a plaque and a donation of $2,500. The 2014 winners were the Wrentham Food Pantry (MA), Captain Youth and Family Services (NY), City of Promise (VA), and Sara Holbrook Center (VT).
Those from Hallam who were involved in the selection and delivery of the awards were moved by the great work of these organizations and their genuine appreciativeness for receiving the award. These organizations and the people who work or volunteer their time work selflessly to help others. We were so touched by the process that in 2015, we decided to double our financial donation to $5,000 for each awardee.
Our 2015 winners were selected by a larger group of Hallam employees, with members of each office being involved in the nominating and selection process for their region. Recipients of the 2015 award were The Hole in the Wall Gang Camp (CT), Wake County Boys and Girls Club (NC), Saratoga Bridges (NY), and The Governor's Institute of Vermont (VT).
The award will continue to evolve in 2016. Being employee owned, our communities are important to us. This year we will have five winners, one selected from each of our office locations in Connecticut, Massachusetts, New York, North Carolina and Vermont. In addition, we are asking you, our clients, suppliers, partners and friends in the community to help by nominating organizations that you feel do outstanding work.
Involving you in this process is a natural step for the award. Dave's vision for Hallam was to be a place where people felt supported and connected to one another and the world around them. This sense of connectedness is woven into every aspect of Hallam, our social mission and our relationships with our employees, our clients and our communities.
Our sense of connection goes well beyond the projects we work on together. While we may work for different organizations, we share so much in common. Our employees and their families live in the same community as you and your family. We attend the same schools, go to the same parks and hope for a better future where we live and work. We also benefit from the work of talented individuals who help those most in need in our communities.
Help us to support our communities by nominating a charitable organization that you feel is a making our community a better place!
The Hallam-ICS Giving Tree has donated hundreds of thousands of dollars through the years to our community. Long led by Ray Racine, who is easily recognizable as Santa in the photo above, our merry band of givers has established the following criteria for organizations to support:
We primarily support efforts undertaken on behalf of children from birth to eighteen years old. Areas of our involvement include those programs that nurture children's interests and efforts in environmental conservation, programs that directly benefit a child or children, (excluding annual class trips) by promoting health and wellness and personal growth, or programs that provide emergency aid.
About the author
Keith is a graduate of the University of Vermont with a BSEE and an MBA. He has been with Hallam-ICS since 1988 as an electrical engineer, manager of integration services, CFO, and CEO. He focuses the company on understanding and meeting the needs of each individual client while at the same time delivering the highest possible level of technical expertise.
Read My Hallam Story
About Hallam-ICS
Hallam-ICS is an engineering and automation company that designs MEP systems for facilities and plants, engineers control and automation solutions, and ensures safety and regulatory compliance through arc flash studies, commissioning, and validation. Our offices are located in Massachusetts, Connecticut, New York, Vermont and North Carolina and our projects take us world-wide.