Jemma Brisbin | Welcome Specialist
I was born in southern VT and about 12 weeks into my life I found my forever home with my human, Travis Brisbin. Now I live in beautiful Jeffersonville VT. I enjoy spending time outside and playing fetch, but also enjoy some relaxation.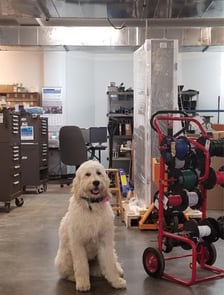 Thankfully for me Hallam-ICS is a pet friendly work place so I get to spend most days in the shop.
The best days are when my friend Chester is also in the shop. I will most likely be the first to greet you when you walk through the door as long as I am not in the middle of one of my many naps (don't tell my boss I sleep on the job!). Hallam is a second home to me, everyone has been so welcoming. If you are around make sure you swing by the shop and say hi!