Quick Facts
Facts
Established in 1981
90 Employees
5 Office locations
- Massachusetts
- New York
- Connecticut
- Vermont
- North Carolina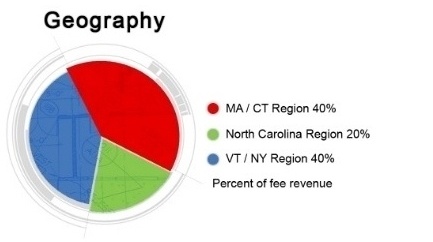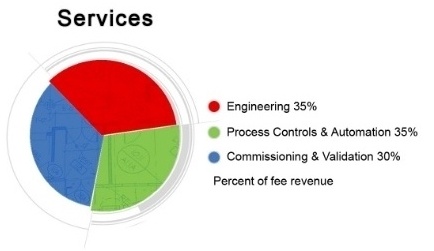 Multi-disciplined team
- Mechanical - 20
- Electrical & Controls - 30
- Instrumentation Technicians - 25
- CAD/Admin - 10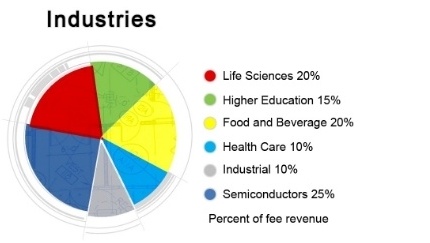 Employee Ownership
Employee Stock Ownership Plan
Hallam-ICS was created with a philosophy that would promote shared responsibility and reward; inclusive atmosphere and consensus-building decision making. As the company has grown the ownership has been spread throughout the company.

The purpose of our Employee Stock Ownership Plan (ESOP) is to reward eligible employees for long and loyal service by providing them with an opportunity to participate in the value of the company and the tax advantages of a qualified retirement plan.

The Benefits
As a member of the Hallam-ICS ESOP you will be an employee-owner and will share in the risks and rewards of being a business owner. You receive shares of the company without any out-of-pocket expense. All contributions are made by the company. You contribute to and share in the success of the company.

Tax Advantages
-Tax deferred contributions
-Tax deferred rollover at retirement
-Tax deferred growth
-No FICA withholding
Our History

The Beginning: 1970 - 1979
The history of Hallam-ICS dates back to 1970, when David Hallam, following his father's footsteps, graduated from Norwich University with an Electrical Engineering degree. David worked as an estimator for an electrical contractor before becoming a design engineer for a consulting engineering firm. His background and understanding of both design and construction would prove to be very beneficial as he would grow a diversified engineering and control system contracting business, Hallam-ICS.

Ready, Set, Start a Company: 1981 - 1989
According to legend, David started Hallam Associates, P.C. the day after receiving his Professional Engineering license in 1981. While David enjoyed learning his profession, he always felt that something was missing from the businesses that he worked for. David often said that our business was "50% technical and 50% relationship" and he understood that the lifeline of a consulting company was the loyalty and long-term relationships developed with both employees and clients. David believed creating an environment that made all employees feel valued and respected would in turn lead the employees to treat each client as our most valued client.

Hallam Associate's first client was Digital Equipment Corporation. David's philosophy on business was well received as Digital was so impressed with the first project that they continued to provide Hallam Associates with as much work as we could handle. The company added new clients and grew, adding additional expertise in Mechanical Engineering and Industrial Control systems along the way. By the end of the decade, our clients included IBM, General Electric, University of Vermont, Vermont Air National Guard, OMYA, IDX Corporation, Bombardier, Wyeth, Mobil Oil Corporation, and Tambrands.

Growing Up In the World: 1990 - 1999
The 1990's represented a period of tremendous growth for Hallam as the company increased our service offerings and expanded into new geographic territories. In 1991, Integrated Control Systems (ICS) was established as a division of Hallam Associates, Inc. becoming one of the few companies in the country to provide MEP engineering and turn-key control system integration. In 1996, Hallam opened our first regional office in Virginia.

Much of Hallam's growth in the 1990's came from leveraging our expertise in the design and construction of semiconductor facilities. Hallam and ICS became industry leaders providing clean design, tool accommodation, toxic gas monitoring control systems (TGMCS) and facility monitoring and control systems (FMCS) and completed projects all over the world, including Canada, South Korea, Australia, New Zealand, Ireland, Russia, Mexico and Thailand.

Hallam's commitment to long-term relationships was rewarded with a repeat business rate of 85%. New clients included: National Semiconductor, Dominion Semiconductor, White Oak Semiconductor, BOC Gases, B.F. Goodrich Aerospace, Georgia Pacific, International Paper, Whiting Turner, Ben & Jerry's, Luzenac America, Burton, Fletcher Allen Health Care.

The Winds of Change: 2000 - 2009
Hallam entered into the new millennium proud of what had been accomplished in 20 years of business, but aware that the company needed to change to help our clients in the future. These changes would be led by a new leader, as Keith Flaherty became the new CEO in 2001. The first step to reshaping Hallam was an easy one; listen to our clients. With the help of a market research firm, Hallam talked to our clients about what they needed today and what they would expect in the future. Our clients reinforced the core belief upon which Hallam had been established; our clients expect technical expertise, but value customer service. In response to this feedback, Hallam developed CODES™, a proprietary process to ensure high quality customer service.

The company, now known as Hallam-ICS, also committed to business diversification along three measures: geographic, market and service. During the decade, Hallam-ICS opened new offices in Massachusetts, North Carolina and New York and developed relationships with new clients such as Amgen, Amylin, Cornell University, Genzyme, Harvard, Intel, MIT, Nortel Networks, Novartis, Pfizer, the Pentagon, Shire, Trudeau Institute and William & Mary to perform MEP engineering, control system integration, and commissioning and qualification services. Client and employee loyalty remain vital to our success with annual repeat business typically around 80% and employee turnover in the single digits.

Creating Our Future: 2010 - present
Hallam-ICS has continued to grow and evolve in the current decade. Our New York office has grown rapidly and we opened a new office in Connecticut. In 2015, Hallam-ICS completed our journey to become a 100% Employee Owned Company. This was a very fitting and logical step for the organization as it embodies our culture and our beliefs. As Employee Owners we look forward to the future and the potential that it holds for ourselves and our clients.

We remain committed to technical excellence by investing heavily in the training and development of our team. We have grown our staff of licensed Professional Engineers (PE), LEED Accredited Professionals and Qualified Commissioning Process Providers (QCxP). Our Automation team has developed expertise in S88 batch process control, virtualization, industrial networking and security. Keeping abreast of new technologies is a daily endeavor so that we can offer you innovative and scalable solutions.

One other visible change at Hallam-ICS has been the growth in our Social Mission. While always core to our beliefs, there has been a deeper commitment and a broader involvement by all employees to support our local communities. We have started the annual Hallam-ICS Service Day, established the Hallam-ICS Award for Community Service and continue to support local organizations through the Hallam-ICS Giving Tree.

As this decade continues to bring change at Hallam-ICS we respond to and anticipate the evolving needs of our clients and employees. And, we are well positioned to lead these changes. What's important to you becomes everything to us.