Planning a PLC5 to ControlLogix Conversion
This white paper will provide you with a planning tool and some ideas that will help you to convert your Allen-Bradley PLC5 to ControlLogix. It provides valuable information in these areas:
3 Ways to Meet Your Budget

Custom Solutions to Further Reduce Costs

A Multi-Year Conversion Case Study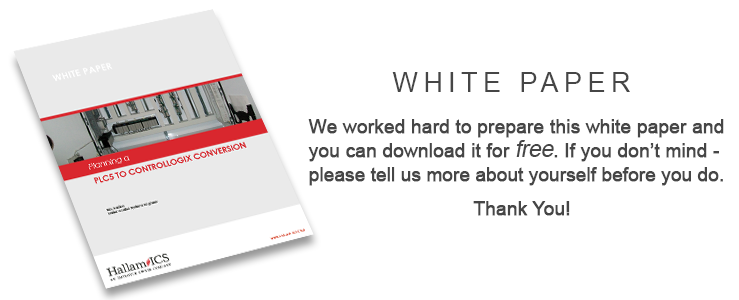 "...Now that we have committed to the conversion process, we need to find the money. Few of us live in a world of limitless funds. We all have a budget. Conversions offer the opportunity for the Generic, Mid-Scale and Gold-Plated versions. If you have a Rockwell Automation (Allen-Bradley) PLC5 installation on an ancient line that still makes money, odds are good that you will have to do a Generic, Low-Cost, conversion. If this is a high-profit line with on-going changes, you may be able to convince management that you need the Gold-Plated conversion. Many of you will land in the middle...."