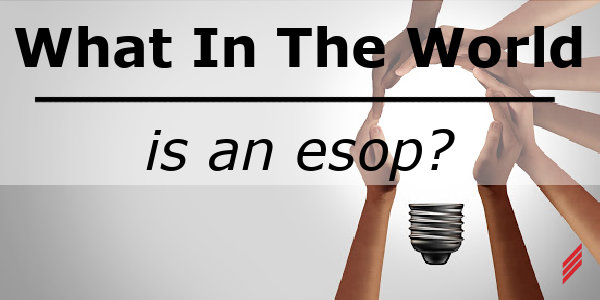 What in the world is ESOP? Why an ESOP? How does an ESOP work? What does it mean to be part of Hallam-ICS' ESOP? How does it affect the employer? How does it affect the Board of Directors? Isn't it just a retirement plan? How do employees affect the ESOP?
How is the stock price valued? What do employees think about being in an employee owned company? We'll discuss some of these questions as well as other topics in this blog and future blogs to come.
In this first blog we'll concentrate on the basics:
1) What is an ESOP and how does it work?
2) Statistics and facts about ESOPs, and
3) I'll also share with you my personal perspective on belonging to an ESOP.
If you don't know anything about an ESOP you can get some sort of idea from what is stands for; Employee Stock Ownership Plan. From the name you can infer that there are employees in a company who can own stock with this plan. "But how is that different from owning stock?" you might ask. When you buy stock or a company has an ESPP (Employee Stock Purchase Plan) you have to purchase stock with your own money. In an ESOP you obtain company stock without using your own money! "So it's free stock?" you might ask then. Like most things in life, "yes and no" is the answer. The short answer is "yes" it's free because you don't have to pay for it directly, and "no" it's not free because the company you own has to purchase the stock and the purchase is made with the profits you and your co-owners help build. We'll expand a little bit further on how this works.
So How Does an ESOP Work?
In its most basic form (assuming a non-leveraged ESOP):
The company sets up an ESOP Trust (or ESOT)
The company makes annual tax deductible contributions in cash or stock to the ESOP
Cash is used to buy stock from current shareholders
Shares are allocated to the accounts of eligible employees within the ESOP, typically based on salary
The ESOP holds stock for participants and annually notifies them of how much stock is in their account, and the value of the stock in their account
Employees collect stock or cash, according to a vesting schedule when they retire or otherwise leave the company"[1]
There are some other steps in there but the above is a very clear, basic explanation of how an ESOP works.
Now that we have a better understanding about what an ESOP is, let's explore some exciting facts about ESOPs. These will paint a better picture about the ESOP movement in the United States.

My Perspective on Belonging to an ESOP
As I described in My Hallam Story one of the benefits that lured me to Hallam-ICS was that it was an ESOP. Previously I had not even heard of an ESOP, but when I did, I thought the concept was impressive! Since becoming part of the ESOP I truly do feel that I am part owner of our company as do many of my fellow co-owners. Being part of an ESOP community is in itself encouraging. I've attended the Vermont ESOP conference for the last two years and I have genuinely enjoyed it. It has shown me that the ESOP community is much larger than I had originally thought. It has also shown me that ESOPs are indeed capable of being very successful; our numbers are proof of that. In the seminars I've also learned many of the approaches ESOP companies take to make sure that their employees have a strong voice they know is heard.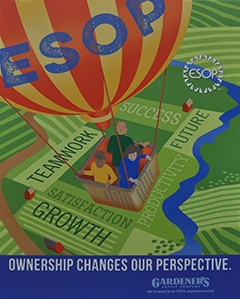 It is this shared approach that gives an ESOP so much potential and power. At first I found I often asked myself "if I owned the company what would I do?" Now that thought has become habitual and ingrained. So what would we, as owners, do for our company to insure that it is successful and thrives? In my eyes "anything and everything" that is in line with our morals, values and culture. Some people will network more in hopes of strengthening relationships which could lead to successful business ventures. Others will make sure that they do their best work to keep the clients happy which could mean future repeat business. Perhaps some will no longer place boundaries on the workweek so long as they win the bid. For others it will mean taking care of each other so they can succeed together. The general sentiment for me is; if I'm successful, you're successful and our company will be successful. If you owned your company what would you do?
This is the first of a series of ESOP blogs planned. I would really appreciate any questions or feedback you may have. If you want to know anything about an ESOP, have blog ideas or any suggestions how we can improve our ESOP culture at Hallam-ICS and build our social mission, please contact me at kmontenegro@hallam-ics.com. I will make sure I address any and all emails. Thanks for reading!
[1] ESOP Services Inc., 2014
About the Author
Kristian is a graduate of Rensselaer Polytechnic Institute and Clarkson University with a BS in Mechanical Engineering and an MS in Engineering & Management Systems. He joined Hallam-ICS as a Senior Project Manager in 2014 after spending 8 years in the rotating equipment field. He focuses on project management, leadership and is also currently the Board of Director's ESOP representative.
Read My Hallam Story
About Hallam-ICS
Hallam-ICS is an engineering and automation company that designs MEP systems for facilities and plants, engineers control and automation solutions, and ensures safety and regulatory compliance through arc flash studies, commissioning, and validation. Our offices are located in Massachusetts, Connecticut, New York, Vermont and North Carolina and our projects take us world-wide.