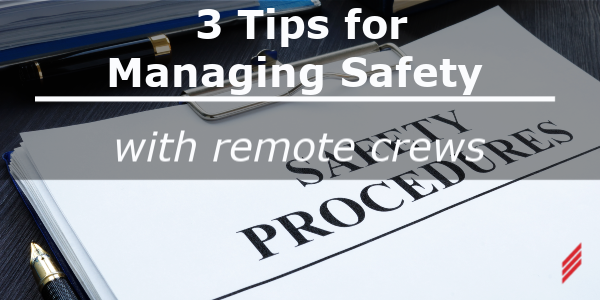 Now more than ever it is important to have your safety plans in order. With limited staff present at job sites and the potential lack of direct supervision at those sites, the chance for a potential hazard to be identified is drastically reduced. I would like to offer up a few tips to improve job site safety when you cannot be present. Having managed a work force that 99% of the time worked at remote location I developed a few tricks to make sure that my crews were working safe and I would like to share a few of them with you.
Tip 1 – Hold a Morning Safety Brief
The first and maybe the most important tip is to hold a daily morning safety brief with all of your staff. In the current state most of us find ourselves in, I understand that this may be a challenge to conduct and I would recommend using one of the many video chat applications that are available to still have that face-to-face interaction with your staff. This morning meeting is a good time to get everyone focused on the day ahead and should be used as a time to discuss the days work, go over any relevant safety events and to discuss job specific safety concerns with your staff. I found that by allowing these meetings to be open forum, different crews working on separate jobs were also able to give input and share best practices with each other, increasing overall job knowledge and safety.
Tip 2 – Regularly Check in with Staff
The second recommendation I have is to check in with your staff. I don't mean be a constant distraction to them because that can be counterproductive, but I always made it a point to reach out to my crew leaders right after their morning and lunch breaks. This communication serves two purposes; first, as a leader you can gauge where in the process they are and if the work is taking them the amount of time expected. If they are behind it is a good time to find out if they had any issues and if they did, were any of them a safety concern. The second benefit of this call is that it refocuses the crew on the job at hand. I would always try to ask a question about something I knew they would have already done like "did the circuit breaker give you any issues when you racked it out?" or "what is the incident energy for that site?" Just a quick comment to get them back into work mode. I would always ask if they needed anything or had additional questions too. I wanted them to know that, although not at the site, I was still there for them.
Tip 3 – Have Daily Job Briefs Completed
The third thing I would recommend you try to do is to have the day's job briefs sent to you. Review them before you call it a day or first thing the next day before the morning meeting. The job brief can tell you a lot about the focus level the crew had during a given task. I have seen briefs that captured every hazard within a hundred yards, including mitigation plans for each. This may be a little overkill, but I would much rather my crews be on that side of things. I have also seen briefs that look like someone was just checking boxes and not fully using the tool at hand to increase job safety. I found that a quick talk, not a reprimanding, with these folks around the importance of the job briefing as a tool to mitigate and identify hazards and to reiterate that it ultimately is there to keep them and their crew safe would result in an improvement in their future job briefs. I can only hope that this meant they were more focused while approaching the task at hand.
I understand that as a leader this extra work may seem burdensome but it only really takes a few minutes to do and as a leader it is a good chance for you to identify trends in the wrong direction and correct them before they lead to an injury or fatality.
I hope you have found these few tips useful and I hope you can put them to use during this time of limited face-to-face interaction with your staff. It is still our job as leaders to keep our teams safe and make sure everyone is doing their part to follow safety procedures and the rules we have set forth.
If you have any questions please feel free to contact me at jmazzola@hallam-ics.com, please remember to check out the rest of the great content on our website Hallam-ICS.com.
About the author
Jason Mazzola is the Director of Electrical Safety Services for Southern New England out of our Mansfield, MA office. He joined Hallam-ICS in 2019 and prior to that spent 10 years in utility industry in various engineering and leadership roles.
About Hallam-ICS
Hallam-ICS is an engineering and automation company that designs MEP systems for facilities and plants, engineers control and automation solutions, and ensures safety and regulatory compliance through arc flash studies, commissioning, and validation. Our offices are located in Massachusetts, Connecticut, New York, Vermont and North Carolina and our projects take us world-wide.