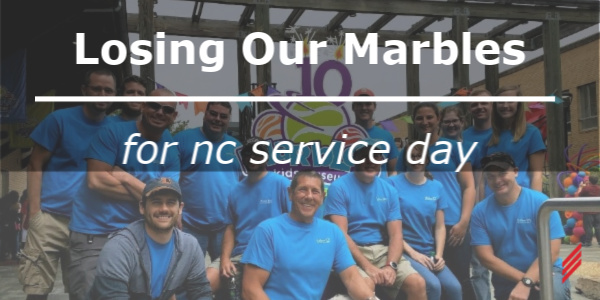 When we chose Marbles Kids Museum for our North Carolina Service day, I don't think any of us realized we would be doing things like playing, coloring, or gluing things together. Although the Hallam-ICS Service Day represents a day of giving back to the community and helping kids, it really brought the kid out in us.
Most parents already know about Marbles Kids museum because it not only provides children a learning experience that is hands-on and fun, but a day they'll never forget. They offer cool exhibits like: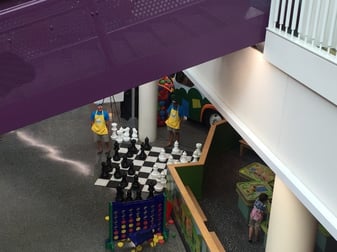 Stepnotes: a piano staircase that plays a musical note and lights up when you step on it
Moneypalooza: where kids can be little bankers, run their own business at a pizza shop, and build budgets at Freddie Frugal's Spending Smarts.
Stemosphere: (our personal favorite) a world of engineering with circuit breakers, lego building, and puzzles.
Check out the rest of them here.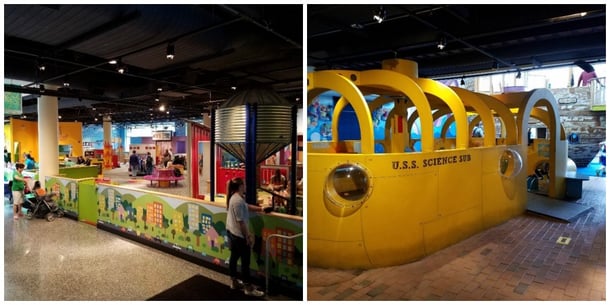 They even offer a night called 21Marbles where adults 21+ can enjoy special events and the museum to themselves. When you have a kids museum where even adults want to come back to play, you are doing something right. This is why the Hallam-ICS Raleigh office jumped at the chance to help.
When we arrived, we weren't exactly sure what we would be doing. However, they were celebrating their 10th Year Anniversary and had more than 12 hours of nonstop, activities planned for the public. Therefore, they certainly needed help and got us straight to work.

If anyone questioned what Hallam-ICS culture is like, this day really proved how great it is. Stick us in a room full of chores and we'll make things interesting. Need us to fold pizza boxes? You got it, but we'll make it a game of who can stack it the highest without them falling (Of course they stuck me -the shortest person in the office- with the task of the very last box. It's safe to say I didn't make it).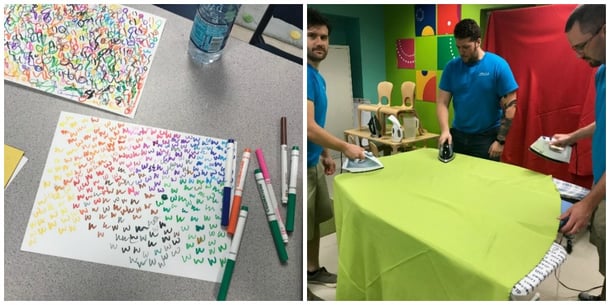 Need us to test markers so kids can choose a color aimlessly without grabbing a dry one? No problem, but we will practice our W's and create a Where's Waldo. Can you find him? It's okay; no else can either because Brian Crosby's Waldo is a smiley face with a pirate hat.
We also figured out how many of us actually iron at home because most of us looked at the device like "How do you work this contraption?" How many engineers do you think it takes to work an iron? Apparently, more than one!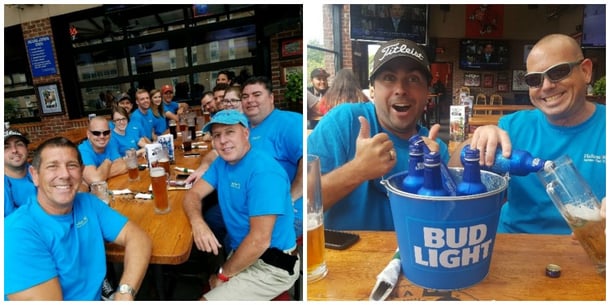 We ended a great day with a big lunch and a bucket of Bud Light at the Carolina Ale House. If you haven't heard how much the NC office likes Bud Light, you should check out this video here.
On a serious note, it was an absolute pleasure volunteering at Marbles Museum. Marbles sets a great example of an innovative learning environment that is fun and accessible to all. We decided to give them a big thank you by giving them our 2017 Community Service Award!
About the Author
Jordan has left Hallam-ICS to pursue other endeavors, but her contributions to the company continue to be valued.
About Hallam-ICS
Hallam-ICS is an engineering and automation company that designs MEP systems for facilities and plants, engineers control and automation solutions, and ensures safety and regulatory compliance through arc flash studies, commissioning, and validation. Our offices are located in Massachusetts, Connecticut, New York, Vermont and North Carolina and our projects take us world-wide.