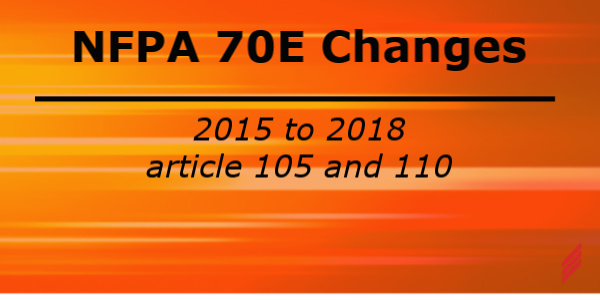 ---
Brian Crosby is a Senior Electrical Engineer for Hallam-ICS who leads a team of engineers to provide arc flash assessments and electrical safety training for clients throughout the United States.Brian recently attended training that detailed the changes made in the 2018 version of NFPA 70E. For your convenience and quick reference, he has put together a series of blogs highlighting these changes.
Blog 1 – Article 100 (Newly Added Definitions)
Blog 2 – Articles 105 (Application of Safety-Related Work Practices and Procedures) and 110 (General Requirements)
Blog 3 – Articles 120 (Establishing an Electrically Safe Work Condition) and 130 (Work Involving Electrical Hazards)
In my first blog, I covered the changes associated with Article 100. In this blog, I will explain the changes made to Article 105 and Article 110.
Application of Safety-Related Work Practices and Procedures (Article 105)

Article 105

3 Responsibility
4 Priority
"Responsibility"; was a generic short section in the 2015 version and has been expanded in the 2018 version to show responsibility from the aspects of the employer and the employee. The employer is to provide a safe working condition by documentation, procedures, training and auditing. All of these things will create a safe working environment for the employee. The employee's responsibility is to follow and implement everything the employer provides for their safety and the safety of others.
"Priority"; is also new in the 2018 and it states that hazard elimination shall be the first priority in the implementation of safety related work practices. This means if a hazard can be eliminated such as de-energizing equipment before working on it or mitigation techniques to reduce arc flash hazards, these should be the first priority in providing worker safety.
General Requirements (Article 110)

Article 110.1

Inspection
Risk Assessment
Human Error
Hierarchy of Risk Control Methods

Elimination
Substitution
Engineering Controls
Awareness
Administrative Controls
PPE

Job Safety Planning
Job Briefing
Change in Scope
Incident Investigations
LO/TO Program and Procedure Audit
"Inspection"; was added to the 2018 electrical safety program section. This ensures that a safety program includes inspection of all new equipment to make sure it is properly installed and up to current code before being placed into service. The NEC was written to show how to properly install equipment and should be followed. The reason these codes exist are for safety and many of them were written as a result of incidents from the past.
"Risk assessment"; procedure section has a good deal of new material, starting with the potential for human error. Why is human error so important and how can it be prevented? When working on equipment, look around to see what's around the equipment, what's above it, any hazards that might come into play. You need to step back and think about what you are about to do, have a plan and think of what you could do to prevent accidents. Cover up lineside voltages with a voltage rated blanket when working with low voltage in a control panel. Clear the work area, give yourself space to work, move items that might cause a tripping hazard, and barricade the location of where the work is to be performed based on the shock and arc flash boundaries. Thinking about what you are about to do can help to reduce human error.
"Hierarchy of Risk Control Methods"; is a new addition of information found under the 2018 Risk Assessment Procedure.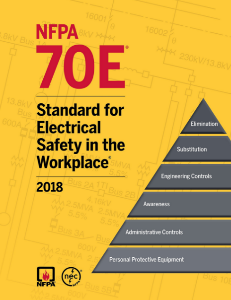 It would seem that 70E really wants to highlight this information. The cover of the 2018 version shows the 6 Hierarchy of Risk Control Methods in a pyramid. They are; Elimination, Substitution, Engineering Controls, Awareness, Administrative Controls and PPE. Remember that Elimination should always be the first line of defense (putting it in a safe working condition).
"Job safety planning", "briefing" and "change in scope"; should always be completed before working on any electrical equipment. Talking about the work before it begins informs all who are involved from the electrician doing the work up to management that approved it. All parties should know and understand the hazard and risks associated with the scope of work and any change in scope that might come up. I teach a low voltage qualified electrical safety class and always stress when I do training that the energized electrical work permits are very important because it forces everyone to know what is going on before signing off on it.
"Incident Investigations"; is new to the electrical safety program. This will insure that if something happens, an investigation will produce a reason why and how it happened and how it can be prevented in the future. We learn from our mistakes and the mistakes of others.
"LO /TO Program and Procedure Audit"; Training, training, training reduces incidents and saves lives. Having a lockout / tagout program and procedure audit in a company is a test for the employee. This audit, not to exceed once a year, is much like a training refresher that also documents that the qualified employee is following the right company protocol in performing their work safely.
Article 110.2

Electrical Safety Training Documentation
LO/TO Procedure Training

Initial Training
Retraining
"Electrical Safety Training Documentation and LO/TO Procedure Training"; Article 110.2 provides information on training requirements for workers that are exposed to an electrical hazard. This section in the 2018 was revised. Some information moved to other sections and some new material was added. The class I teach covers valuable information from this section. A qualified person needs this knowledge to perform their work while reducing incident energy and knowing the hazard involved with electrical equipment. It teaches so as to understand proper PPE, LO/TO, tools and techniques to keep themselves and co-workers safe. The employer is required to keep certain documentation of the training such as the date and attendance, testing scores, and material covered. 70E recommends that a qualified person be retrained not to exceed 3 years. Click here for link to Hallam-ICS Arc Flash Safety Training. (NOTE: I DON'T KNOW WHERE THIS LINK IS?)
We have now covered Articles 100, 105 and 110. My next blog will detail the changes in:
Article 120 - Establishing an Electrically Safe Work Condition
Article 130 - Work Involving Electrical Hazards
About the author
Brian Crosby is the Arc Flash Safety Supervisor for all Hallam-ICS and runs our arc flash business out of our Raleigh, NC office. Brian has been with the company for over 15 years.
Read My Hallam Story
About Hallam-ICS
Hallam-ICS is an engineering and automation company that designs MEP systems for facilities and plants, engineers control and automation solutions, and ensures safety and regulatory compliance through arc flash studies, commissioning, and validation. Our offices are located in Massachusetts, Connecticut, New York, Vermont and North Carolina and our projects take us world-wide.