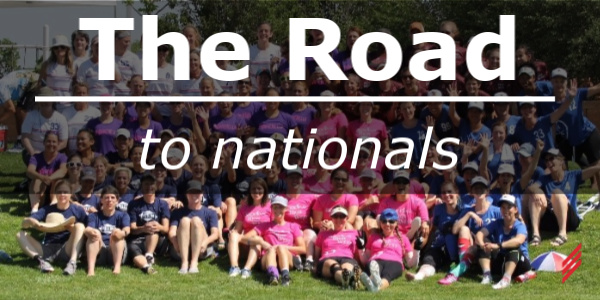 I volunteered to write a blog about going to Nationals with a women's Grand Masters ultimate frisbee team several months ago. In the paragraphs to follow I will share with you what it took to get there, as well as the outcome at Nationals.
Introduction to Ultimate Frisbee
Let me start from the beginning. I played baseball in my youth, and curling while I was in high school. What I really wanted, was to play hockey, a game of skill, speed, and agility, however that option was not available to me back then. Then one day, when I was in my 30's, a coworker introduced me to ultimate Frisbee and I was instantly hooked. Finally, a competitive outlet that was more my pace.
As a non-contact competitive sport, Ultimate Frisbee has it all. You might have to jump or dive for the disc. The game involves team strategy, both offensive and defensive. It also requires quick wit, having to adjust to whatever dynamically develops on the field. Let's not forget sprinting, lots and lots of sprinting! What really sets the sport apart from all others though, is the element of team spirit. There being no referees, players have to make their own calls and sometimes talk things out. This helps to build a strong community of players. The love of ultimate creates a connection that is only understood by those who play.
So, back to my journey. After playing a couple of years of pickup and league, I was hungry to learn more. Unfortunately, the opportunities for women in Burlington were lacking. It wasn't until a women's team was formed in 2006 that I really started to develop the skills needed to take things to the next level. The women's team was called Sugar Shack, and was led by fellow Quebecoise, Cathy Janvier. The next level meant practicing and going to tournaments in Montreal, Ottawa, Boston, New Hampshire, etc. I learned how to fine tune my throws, make cuts, play defense, as well as various team strategies. Having experienced players to learn from was critical in learning how to play competitive Ultimate.
Though there was a bit of turnover for the four seasons Sugar Shack existed, a core group of ladies played throughout the duration. That continuity is important in a team sport, as anticipating your teammate's next move on the field goes a long way towards successful completions. Over time you gain a good understanding of each other's strengths and weaknesses, and learn to trust each other on and off the field. After playing together a while you work really well together as a unit.

Sugar Shack at Sectionals 2008
Competing for a Spot at Nationals
The highlight of our time together was playing for the last spot to go to Nationals. Up to that point, we never had a real shot at making it past Regionals given our relative inexperience and roster size. Going up against teams such as Storm from Montreal, or Lady Godiva from Boston who seemed to have twice as many players, many of them were 7' tall (that's how I remember it), made going to Nationals seem like an impossible dream.
Because we had such a strong region, and there was significant growth, we were given four bids to Nationals in 2008. We played a team from NY named Ambush for that last spot to Nationals. They had a large roster and were known to be somewhat scrappy. We knew we had a tough battle ahead, but we believed it was within our reach. Although we were a light crew, we were strong and knew our team strategies well.
The game was close for the first half, both teams fighting hard for every point. When it came time to play out the second half, we were ragged from a weekend of playing ultimate with only a few subs. This was always the challenge of playing on a women's team in Vermont, the roster always too small when it came to the last games of a tournament.
We were feeling the pain of not being able to sub out much, and Ambush pulled ahead of us after half. We didn't have much left to fight with, and Ambush ultimately claimed the last spot to go to Nationals. It was heartbreaking for our team, we had given all we had, leaving absolutely nothing on the table. It was disappointing, however looking back I would not change a thing about that experience.
I continued to play for several years after Sugar Shack ceased to exist. My choices were to play on a local team, or tryout to play on a more competitive team with a larger roster in Montreal or Boston which would require weekly travel to practices. Priorities change over time, and I decided to continue playing with the local teams in Vermont, knowing my hopes and dreams to go to nationals would likely never come true.
Here are some of the club teams I have played with over the years. Some teams essentially kept the same core players, just changed names:
Womens:
Sugar Shack
Rumble Strut
Sugar Rush
Cold Snap
Boston
COED
Opposable Thumbs (Grand Masters)
Truth or Dairy
Too Big to Fail
Too Hot to Go Home Alone
Spoon
Rut
Another Chance at Nationals
Now fast forward to 2017. I've been spending a lot more time mountain biking, and much less time playing ultimate Frisbee. I'm slowly trying to hang up my cleats for good, but keep getting pulled back, partly because of the game but also because of the sweet ultimate community. It has been 8 years since I had my one and only Grand Master's tournament experience with a mixed team called Opposable Thumbs. The Grand Masters division has a minimum age requirement, 37 for women and 40 for men.
I get an email from Matissa, an old Sugar Shack teammate. She also happened to have played with me that one time on Opposable Thumbs. She presents me with the opportunity to play on a Grand Masters team from Boston who has a bid to go to Nationals. What? My instinct was to reply with a "Hell Yeah", however there were other things to consider. After about a week I finally decided it was something I could commit to.
The core of this Boston team were former Lady Godiva players. They took the first spot to go to Nationals the year Sugar Shack was fighting for the 4th. I was beside myself at the thought of getting to play on this team at Nationals. I had no idea how much I would actually get to play, but it didn't matter much. I was all in, whether it be on the field or from the sideline.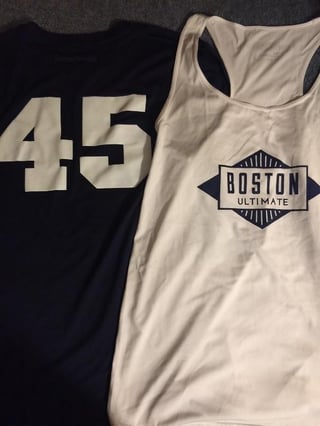 #13 was taken
The Master's Championships were played out in Aurora, Colorado. Playing in thin air was quite challenging for this quasi sea level player. Fortunately, I wasn't the only one suffering from altitude issues. Luckily we had a large roster with smart, experienced, athletic ladies to allow for frequent subbing. I ended up getting a good amount of playtime, and my competitive instincts kicked back into high gear!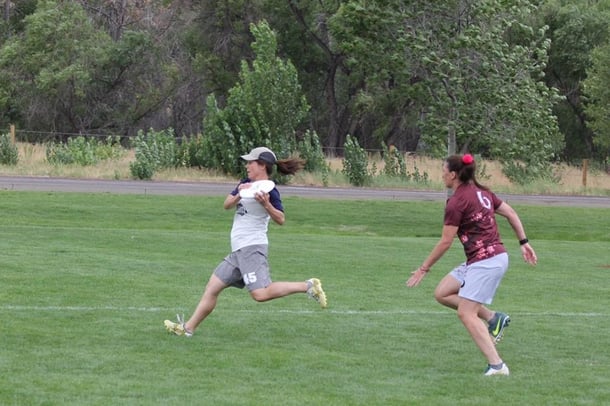 Boston Vs Peak Bloom
This was the first year Nationals had a Grand Masters Women's division. There were 6 teams total, so we would get to play each one. After the round robin, we were only defeated by the first seed team from Seattle, J2. It was a close game, and they ended up winning 12-11.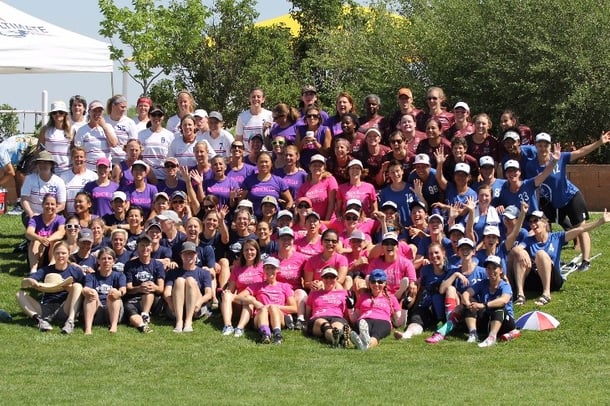 All 6 Women's Grand Master Teams: Sidearm (white), Poachella (purple), Peak Bloom (maroon), Boston (dark blue), Riding High West (Pink), J2 (blue, far right)
We went into semifinals playing a team we had already defeated, Riding High West from Arizona. We started off slow, but ended up winning with the same score as the first time we played them, which was 15-6. It didn't come as a surprise that we would be playing J2 in the final game. They won their semifinal game against Sidearm 15-4.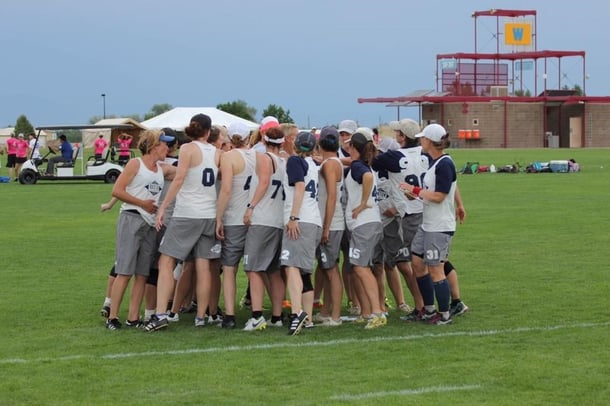 Team Boston Huddle
So here we are, getting ready to play the final game at Nationals. Spectators start to gather around. I see some friendly faces in the crowd, a few ultimate players from Vermont. Professional photographers are positioning themselves for some action shots. For the first time since arriving in Colorado, I'm starting to feel some pressure. Up until then, I had been enjoying the competition, the camaraderie among my teammates as well as our opponents, basically the overall experience. The fact that there was a championship at stake in this game was noticeably real.
Ok, deep breath. Stay focused. Trust your teammates. Play hard. Play smart. You have this!
Finals begin. It feels much like the first time we played J2, this is going to be another close game. By half time, some of us are a little on edge. Our team captain addresses us in her clear, cool, calm and collected way, which helps us refocus and squash those nerves. Second half plays out, and we end up in a similar situation as the first time we played J2. Hard cap is on, game is 11-11, next point wins. The line is called. I am not on it, so I will do my job from the sidelines talking to my teammates. I look at the 7 ladies getting ready to fight for this point for Boston, and they are looking good! Watching the last point play out was somewhat surreal. Both teams wanted the win, no doubt. Both teams had the ability to win, incontrovertible. However, there was a look of determination on each of the 7 Boston player's faces that was undeniable. Boston scores becoming the first ever Women's Grand Master Champions with a 12-11 victory over J2!
That's it in a nutshell, how I became a national champion at a sport I hold near and dear to my heart. All starting with a coworker introducing the game during a lunch break coupled with a yearning for a competitive outlet. Only possible because many other competitive women paved the way to this road to a Women's Grand Masters division at Nationals! What's next, World's? Time will tell.
About the Author
Brenda Rose is a Senior Controls Engineer with 17 years experience. Brenda obtained a Technologist degree in Mechatronics, a college program heavily influenced by the automotive industry. Her career has focused on controls engineering in manufacturing.
About Hallam-ICS
Hallam-ICS is an engineering and automation company that designs MEP systems for facilities and plants, engineers control and automation solutions, and ensures safety and regulatory compliance through arc flash studies, commissioning, and validation. Our offices are located in Massachusetts, Connecticut, New York, Vermont and North Carolina and our projects take us world-wide.