New Laboratory Engineering Design
Groton, CT
Life Sciences
CURE was established in the 1980s and has been an advocate for the Life Sciences industry, educating the public as well as policy makers about the industry and how to attract and support growth of these businesses in Connecticut. It was envisioned that CURE Innovation Commons would spur innovation and encourage growth of the new bioscience companies in Connecticut. It was important that the retrofit of the 24,000 square foot laboratory and office facility would provide an environment to meet these goals. CURE Innovation Commons is located in Groton, in a facility donated by Pfizer. As a long-time service provider to Pfizer at the Groton campus, Hallam-ICS was very familiar with the facility, understood and embraced what was important to CURE and was selected to provide MEP engineering services for the project.
The first phase of the design required an evaluation of the existing MEP systems and their condition as the facility had been idle for several years. Understanding the nature of retrofits, Hallam-ICS performed a thorough field survey, including functional testing, of the MEP systems to verify the existing documentation and to assess the current physical state of the equipment and determining what could be reused and what needed to be replaced.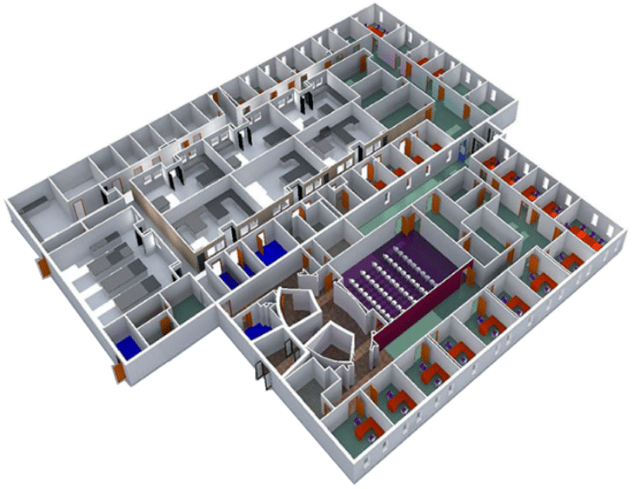 After the initial assessment, the detailed design drawings were developed to suit the anticipated needs of the new laboratory user groups. A creative approach was required to re-use/ refurbish as much of the existing MEP infrastructure as possible in order to meet the Owner's budget and to preserve funds for architectural renewal of the building. Systems included:
Laboratory and office HVAC
Laboratory compressed air
Purified water system
Plumbing
Sprinkler
Power
Lighting
Fire alarm
New standby generator
The completed design supported the on-schedule and on-budget construction of the incubator space. The design process has supported a cost-effective installation to help create a state-of-the-art, collaborative laboratory space that will benefit biosciences growth in Connecticut well into the future.