Overall Equipment Effectiveness System
Controls and Automation
The food and beverage industry relies on innovation and efficiencies. A major Hallam-ICS client in the beverage industry had revolutionized the delivery of their product to consumers. The overwhelming success of their product and the growth of their key brands created a situation where they had to rapidly increase capacity of both their processing and packaging lines. They built new facilities and added new lines to existing facilities, all the while improving and changing production methodologies. After the installation of these systems, the production team stressed the importance of improving throughput and reducing waste by looking at the Overall Equipment Effectiveness (OEE) of their systems.
Looking for an experienced and trusted partner, they called on Hallam-ICS. The client team brought in all stakeholders; engineering, marketing & sales, production, safety and identified what was important to each of them. These requirements were shared with Hallam-ICS and these became our focus.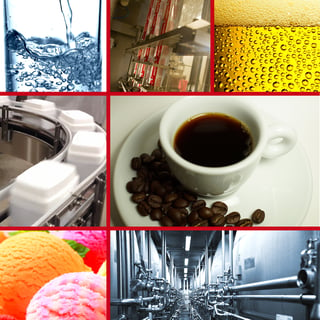 The engineering team and operations staff was looking for reports, key performance indicators (KPIs) and dashboards that would assist them in their efforts to reduce machine downtime. The engineering team was also looking for a standardized and well documented solution that could be rolled out across multiple sites in a timely manner. Finally, they were all looking for a system that was flexible and scalable to meet future enhancements, including connecting to SAP as part of an MES solution.
Hallam-ICS selected a team that included Senior Control System Engineers and a Business System Intelligence Developer to work with closely with the client. Regular interaction with production, engineering and business interests allowed the team to ask detailed questions before trying to define a solution. Once the existing system and future vision were fully understood, the Hallam-ICS team assisted the client with design, development and deployment of the proposed system.
A key enhancement was the ability to select manual downtime reasons as well as capturing automatic alarms. Once installed and collecting data, reports were generated using SQL Server Reporting Services. The report application was developed to be flexible, allowing the user to define the specific attributes and KPIs that they were interested in. The resulting system met all that was important to our client; it was flexible, scalable and provided the information they needed to optimize production.