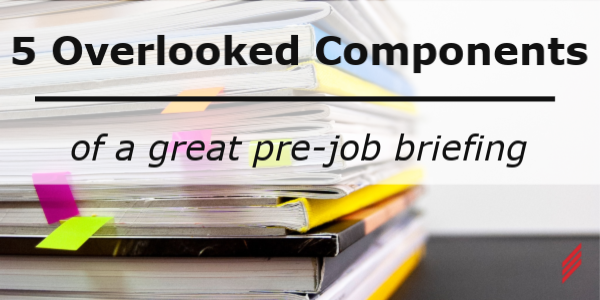 NPFA 70E 2018 Article 110 section (I) and its sub parts set the requirements for planning to complete a task safely. One of them is the Job Briefing and, in my opinion, it is the most important aspect of this requirement because it happens right before the work is about to start.
The job brief gives all employees a chance to address any concerns they have before the work begins. In my experience the job brief has been one of the most effective tools in preventing an accident as well as identifying potential hazards associated with the work to be completed. Throughout my ten years working with utility crews I have seen job briefs evolve and become a focused tool who's role is the foundation for safely completing work around energized parts.
I feel that there are 5 overlooked components to a great job brief that should be adopted into your company's job briefing requirements.
Who and What: The biggest concern during an event is that everyone on the job site is assuming that someone else is doing a specific task. These tasks include calling for help, administering CPR, de-energizing source voltage or meeting the EMS team. It is important that during the job brief everyone is aware of what they are going to be doing if someone is injured preforming the job. It is also important that the individual that is preforming the task doesn't have a roll in the emergency response plan; most likely they are going to be the one injured.
Landmark for Emergency Responders: Aside from the general work address in your job brief you should have a line for the nearest landmark or nearest cross street. Having this discussion before an accident happens serves two purposes. One, it is going to allow everyone on the site to know where to have emergency responders directed too. Secondly, it sets a location for someone to meet the emergency responders so they can be safely brought into the job site to aid the injured worker. In times of heightened stress like having a coworker injured there is a chance that we may not be thinking straight and we may not know the best spot to have the EMS team sent to. Having this discussion upfront will be key in getting your injured coworker the help they need in the timeliest manner.


Know where your AED is: I feel that all job sites should have an automated external defibrillator (AED) present and if working inside of a building there should be one nearby. This may not directly increase job safety but in the event that someone gets electrocuted and goes into Ventricular Fibrillation it is their only hope to get out of it. The worst time to be looking for an AED is after an event has occurred and your coworker has limited time. The job brief should also address who is trained and will be responsible for getting the AED and hooking it up to the injured party.
Identify additional Hazards: Your job brief should already be discussing the hazards associated with the work to be completed so take it one step further by looking outside the direct work zone. It is easy to get tunnel vison when performing electrical work so have everyone in the group identify something or things that they see in or around the job site as potential hazards. These hazards could be above the work zone like a hanging light that looks like it is about to fall or a ditch that was left uncovered in an adjacent location that may become a tripping hazard should you need to quickly leave the work zone. I have been through many incident investigations where a hazard not discussed on the job brief became the main culprit that led to an injury. After implementing this strategy we saw job safety and awareness increase and the crews really responded well to the open discussion amongst themselves. Lastly don't forget to have all valid hazards mitigated if possible before work begins.
Post Job Stoppage Briefing: We used to call this the post lunch briefing and it is just as important as the pre-job brief. Anytime work stops and the crew leaves a work location before the work continues there should be a briefing to discuss where the job left off and to readdress the hazards identified prior to starting the work. It is important that everyone is aware of the condition that the site was left in and even more important to verify that it is the exact same way when they return. I witnessed a job site where a crew left for lunch and while they were gone a contractor energized cables up to edge of their work zone. Luckily the crew working on the pole did a voltage verification check on the surrounding circuits before starting work again; if they had made the assumption that this circuit that had been de-energized for months was not energized, they could have accidentally gotten into the live parts resulting serious injury.
I hope that you will consider implementing some variation of the above components into your job briefing documents. I hope even more that you take them one step further, it is important to remember that your company's job briefing documents should be living documents that are audited and continually improving. The Job Brief should not be a bare-bone checklist, it needs to be looked at as the foundation for a safe job site.
About the author
Jason Mazzola is the Director of Electrical Safety Services for Southern New England out of our Mansfield, MA office. He joined Hallam-ICS in 2019 and prior to that spent 10 years in utility industry in various engineering and leadership roles.
About Hallam-ICS
Hallam-ICS is an engineering and automation company that designs MEP systems for facilities and plants, engineers control and automation solutions, and ensures safety and regulatory compliance through arc flash studies, commissioning, and validation. Our offices are located in Massachusetts, Connecticut, New York, Vermont and North Carolina and our projects take us world-wide.