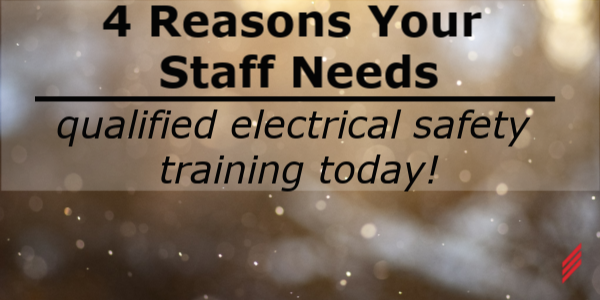 ---
My team and I have been conducting arc flash assessments all around the United States, Canada and Mexico for over 15 years and it brings us tremendous comfort that our clients are completing this extremely important platform for compliance with OSHA and NFPA 70E and the safety of their employees.However, what about their personnel receiving the proper qualified electrical safety training? Sure, it's great that the arc flash assessment is complete and that their equipment is properly labeled with information to protect their personnel. But are the workers "qualified"? This is a very important designation and I find most people have no idea what it means to be qualified. Just because you have licensed electricians or highly experienced staff doesn't necessarily mean they are "qualified," which is why I would like to share some safety training facts with you.
Reason #1 – It is required by NFPA 70E
First and foremost, qualified electrical safety training is a requirement of the NFPA 70E (Electrical Safety in the Workplace) guideline which is accepted by OSHA:
"Training shall apply to employees exposed to an electrical hazard when the risk associated with that hazard is not reduced to a safe level by the applicable electrical installation requirements. Such employees shall be trained to understand the specific hazards associated with electrical energy. They shall be trained in safety-related work practices and procedural requirements, as necessary, to provide protection from the electrical hazards associated with their respective job or task assignments. Employees shall be trained to identify and understand the relationship between electrical hazards and possible injury." (NFPA 70E 2018 110.2(A))
Reason #2 – To keep your employees safe
It's important because those staff who come into contact or are exposed to live electrical components need to understand the various hazards (arc flash and shock) that may be disposed upon them, what can happen and what they can do to protect themselves and those around them who are not qualified (unqualified).
For some it's an "eye opening" training class that educates them on why arc flash incidents are such a problem in our country – people getting severely burned or in some cases death resulting. By the numbers:
Annually, U.S. Averages:
+1,200 workers are admitted to burn centers or hospitals for fire and/or flame and electrical burns according the National Burn Repository data.
2,000 electrical injuries requiring days away from work.
Top Occupation Groups: "installation, maintenance, repair – 31% share, construction, excavation – 25% share"
From 2005 through 2014, the latest year available, there have been more than 1,800 fatalities due to electrical accidents.
In other words, an electrical related incident at work cost someone their life every other day. Same as crossing off every other day on a calendar = electrocution
Data Sources – Bureau of Labor Statistics "www.bls.gov", based on NBR 2016 Report data 2005-2014
Reason #3 – To learn how to read an Arc Flash label, understand PPE levels, and when you need an Energized Electrical Work Permit
An arc flash label consists of important information that a "qualified person" needs to understand and know; levels of PPE, incident energy, shock and arc flash boundaries, etc. Most people don't understand that PPE does have a failure rate which is why it's critical to wear the proper level of protection. The training provides comprehensive video examples of when PPE fails and also describes the rules and regulations associated with worker safety. Below is an example of an arc flash label: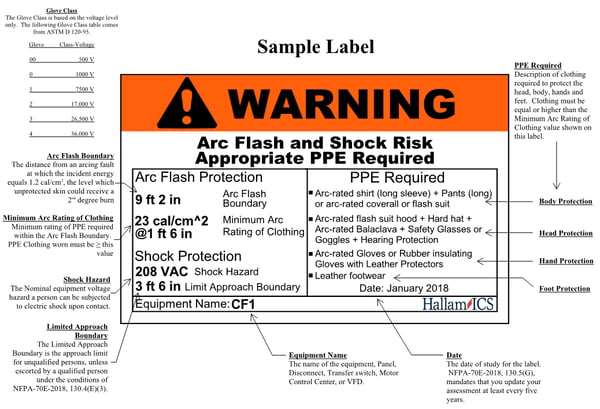 We have many clients that only complete the risk assessment with no training. How do they know how to read a label without being educated?
Do they know what the "boundaries" mean and what they need to do within and outside these boundaries? What if they need to complete their own risk assessment utilizing the task tables in the NFPA 70E guideline? There are many more questions that can be asked as to why the training is important for every organization.
Did you know that you need an Energized Electrical Work Permit (EEWP) if you cross the restricted approach boundary? This is voltage dependent but typically is 12 inches. A person that crosses this boundary is likely going to perform a task on equipment with exposed electrical components and must have a permit and wearing the proper level of PPE. Testing, troubleshooting and visual observation do not require a permit.
There are major standards and regulations that govern electrical work in the United States and Canada;
OSHA 29 CFR 1910 Subpart S
OSHA 29 CFR 1926 Subpart K
NFPA 70E/CSA Z462
NEC/CEC
NESC/CAN/ULC S801
OSHA, NFPA, CSA and NEC standards can be read for free online.
Reason #4 – So your staff can work on or near live systems
This training is required before an individual can be "deemed" qualified and only qualified people are allowed to cross the restricted approach boundary and work on or near live exposed electrical components. The definition of a qualified person:
One who has demonstrated skills and knowledge related to the construction and operation of electrical equipment and installations AND has received safety training to identify and avoid the hazards involved.
Ultimately the employer decides if someone is qualified for any task. A license does not make one qualified. Training and evaluation of task specific skills and background knowledge determine qualifications. For specific skills and knowledge needed refer to NFPA 70E 110.2(A)(1), pages 15-16 for what training a "Qualified Person" requires.
Conclusion
I hope this information has been helpful. As you can see, qualified electrical safety training is very important and should not be taken lightly. I have been teaching this course for the past seven years and updating the course every three years based on the newer versions of NFPA 70E. I have never had a session where people did not get something out of it. Even the highly experienced individuals were "shocked" (excuse the pun) at what they learned at the end of the day. This is why it's so important to get proper training. We are constantly learning from the accidents that occur in this country and it's crucial this information is shared with your maintenance personnel. Feel free contact me (sking@hallam-ics.com) with any questions or to schedule a qualified electrical safety training for your staff and stay tuned for my next blog "3 steps to become a Qualified Electrical Safety Trainer".
About the Author:
Scott King is the VP & National Director of Electrical Safety Services. Scott has been with Hallam-ICS for over 30 years. Scott and his team have been conducting power system studies for over 15 years.
Read My Hallam Story
About Hallam-ICS:
Hallam-ICS is an engineering and automation company that designs MEP systems for facilities and plants, engineers control and automation solutions, and ensures safety and regulatory compliance through arc flash studies, commissioning, and validation. Our offices are located in Massachusetts, Connecticut, New York, Vermont and North Carolina and our projects take us world-wide.