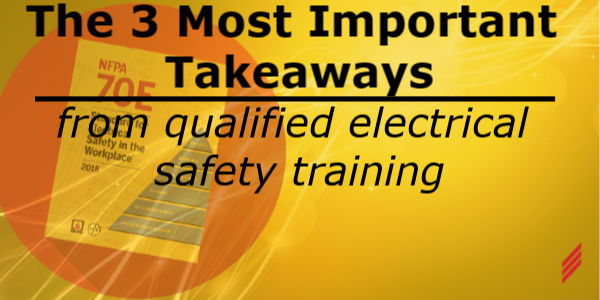 ---
In my first blog about Qualified Electrical Safety training, I shared with you why it is so important to get your staff trained. In my second blog, I presented a few requirements that are needed to become a qualified electrical safety trainer.In this blog, I'd like to offer my thoughts on the most important takeaways that I hope each attendee of my training will remember.
There are many important aspects of Electrical Safety Training but these three mean the most to me:
Safety Facts and Figures. In a previous blog, I shared some safety facts as to what is happening in our country when it comes to "electrical contact injuries". These safety facts are a very important aspect of the training. Incidents and injuries occur far more frequently than they should. We discuss electrocution by age, voltage ranges by fatality, etc. So why are arc flash incidents a major problem in our country? Training provides compelling statistics and facts around arc flash burns and electrocutions.
You are responsible for your safety. By following the rules and not taking short cuts, you and your employer can ensure your personal safety, so you can go home every day to your family.
It reminds you of the danger of electricity. We are human, we make mistakes and we tend to forget what can happen and what electricity can do to the human body. Electrical Safety Training reminds us all that Electrical Safety "should not be taken lightly". Remember, all it takes is "one" incident that could be life changing (non-disabling or disabling). And in some cases – fatal.

A good electrical safety training class will provide your staff with important information they need to work in a safe manner.
Sample class syllabus (click image to download)
Incorporating Qualified Electrical Safety Training into your Arc Flash Assessment
Typically, our past experiences with our clients is that they don't always include the training when an engineered arc flash assessment is completed. However, over the past several years, I am finding more and more of our clients are beginning to request the training in addition to the assessment. This makes sense because without the expertise of the hazards and the proper knowledge of the information on a label and what level of PPE to wear, the assessment only gets you into compliance with OSHA and NFPA 70E. But what about your people knowing what to do with the information? Thus, why it's imperative to ALSO have the "qualified electrical safety training".
I hope the information within this blog series has been helpful and you can use it moving forward. As always, I'm open for a direct discussion anytime if I may be of assistance. Feel free contact me (sking@hallam-ics.com) with any questions or to schedule a qualified electrical safety training for your staff.
About the Author:
Scott King is the VP & National Director of Electrical Safety Services. Scott has been with Hallam-ICS for over 30 years. Scott and his team have been conducting power system studies for over 15 years.
Read My Hallam Story
About Hallam-ICS:
Hallam-ICS is an engineering and automation company that designs MEP systems for facilities and plants, engineers control and automation solutions, and ensures safety and regulatory compliance through arc flash studies, commissioning, and validation. Our offices are located in Massachusetts, Connecticut, New York, Vermont and North Carolina and our projects take us world-wide.