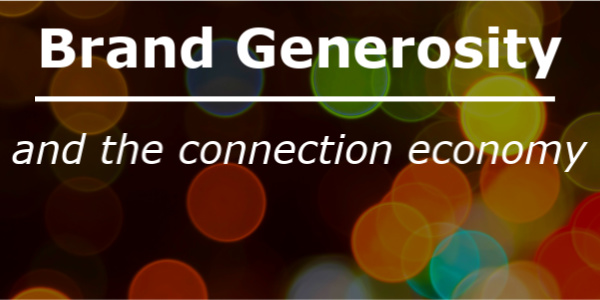 As a business-to-business marketer for the engineering and technology niche, I work across many small to mid-sized companies to help them grow awareness and increase demand generation for their products and services. Although their focuses and goals differ, one thing I consistently see is a focus on building strong relationships with customers and prospects. I definitely saw it when I began working with Hallam-ICS three years ago — and I've since been wowed by how they take it to the next level with their culture of generosity to all of their stakeholders — employees, partners, and within the regional communities in which they do business.
Seth Godin, a renowned marketing influencer, frequently writes about an evolving "connection economy" that fuels generosity, and the four key conditions that must be in place for it to occur:
Coordination — arranging connections so they are meaningful.
Trust — individuals working together towards a common goal with shared purpose to create value for others
Permission — offering solutions and ideas to interested individuals as a resource.
The exchange of ideas — sharing and receiving ideas among individuals with common knowledge to enhance learning.
Beyond typical table-stake sales evaluation criteria like longevity in business, employee retention and world-class service and support, many business-to-business prospects are now looking for a genuine social commitment from the brands they engage and do business with. As a result, building a bond with the people that matter to your business is more important now than ever. People want to feel good about the brands they are buying into, and how those brands are giving back to their communities.
Hallam-ICS has a focus on supporting organizations whose mission is to help children and families in need. Many organizations also have a social mission, but what's unique to Hallam-ICS is how they engage their stakeholders in helping them select the beneficiaries of their charitable giving. As a recent example of this, Hallam-ICS launched their Hops for Humanity campaign and asked their customers to nominate their favorite charity. Based on these nominations, Hallam will then recognize five charitable organizations (one from each of their office locations) and share a $5,000 donation and plaque in recognition of their efforts. Beyond this campaign, Hallam's social mission includes other annual programs like a holiday giving tree, service day, and support for employees giving their time and talents to on non-profit boards.
Giving time, talent and treasure back to the communities in which you do business is one of the most valuable investments any brand can make. Besides the good feelings derived from being generous, other benefits include positive PR, high employee morale, and improved connections.
Learn more about the Hallam-ICS social mission.
About the Author
Vice President, Account Services for TREW Marketing. Lee's diverse marketing background spans 20 years across the technology, government and nonprofit sectors with deep focus in the areas of project and marketing management, content and collateral, web, and brand consistency. Whether it's defining a brand, creating a compelling messaging strategy, or streamlining a business process, her approach to managing projects and teams has earned her recognition across the organizations she has led.
About Hallam-ICS
Hallam-ICS is an engineering and automation company that designs MEP systems for facilities and plants, engineers control and automation solutions, and ensures safety and regulatory compliance through arc flash studies, commissioning, and validation. Our offices are located in Massachusetts, Connecticut, New York, Vermont and North Carolina and our projects take us world-wide.