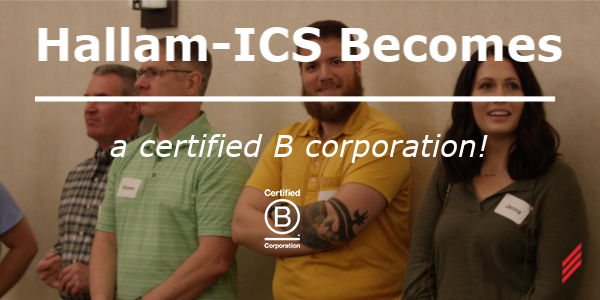 On December 17, 2019 Hallam-ICS became a Certified B-Corporation, joining thousands of other purpose driven companies around the world committed to the concept that businesses exist for both purpose and profit. On their website, B Lab states:
Certified B Corporations are a new kind of business that balances purpose and profit. They are legally required to consider the impact of their decisions on their workers, customers, suppliers, community, and the environment. This is a community of leaders, driving a global movement of people using business as a force for good.
We are proud to be part of the B-Certified community, one that includes global brands (Patagonia), Hallam-ICS clients (Ben & Jerry's, Cabot Cheese, Green Mountain Power), and fellow employee owned companies (King Arthur Flour, Gardener's Supply, Chroma Technology, New Belgium Brewery).
Although we've been aware of Certified B-Corporations for quite some time, our journey to becoming certified started about a year ago, when our Board of Directors approved pursuing certification. After researching the organization and their values, we found that the concept of Certified B-Corporations was not something new for us; it was a direct reflection of our own beliefs. By becoming a Certified B-Corporation, Hallam-ICS would publicly reaffirm these beliefs and also learn from others:

The annual assessments will provide us with a means for measuring key metrics and bench-marking for continual growth and improvement of our business practices.
A formal commitment, built into our governing documents, requiring management to work towards both profit and purpose.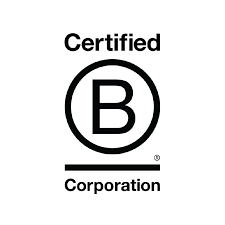 Certification of our commitment to purpose and transparency through the required online posting of our B Impact Report for clients, employees and all interested parties to see. You can view Hallam-ICS's Impact Assessment.
Much has been written about why companies become Certified B-Corporations along with the potential benefits of becoming certified. In the Brown Political Review article "It Pays off to Be Kind: The Case for B Corporations," the author states that "in the UK, it has been reported that B Corps are growing 28 times faster than the national economic growth of 0.5 percent." In a Forbes article, the author lists several benefits of becoming certified, including creating trust with values-driven customers and suppliers as well as increasing employee satisfaction.
We have found these to be true at Hallam-ICS. As I mentioned in a recent blog:
"People of all ages are interested in having a purpose and meaning to their work. At Hallam-ICS, we say that "our teams love engineering and people." Our experience is that being Employee-Owned (100% ESOP) and having an active Social Mission are very important to both our current and potential employees. We engage in our communities and share our time, money and resources to support children and families in need. These have been our beliefs since 1981 (before Millennials were born!). We do this because our "work" encompasses so much more than our designs and that belief is what is important to our employees, not just our Millennials."
Ultimately, we chose to become a Certified B-Corporation because we support the mission and cause, not for any specific benefits to us that it may provide. Doing so would seem to be disingenuous to our own beliefs. We chose to become a Certified B-Corporation because doing so is consistent with our own values. We do these things not because we think that we will profit from them, but because we feel deep down that this is what businesses should do; support the growth and development of a healthy society where our actions are not driven solely by how to "maximize shareholder value." Thank you B Lab for creating a platform for purpose driven companies to gather!
About the Author
Keith is a graduate of the University of Vermont with a BSEE and an MBA. He has been with Hallam-ICS since 1988 as an electrical engineer, manager of integration services, CFO, and CEO. He focuses the company on understanding and meeting the needs of each individual client while at the same time delivering the highest possible level of technical expertise.
Read My Hallam Story
About Hallam-ICS
Hallam-ICS is an engineering and automation company that designs MEP systems for facilities and plants, engineers control and automation solutions, and ensures safety and regulatory compliance through arc flash studies, commissioning, and validation. Our offices are located in Massachusetts, Connecticut, New York, Vermont and North Carolina and our projects take us world-wide.