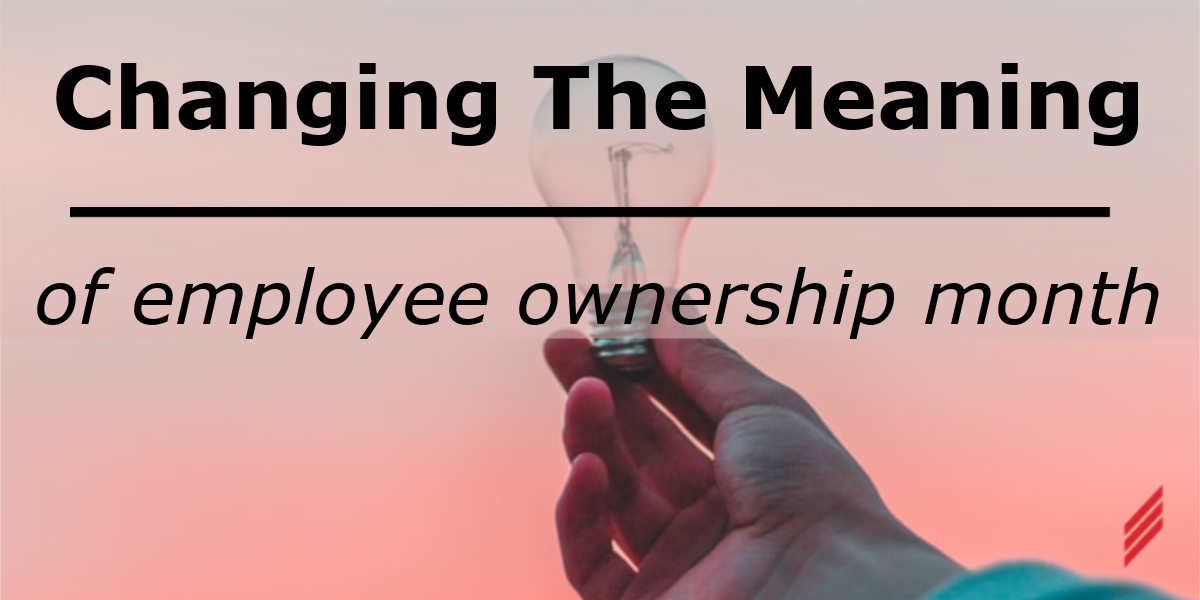 Here are three facts that I know as an employee owner:
Employee ownership (EO) is a concept that is based upon generosity and sharing and should be more widespread in our economy.
Employee Ownership Month occurs every October.
The general public doesn't know enough about Employee Ownership.
Together, these got me thinking……is there a way that we, as employee-owned companies, can utilize Employee Ownership Month to educate people in our communities about the benefits of employee ownership? Traditionally, Employee Ownership Month has been used primarily to celebrate employee ownership within employee-owned companies; it has been inwardly focused with events ranging from "vesting" ceremonies, to ESOP Jeopardy, to sharing a "piece of the pie." Perhaps it is time for a change in how we recognize Employee Ownership Month, making it an outwardly focused month where we celebrate three groups who benefit from employee ownership:
Employers
Employees
Our Communities
Employee Ownership is good for employers, employees and their communities. Employers benefit in many ways, including an engaged workforce, lower employee turnover rates and higher productivity. In his well-known book "The Great Game of Business," Jack Stack shared:
The best, most efficient, most profitable way to operate a business is to give everybody in the company a voice in saying how the company is run and a stake in the financial outcome, good or bad.
Employees benefit financially through a stake in t
he company, but also in the pride of working for a company that is often about more than just profit. According to the National Center for Employee Ownership (NCEO), here are a few statistics about ESOPs in the United States (data from 2016):
Number of ESOPs: 6,624
Number of individuals participating in ESOPs: 14.2 million
Value of plan assets: $1,375,420 (in millions)
Lastly, our communities benefit from good paying jobs and community involvement that employee-owned companies are well known for. Employee-owned companies typically have strong Social Missions and many are Certified B Corporations.
Can we tie the concept of employers, employees, and communities together as a means of promoting employee ownership?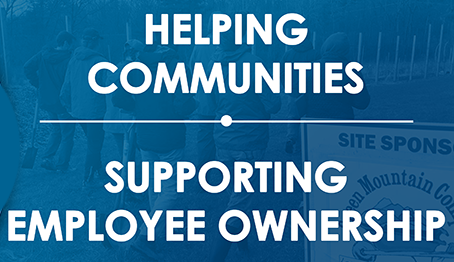 Yes. Last year, the Employee Owners of Vermont brought together twelve Vermont-based employee-owned companies (Carris Reels, Chelsea Green, Gardener's Supply, Hallam-ICS, Heritage Aviation, PC Construction, Phoenix Feeds, PT360, Stone Environmental, Switchback Brewing, Vermont Heating and Ventilating, Vermont Information Process) along with the Vermont Employee Ownership Center, to work collaboratively to benefit our communities. For Employee Ownership Month, we decided to organize a Food Drive to support the Vermont Food Bank. Although we pulled this effort together at the last minute, we were able to raise nearly $18,000 and 3,000 pounds of food during the month!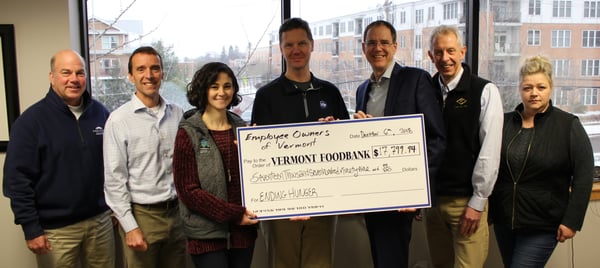 We'll be expanding our Food Drive in 2019 to include more employee-owned companies from Vermont and the creation of the Employee Owners of North Carolina (an effort led by a few inspired engineers from Hallam's Raleigh office). We hope to continue to grow this effort to more states in 2020. You can donate to either food drive from the links below:
Vermont - https://fundraise.vtfoodbank.org/fundraiser/2291879
North Carolina - http://www.foodbankcenc.org/goto/HallamICS19
So, just what are we trying to do with these food drives. First and foremost, we are hoping to help our communities. Second, we are hoping to promote a sustainable and equitable ownership model that shares the wealth created by corporations with employees. In his book "Winners Take All – The Elite Charade of Changing the World," Anand Giridharadas reflects upon the well-heeled wanting to help with social issues so long as the status quo in their line of business doesn't change. He writes of their desire to "do good" without creating long-term structural changes:
"The Aspen Consensus says to "Do more good" – not "Do less harm.""
He also expands his point:
Second, the winners of our age are huge beneficiaries of the generation-long effort by the corporate world to offload risk and volatility from the balance sheet, often transferring them onto workers. The growing rationalization of the business world in recent decades, abetted by the development of management as a science, led to greater focus, increased efficiencies, rising valuations — and bitter realities for workers. The car-service Uber gets a lot of bad press for denying responsibility for its workers' lives, health, desire for career growth. Yet more and more of the world's workforce resembles Uber drivers, who shoulder risk for the companies they serve, while no one bears their risk.
As employee-owners, we see the difference that employee ownership can make and want to share that knowledge with a wider audience. What can you do? If you work for an employee-owned company, join us in changing the meaning of Employee Ownership Month; instead of celebrating our good fortune among ourselves, let's share our wealth and our knowledge about employee ownership with our communities. If you support the concept of employee-ownership, show this support by making a donation through one of our food drives. This is one step to change the meaning of Employee Ownership Month.
About the Author
Keith is a graduate of the University of Vermont with a BSEE and an MBA. He has been with Hallam-ICS since 1988 as an electrical engineer, manager of integration services, CFO, and CEO. He focuses the company on understanding and meeting the needs of each individual client while at the same time delivering the highest possible level of technical expertise.
Read My Hallam Story
About Hallam-ICS
Hallam-ICS is an engineering and automation company that designs MEP systems for facilities and plants, engineers control and automation solutions, and ensures safety and regulatory compliance through arc flash studies, commissioning, and validation. Our offices are located in Massachusetts, Connecticut, New York, Vermont and North Carolina and our projects take us world-wide.