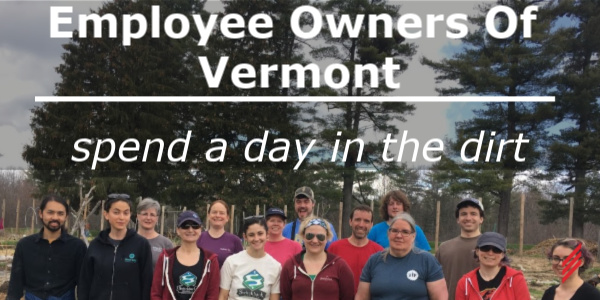 ---
In a recent blog, I shared the story of how a group of employee owned companies decided to work together to positively impact our communities. Based upon the recommendation of Gardener's Supply, we chose the Vermont Community Garden Network's Day in the Dirt to be the first event where "Employee Owners of Vermont" would work side-by-side in community service.
Our group was formed earlier this year with collective goals of:
Education to grow community awareness and understanding of employee ownership to create a higher value in the eyes of employees and consumers.
Developing relationships and support across Vermont employee-owned companies.
Increasing engagement of our employee owners
Positively impacting our communities
Community Service will be the "vehicle" that will drive the progress of each of the goals identified above.
The Vermont Community Garden Network states their mission as:
"…to support and grow the state's vibrant network of community and school gardens."
They also share their vision;
"We envision a vibrant local food system where Vermonters of all ages experience the benefits of community, school, and neighborhood gardening and become healthier through improved diets, exercise, and positive social interactions."
While the good folks from Gardener's Supply were volunteering at multiple locations,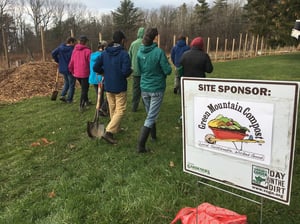 employee owners of Vermont from Hallam-ICS, Switchback Brewing Company, Vermont Information Processing and the Vermont Employee Ownership Center gathered at the Rock Point Community Garden North. Our month of rain in April took a break for the morning and allowed us to go to work. The team of five from Hallam-ICS met with the site leader (Isaac) who showed us a garden plot that had been serving as a bit of an overgrown bed with some composting piles (full of egg shells, vegetables, compost-able plastic bags, and a family of moles…..Isaac said to make the plot on the left eventually look like the plot on the right!
We rolled up our sleeves and got to work. Buried underneath the growth and piles was some beautiful soil that will make for a wonderful garden.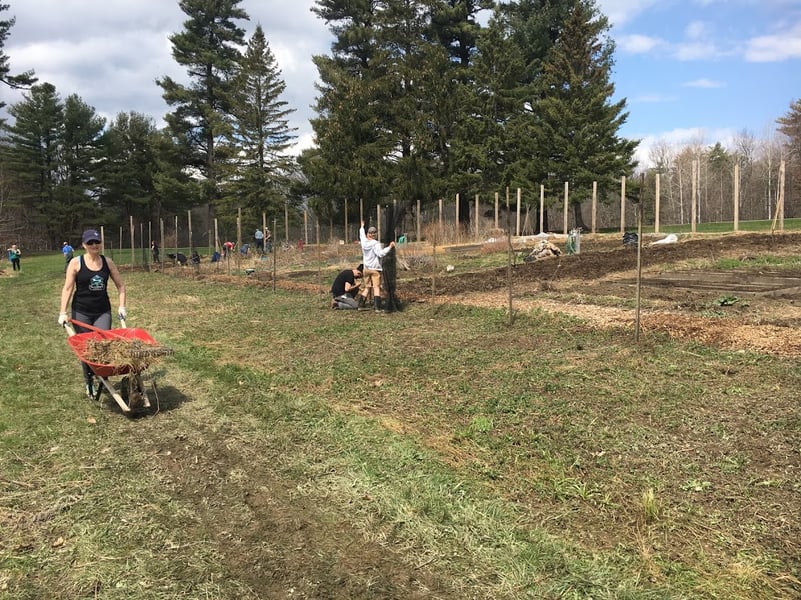 Deep in one mound, we came upon a surprise. There was a family of moles nesting in soil. With great care, we were able to move the nest and the family a safe location.
Other groups worked across the site weeding, mulching, and erecting a fence around the gardens. As noon approached, we were all able to appreciate the progress we made.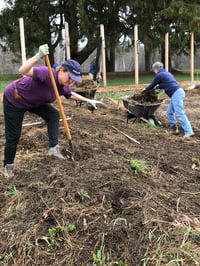 This was our first joint community service event as "Employee Owners of Vermont," and it was a great success! We are generating interest, excitement and awareness within our companies and in the community. We will move from a Day in the Dirt to a day on the roads as we will be supporting the Girls on the Run Northern Vermont 5K on June 2nd. Employee owned companies recognize the importance of supporting and positively impacting our communities. We invite you to come join us!
About the author
Keith is a native Vermonter who has lived and worked in Vermont for the past 50 years. He is a graduate from the University of Vermont with a BSEE and an MBA. He joined Hallam-ICS in 1988 after graduating from college and has served in numerous positions for the company over his 30 years of employment, including President and CEO since 2001.
Read My Hallam Story
About Hallam-ICS
Hallam-ICS is an engineering and automation company that designs MEP systems for facilities and plants, engineers control and automation solutions, and ensures safety and regulatory compliance through arc flash studies, commissioning, and validation. Our offices are located in Massachusetts, Connecticut, New York, Vermont and North Carolina and our projects take us world-wide.