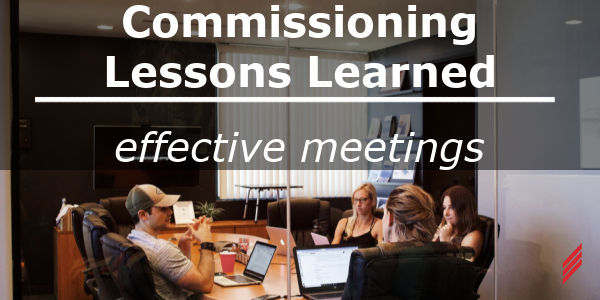 One of the lessons I've learned through many years of commissioning is how to conduct an effective meeting. We have found that you can actually invite too many people to a meeting. Typically with commissioning, we want to have all interested parties involved in the meetings to discuss the issues at hand.
Up until recently we have been a big proponent of having everyone on the project team involved, problem being when you have more people involved, you have more questions, more discussions, including sidebar discussions, and in the end you have more disinterested people sitting in your meeting, just waiting for it to end.
To combat this, we suggest having more effective meetings; to do this you first need to learn a few things about the meetings you're looking to conduct. Each meeting should be short and concise; it should target a specific topic or topics, and only invite a specific audience who has knowledge of the information to be discussed. For MEP commissioning, there are ideally 4 major contractors involved, (HVAC, Electrical, Plumbing and Fire Protection). In previous projects we have invited all these trades, along with the General Contractor or Construction Manager, the Engineer, the Architect, the Owners Project Manager, and the end users of the space to the project commissioning meeting.
With this many people in the room, it can become counterproductive, and sometimes hard to hear from everyone involved in the timeframe allotted. There is absolutely a need for these folks to be communicating to each other, and in most cases they already are if your project is running efficiently. If that is the case, then there is no reason to continue those conversations in your commissioning meeting. Our suggestion is to have individual commissioning meetings with each trade, focus on that particular trade's issues and concerns for the project. The meetings can be quick 15 or 30 minute discussions, held right in the field, and not is a conference room. A commissioning agent can set up a regular schedule to meet each trade foreman/project manager and catch up with them individually in the field. A full commissioning meeting could then be scheduled once a month to bring in the whole team and discuss those items that came from the mini meetings and discussions held previously that involve other trades and coordination between trades.
About the Author
Keith Sheldon is the Commissioning Manager for Hallam-ICS. Keith started his Hallam career in the Hallam-ICS Vermont office and now works out of both the Hallam-ICS Massachusetts and Connecticut offices. Keith has a Bachelor's of Science degree in Engineering and Management from Clarkson University, and holds a certificate in project management from Worchester Polytechnic Institute. Keith is a member of the ISPE International Society of Pharmaceutical Engineers, and has performed commissioning and qualification projects in the pharmaceutical industry for over 15 years.
Read My Hallam Story
About Hallam-ICS
Hallam-ICS is an engineering and automation company that designs MEP systems for facilities and plants, engineers control and automation solutions, and ensures safety and regulatory compliance through arc flash studies, commissioning, and validation. Our offices are located in Massachusetts, Connecticut, New York, Vermont and North Carolina and our projects take us world-wide.