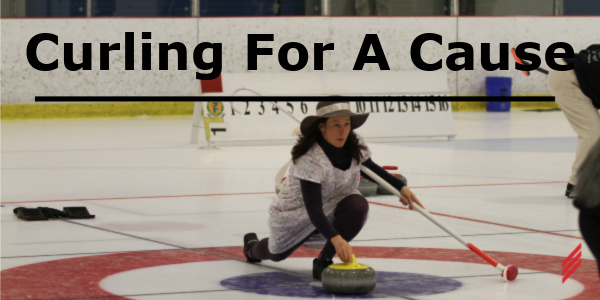 ---
I am a curler! That's right, I admit it. The first time I saw this sport was during the Olympics, and although it sucked me in for hours, I never thought I would actually try it. But a few years ago, our own Brenda Rose invited several of us to go curling across the border in Canada for a day. I had a great time! Since then, I have made sure to be included in Brenda's yearly curling gathering. But playing a sport once a year does not make you an athlete in that sport. That all changed this year thanks to the Howard Center.

For the last eight years, the Howard Center, a Burlington area organization that helps people in need, has sponsored a charitable curling tournament in conjunction with the local Burlington curling club. As part of Hallam-ICS's Social Mission and continued dedication to give back to the community, we asked our employees if anyone would like to participate this year. Much to my surprise, not only did we get enough for one team of four people, but 14 brave Hallam-ICS employees (and two spouses) agreed to participate in the tournament. Like many charitable sponsored functions, this tournament was as much about having fun as the actual sport. The Howard Center not only provided a prize for the winning team, but also for the best name and costumes. Our employees did not disappoint:
The Arc Flashers: Pete Niarchos, Jamie Spalding, Daryl George, Nick Menounos
Hallam-ICS TOO: John Butterfield, Marge Butterfield, Allan Stier, Steve Comeau
The Pirates: Meg Flaherty, Jacob Hillegas, Tricia Becker, Jeff Silcox
Little Bo Sweep: Brenda Rose, Elizabeth Ford, Keith Flaherty, Chris Groen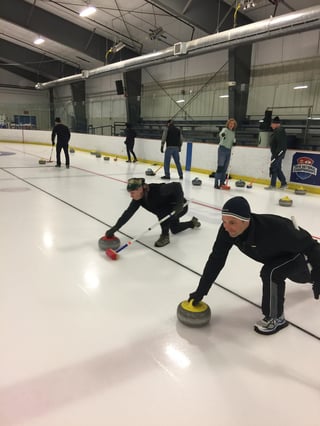 Although the actual tournament was on Saturday, March 11th, the organizers provided practice time on the ice the night before. We all spent an hour on the ice either learning the sport or, for those of us who had played before, reorienting ourselves to the nuances of the game in preparation for the next day. And then, of course, we all went for dinner to celebrate our hard work and "prepare" for the next day's tournament.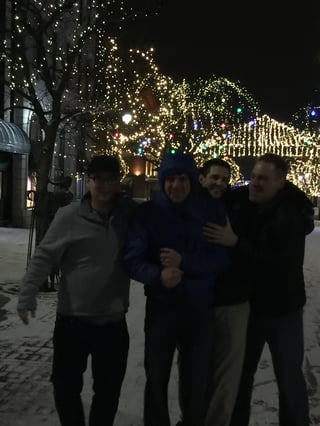 Of course, the Arc Flashers felt additional preparation was required...so they headed to Church St.
The next morning, thanks to a little up front work by Tricia, all four of our teams were set to play at 10:30 in the same draw (The tournament actually had a total of 32 teams entered, but split into four 8 team draws due to limited ice space). With Brenda, our captain, dressed as Little Bo Peep and the rest of us wearing our sheep ears, we stepped out on the ice for our first match. As luck would have it, we were paired up against Hallam TOO.
You should know that my team was viewed as the favorite amongst the Hallam group because Brenda has been curling since she was young, Keith and I had been to several of Brenda's curling gatherings, and Elizabeth had some past experience. Most of the other teams had at least two players who had never played before.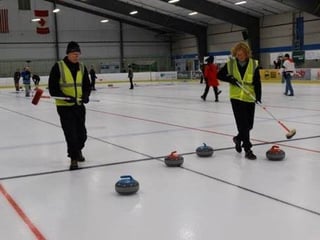 Hallam TOO played a great first end and took a 1-0 lead. The second end went back and forth, but we were able to get two points and take a 2-1 lead. Our experience showed in the third and final end as we were able to place some good blocking stones to protect our stones in the scoring area-ending up with a 4-1 victory.
We had to wait for our second round opponent as we were scheduled to take on the winner of the Arc Flashers and a non-Hallam team. They ended up tied after three ends and had to go into a throw off. This consisted of the team Skips each throwing one stone to see who could get closer to the center.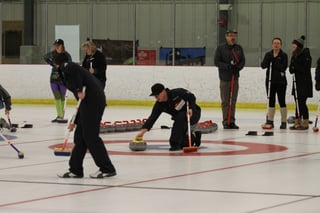 Unfortunately, neither one threw it into the playing area and resulted in the next player for each team throwing. Now, I'm not saying that this team's excursion into downtown Burlington the night before had any bearing on the results…
instead, I will give credit to the player from the other team for making a great throw. Thus, we missed out on a chance to play the Arc Flashers.
In our second game, the rules of the tournament came into play. We learned that in previous years, winners of the Howard Center tournaments had been based on total cumulative point differential after two matches. Unbeknownst to us, this year's tournament was set-up similar to March Madness with the winners playing winners until there was only one left (Of course, the other teams continued to play to determine the rest of the order).
We started out strong against this team and took a 2-0 lead after the first end. We then had another good end and went up 4-0. Now normally we would start playing defensive to minimize the number of points the other team could get.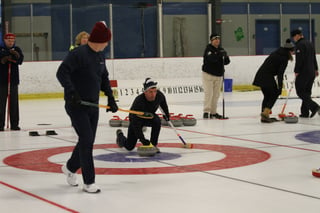 As an experienced curler, this was how Brenda wanted to play. But, thinking this was a cumulative tournament, I wanted to rack up as many points as possible. According to the spectators (our spouses), this lead to some "fun" exchanges between Brenda and me as we discussed our strategies based on our differing viewpoints. It also lead to us adding an additional two points in the final end for a 6-0 victory (don't tell Brenda, but if I would have known then what I know now, I probably would have agreed with her).
As luck would have, the other undefeated team was the Pirates. This not only pitted us against another Hallam team, but Meg Flaherty versus Keith Flaherty. We also heard that the whole team had been making some great shots including Jacob taking out two of the opponent's stones with one shot to preserve a victory. They also had an advantage as they had just played on the lane we were to compete on. Due to this being a hockey rink turned into curling lanes, the ice was not always level. This played a major factor in this game as the ice sloped a lot from one sideline to the other. This also led to another fun discussion between Brenda and me.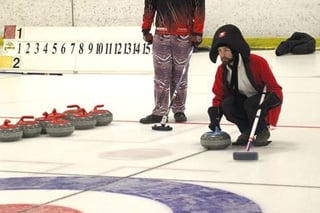 Our first thrower for each game was Elizabeth, and she did a great job of getting us in a position where we had one if not both stones in play. This is huge, especially in a tournament like this where many of the team's first players have never played before and either throws it short or through the playing area.

Thanks to Elizabeth's throws and then our final thrower, Brenda, we were able to grab a 2-0 lead after the first end.

As we played the second end, we started to realize the slope of the ice was greatly affecting our shots. The Pirates did a great job of compensating for this in their shots, while we struggled to figure out how to overcome the slope.

Again in the final end, the two teams both made great shots. We were able to get an early advantage and use the slope to our advantage to set up blockers. As we got closer to the end, it was harder for the Pirates to try and knock our stones out of the center as we had blockers in the way and they had to try and overcome the slope in order to knock us out. In the end, we were able to keep our lead and ended up winning the match 4-1.

The Pirates took advantage and narrowed our lead to 2-1.Brenda and I had several "discussions" and finally concluded that we had to curl the stone the opposite way in order to overcome the slope.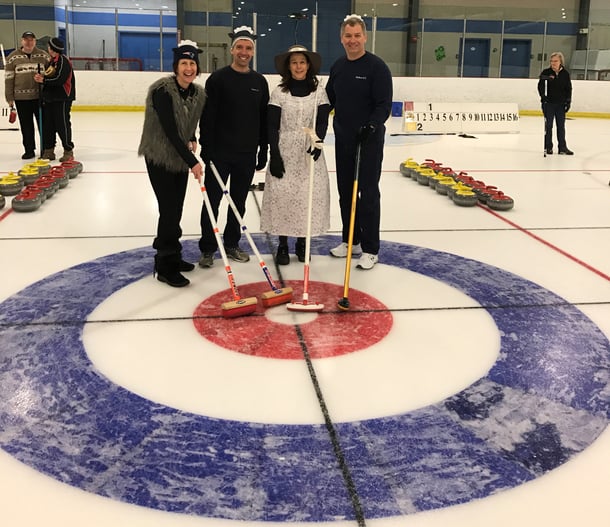 As a bonus, Little Bo Sweep won for best name!
We all had a great time both playing in the tournament and interacting with our fellow employees. Most importantly, we were able to raise over $4,400 for the Howard Center.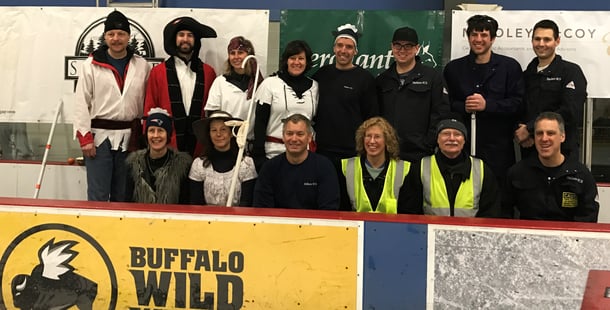 About the author
Chris Groen is a Project Manager who has been in the construction industry for over 28 years. Chris joined Hallam 5 ½ years ago and has worked on various projects including toxic gas monitoring, pharmaceutical metrology, and miscellaneous controls equipment installation.
Read My Hallam Story
About Hallam-ICS
Hallam-ICS is an engineering and automation company that designs MEP systems for facilities and plants, engineers control and automation solutions, and ensures safety and regulatory compliance through arc flash studies, commissioning, and validation. Our offices are located in Massachusetts, Connecticut, New York, Vermont and North Carolina and our projects take us world-wide.