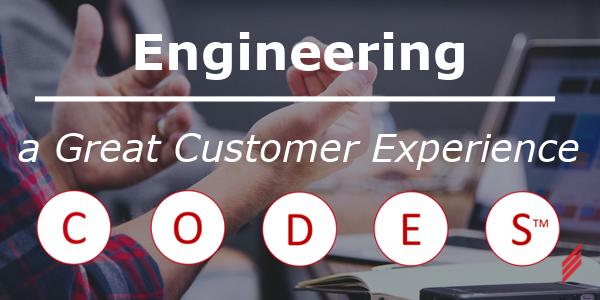 A few years back, Hallam-ICS retained a marketing research firm to help us better understand how our clients perceived us and what they were looking for in the future from their engineering and automation consultants.As part of their research, they interviewed many of our current, past and potential clients along with evaluating our competitors. One enlightening conclusion they had was that our competition was strictly focused on developing processes to deliver their technical expertise. Yet, while they all espoused to be focused on "relationships," none of them had a defined process for creating high quality, consistent customer service.
Their research also found that the strengths of the Hallam-ICS brand were consistent with our founding beliefs that our business "50% technical and 50% relationship." Our brand attributes as described by our clients were honesty and integrity, easy to work with, high quality, detail oriented, and dependable. The market research also identified inconsistency with how projects were delivered at Hallam-ICS and how client interactions were managed. This inconsistency came across regions, service lines and project managers. As a result, CODES was developed as a methodology for Hallam-ICS staff to follow on all projects, bringing a higher level of consistency and improving the overall client experience.
Creating a great customer experience is something that all businesses should strive for. PWC research shows that "32% of all customers would stop doing business with a brand they loved after one bad experience," and that "the payoffs for valued, great experiences are tangible: up to a 16% price premium on products and services, plus increased loyalty." Hallam-ICS has always believed in trying to create a great customer experience as our business success is based upon finding and keeping good clients. Repeat business typically represents between 65% to 85% of our annual revenue and ensuring that every customer has a great experience is very important to us.
So, what is CODES and how does it help in creating successful project experiences for our clients? CODES is based upon five key elements of every project (Communication, Oversight, Documentation, Expectations, and Schedule). Hallam-ICS has developed a process to engage our clients in a dialog to create a customized project management plan that meets their specific needs on the project. This isn't a mechanized procedure; our clients often don't know that we are utilizing CODES as the questions and conversation flow naturally. Our team will utilize CODES in all phases of a project, including proposal development, kick-off meeting, in process review, and project closeout.

C – Communication
Understanding how the customer wants to be communicated with
The foundation to any successful relationship is communication. There are many aspects to creating an effective communication strategy for a project. The following questions should be addressed at the outset of every project:
What type of information should be communicated?

Progress status, designs, meeting minutes, scope changes, budget and schedule status

When should communication occur?
Who should be included in the communication?

Project manager, design lead, other key stakeholders

How should the information be communicated?

Face-to-face, phone call, email, text
I've worked on projects where the client defined their preferred communication method at the outset of the project. This included a weekly update to the project manager, daily interaction with the system engineer and maintenance team, and a monthly project status report for the engineering manager. Each individual had a different need for the type, frequency, content and delivery method. Identifying these preferences at the outset of the project and establishing a documented communication plan ensures that the needs of all key project stakeholders are met.

O – Oversight
Defining how decisions will be made on the project
How much oversight a client wants to have on the individual decisions on a project can range from "call me when you're done" to "let me know before you make any decisions." The level of oversight that a client wants to provide can vary based upon the criticality of the project, complexity of the technology, how clearly defined the scope is, and the personality of the client.

D – Documentation
Agreeing on documentation and deliverables
Most clients have defined standards for their documentation. Understanding how the client wants the project documentation developed and delivered at the outset of the project will lead to efficiencies during project execution and minimize rework at project close out or turnover.

E – Expectations
Identifying the expectations of all stakeholders
This may be the most important part to creating a great customer experience. Many projects begin with a written Scope of Work that neatly describes the technical objectives for the project; design a new chilled water system to support the requirements of new equipment or upgrade the automation system from a PLC-5 to a ControlLogix PLC. The scope of work is typically written by the system engineer. However, there are always many more stakeholders associated with the project and many expectations that have not been included in the Request for Proposal.
For example, the maintenance manager will be responsible for the system after commissioning and she may express that her team needs to be involved in the design process to provide input on installation details and location of sensors for ease of maintenance. Involving all stakeholders and understanding all of their expectations at the onset of the project allows our engineers and technicians to focus on what is important to project success.

S – Schedule
Establishing key dates and milestones
One key measure of project success is adherence to schedule. Whether it is getting a manufacturing line running to meet product demand or completing construction for when students and researchers return to campus, meeting the project schedule is an essential element of every project we take on. We'll work with the client to develop a project schedule, but more importantly to understand what is driving the schedule and the key milestones to meet the schedule requirements.
Since CODES was developed, Hallam-ICS has seen an increase in customer satisfaction and in the consistency of our customer experience. Our annual client satisfaction survey asks the question "What do you value about working with Hallam-ICS?" The answers indicate the customer experience is based upon both the Technical Deliverable AND Customer Service:
"Personable team. Very deep knowledge. Collaborative."

"Professionalism and willingness to work together has been terrific."

"1. Communication, 2. Quality of Work. I recommend Hallam-ICS highly."
About the Author
Keith is a graduate of the University of Vermont with a BSEE and an MBA. He has been with Hallam-ICS since 1988 as an electrical engineer, manager of integration services, CFO, and CEO. He focuses the company on understanding and meeting the needs of each individual client while at the same time delivering the highest possible level of technical expertise.
Read My Hallam Story
About Hallam-ICS
Hallam-ICS is an engineering and automation company that designs MEP systems for facilities and plants, engineers control and automation solutions, and ensures safety and regulatory compliance through arc flash studies, commissioning, and validation. Our offices are located in Massachusetts, Connecticut, New York, Vermont and North Carolina and our projects take us world-wide.