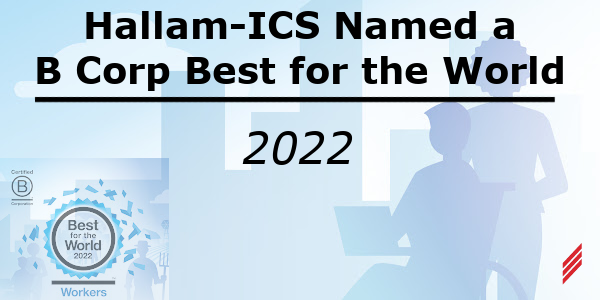 ---
Hallam-ICS became a Certified B-Corporation on December 17, 2018. This was a proud day for us, as we joined thousands of other purpose driven companies around the world committed to the concept that businesses exist for both purpose and profit. Becoming Certified wasn't the destination, it was a step in our journey to continually grow and evolve as an organization. That is why we were excited to named a 2022 Best for the World by B Lab Global on July 13.
B Lab recognizes B Corps who score in the global top 5% of companies of similar size on the B Impact Assessment in one of five selected impact areas. Hallam-ICS has received the BFTW designation in 2019, 2021, and 2022 (there was no BFTW program in 2020 due to Covid) for the Workers category:
These businesses' efforts to create positive impacts for their workforce are remarkable. Their best practices in work environment aspects like compensation, benefits, training and ownership opportunities, as well as assessing working communication, job flexibility and worker health and safety practices, not only contribute to better conditions for their employees, but also mark the pace and set an example to follow.
The Workers impact area assessment examines a company's business practices and policies with respect to their employees in five categories:
Financial Security (Wages, Bonuses, Ownership)
Health, Wellness, and Safety
Career Development
Engagement and Satisfaction
Worker-Owned Impact Model
Of these, Hallam-ICS scores particularly well in both the Financial Security and Worker-Owned Impact Business Model. For Financial Security, we are recognized for overall compensation, including salaries, a generous and broad-based bonus plan, retirement benefits, and employee-ownership. As a 100% employee-owned company (ESOP), Hallam-ICS scores very well in the Worker-Owned Impact Business Model. You can view our Overall B Impact Score for more details.
We're proud to be included in the BFTW for Workers along with other employee-owned companies in Vermont, including Chroma Technology, Gardener's Supply Company, Heritage Aviation, and King Arthur Baking Company. These are all great organizations that we have combined with in the past as part of the Employee Owners of Vermont and have learned from the exceptional work that they do.
As I mentioned earlier, for Hallam-ICS the value in being B-Certified is not the mark, but the opportunity to learn from best practices. The B-Impact Assessment has helped us to identify areas where we can improve our business practices. In the past, this has led improvements in our internship program, performance reviews, and employee engagement practices. In 2022, we have added a paid volunteer service policy, held targeted management training sessions, and are currently working on changing our corporate structure to a Benefit Corporation as well as creating a public dashboard for impact reporting.
We chose to become a Certified B-Corporation in 2018 because we support the mission and cause, not for any specific benefits to us or publicity that it may provide. Doing so would seem to be disingenuous to our own beliefs. We chose to become a Certified B-Corporation because doing so is consistent with our own values. We do these things not because we think that we will profit from them, but because we feel deep down that this is what businesses should do; support the growth and development of a healthy society where our actions are not driven solely by how to "maximize shareholder value." Thank you B Lab for creating a platform for purpose driven companies to gather!
About the author
Keith is a native Vermonter who has lived and worked in Vermont for the past 50 years. He is a graduate from the University of Vermont with a BSEE and an MBA. He joined Hallam-ICS in 1988 after graduating from college and has served in numerous positions for the company over his 30 years of employment, including President and CEO since 2001.
Read My Hallam Story
About Hallam-ICS
Hallam-ICS is an engineering and automation company that designs MEP systems for facilities and plants, engineers control and automation solutions, and ensures safety and regulatory compliance through arc flash studies, commissioning, and validation. Our offices are located in Massachusetts, Connecticut, New York, Vermont and North Carolina and our projects take us world-wide.