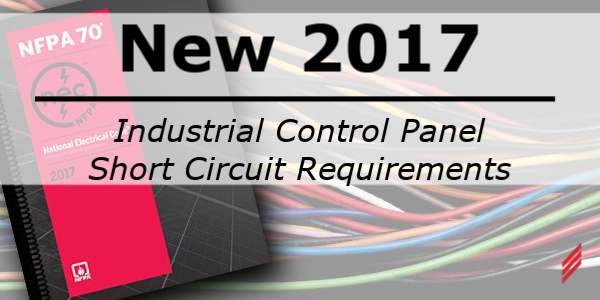 ---
Requirement #1
It is commonly understood that any piece of electrical equipment must be rated to withstand the short circuit current available from the electrical supply. If the short circuit availability exceeds the equipment rating, an electrical fault could result in damage, along with possible fire and injuries.
If the equipment's short circuit current rating (SCCR) is less than the available fault current, NEC Section 670.5(1) makes it clear that the equipment should not be installed; and the Authority Having Jurisdiction (AHJ) shall not approve the installation. This requirement is also stated in National Electric Code (NEC) Sections 409.22 and 670.5.
Requirement #2
The second requirement (as stated in the 2014 NEC) is that industrial control panels must be plainly marked with the information required by NEC Section 409.110. This section states that "An industrial control panel shall be marked with the following information that is plainly visible after installation":
Manufacturer's name, trademark or other descriptive marking

Supply voltage, number of phases, frequency and full-load current for each incoming supply circuit
Industrial control panels supplied by more than one electrical source….shall be marked to indicate that more than one disconnecting means is required to de-energize the equipment.
Short circuit rating of the industrial control panel
Requirement #3
The 2017 NEC, Section 670.5(2) requires field marking with the available fault current, and the date the calculation was made. This provides personnel with not only the short circuit rating of the industrial control panel, but also what level of short circuit current is present at the panel.
In Summary
Requirements in the 2017 NEC provide personnel with clearly accessible information to verify:
That the nameplate on an industrial control panel or machine itself is plainly marked with its short circuit current rating.
That the control panel is field marked with the available fault current, as well as the date of the calculation.
About the author
John has retired from Hallam-ICS, but his contributions to the company continue to be valued.
Read My Hallam Story
About Hallam-ICS
Hallam-ICS is an engineering and automation company that designs MEP systems for facilities and plants, engineers control and automation solutions, and ensures safety and regulatory compliance through arc flash studies, commissioning, and validation. Our offices are located in Massachusetts, Connecticut, New York, Vermont and North Carolina and our projects take us world-wide.