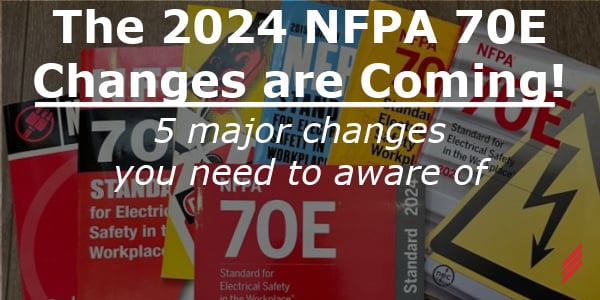 ---
Another 3 years has passed and it's time for another NFPA 70E update. This new update will be the 2024 version. This document will provide a brief summary of the proposed changes. Please note that these changes are my interpretation but should provide a fair representation of what they include.
I was fortunate to get a sneak preview to the proposed changes by attending a webinar on June 27, 2023 hosted by Jim Phillips of brainfiller. Jim is a Technical Committee Member of the NFPA 70E Standard for Electrical Safety in the Workplace and is well respected in the electrical industry.
Changes to Article 105 (Application of Safety-Related Work Practices and Procedures):
Revised the language in Article 105.1 Scope
Added informational note 105.2 Purpose.
General Observation and Changes to Article 100 (definitions):
All sections throughout the guideline will now start with a Scope Section.
Since 2021, many minor revisions, deletions, and new content have been made. These changes typically come from input from people in the electrical community and input from the general public. Why do we have these changes? Because it's all about electrical safety and making the guideline better and helping it to evolve:
Many of the definitions had shaded revisions, text deletions and figure/table revisions.
An article number in parentheses following the definition indicates that the definition only applies to the that article. For example: "Boundary, Arc Flash (Arc Flash Boundary)"
New Definitions:

Authorized personnel
Battery
Battery Effect
Battery Room
Boundary, Hearing Protection (Hearing Protection Boundary)
Boundary, Lung Protection (Lung Protection Boundary)
Cell
Cell, Valve Regulated Lead Acid (VRLA) (Valve Regulated Lead Acid Cell)
Cell, Vented (Vented Cell)
Charge Transfer
Competent Person
Dielectric Absorption
Discharge Time
Electrolyte
Field Evaluated
Ground Stick
Grounding, Hard (Low-Z). (Hard Grounding)
Grounding, Soft (High-Z). (Soft Grounding)
Hazard, Arc Blast (as applied to capacitors)
Laboratory
Laser
Laser Energy Source
Laser Radiation
Laser System
Pilot Cell
Protective Barrier
Protector
Radiation, Ionizing, (Ionizing Radiation)
Radiation, nonionizing, (Nonionizing Radiation)
Research and Development (R&D)
Resistor, Bleeder, (Bleeder Resistor)
Safeguarding
Short-Circuit Current, Prospective, (Prospective Short-Circuit Current)
Time Constant
Voltage, Nominal (as applied to cell or battery), (Nominal Voltage)
Changes to Article 110 (General Requirements for Electrical Safety Related Work Practices):
This article has section changes and modifications:
Article 110.2 Electrically Safe Work Condition is now Article 110.2 in the 2024 version and the definition was changed.

Section (A) Policy was added. Two informational notes added.
Section (B) "When Required" is new stating that "Energized electrical conductors and circuit parts operating at voltages equal to or greater than 50 volts shall be put into an electrical safe working condition before an employee performs work if any of the following are met…"; (refer to the guideline to see the added language) – a good deal of information was added here.
Several informational notes added and 5 exceptions.
Section (C) Requirements "Until Established" was revised.

Section 110.4 Energized Work was completely removed because it's reworded as part of Article 110.2 in an informational note.
Article 110.3 Electrical Safety Program added 13 informational notes either new or revised with new language.
Article 110.3 (I) Job Safety Planning changed shock to "electric shock" and added "(f) An emergency response plan".

Please note anywhere the term "shock" was used, it is now "electric shock" throughout the guideline.

No other major changes except for text revisions mainly on informational notes.
Changes to Article 120 (Establishing an Electrically Safe Work Condition):
Includes several information note changes.
Article 120.5 Lockout/Tagout Procedures (B) Elements (2) Stored Energy added "to the extent that the circuit breaker cannot be unintentionally energized".
Article 120.6 Process for Establishing and Verifying an Electrically Safe Work Condition (7) added "at each point of work" for use of an adequately rated portable test instrument to test each phase conductor or circuit part.
Changes to Article 130 (Work Involving Electrical Hazards):
This Article changes Shock to "Electric Shock" in several sections.

Table 130.4(D)(a) & (b) Electric Shock Protection Approach Boundaries to Exposed Energized Electrical Conductors or Circuit parts for Alternating-Current Systems and Direct-Current Voltage Systems added in the notes section under "d" – The restricted approach boundary in column 4 is based on an elevation not exceeding 900 m (3000 ft). For higher elevations, adjustment of the restricted approach boundary shall be considered.

Added 5 informational notes under Article 130.5 Arc Flash Risk Assessment and under section (H) Equipment Labeling added "The label shall be of sufficient durability to withstand the environment involved".

Added 6 informational notes under Table 130.5(C).

Many informational note changes under Article 130.7 Personal and other Protective Equipment.

Changed language under section 130.7(C)(5) Hearing Protection "Employees inside the arc flash boundary shall wear hearing protection".

Added informational note changes under Table 130.7(C)(15)(a)&(b) Arc Flash PPE Categories for ac & dc Systems.

Article 130.8(M) Reclosing Circuits After Protective Device Operation, circuit shall not be manually re-energized until "a qualified person or persons determine" the equipment and circuit can be safely energized. "Manually reclosing" circuit breakers or re-energizing circuits through replaced fuses shall be prohibited "until the fault has been cleared. Added exception in this section.

130.10(2) Cutting or Drilling, added "Establish and verify" an electrically safe work condition.

130.10(3) Cutting or Drilling, changed – Identify safe work practices, "risk control methods, additional protective measures, and any required electric shock or arc flash PPE".

Changed Article 130.12 Cutting, Removing, or Rerouting of "Electrical Conductors and Circuit Parts". Where "electrical conductors and circuit parts" are de-energized in order to cut, remove, "reroute, or otherwise work on" them and the conductor terminations "or circuit parts" are not within sight from the point of work, such as where the "electrical conductors or circuit parts" are remote from the source of supply in a junction or pull box, additional steps to verify absence of voltage or identify the "electrical conductors and circuit parts" shall be taken prior to cutting, removing, "rerouting, or otherwise work on the conductors and circuit parts". Added informational note in this section.

I realize there is a good deal of information here to digest but I hope this gives you an idea of what some of the changes are. I want to thank Jim Phillips for helping us all learn more about the proposed NFPA 70E 2024 changes. As always, if you have any questions or want to learn more, please feel free to reach out to me anytime.

About the Author

Scott King is the VP & National Director of Electrical Safety Services. Scott has been with Hallam-ICS for over 30 years. Scott and his team have been conducting power system studies for over 15 years.

Read My Hallam Story

About Hallam-ICS

Hallam-ICS is an engineering and automation company that designs MEP systems for facilities and plants, engineers control and automation solutions, and ensures safety and regulatory compliance through arc flash studies, commissioning, and validation. Our offices are located in

Massachusetts

,

Connecticut

,

New York

,

Vermont,

North Carolina

Texas

and Florida and our projects take us world-wide.