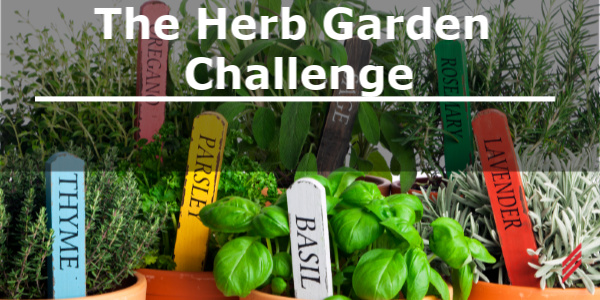 If you think that engineers can only deal with machines, think again! For this year's community service day, our NY office built an herb garden for a food pantry project at Franklin Community Center in less than 5 hours! Here is how we got it done:
Background
Franklin Community Center, located in Saratoga County, NY, has been providing necessities and services to the less fortunate families for 30 years. They serve more than 6000 people annually to promote healthy lifestyles and positive changes. One of the programs they run is the Food Pantry. They grow vegetables and fruits in their own garden, and they also accept donations from generous companies and individuals to supply fresh produce and balanced meals to the low-income families, ensuring each family to receive up to 8 meals a month designed and packaged based on the required nutritional value. For people who cannot afford to purchase herbs from the supermarket, a suggestion about enhancing the taste of food was brought up in hope of enabling these families to make delicious meals out of the donation packages. Therefore, the herb garden idea was born. Learn more about Franklin Community Center
Process
We had a very knowledgeable garden architect from the community center named Jean. She came well prepared with a piece of paper that detailed exactly how the garden should look like, the depth required of different sections and what kind of plants should go where. She was an excellent team captain!
Upon arrival, we gathered around Jean, listened patiently to her about the idea, asked questions about the design, and came up with a list of tasks we needed to do to reach our goal ---- converting the deserted backyard into a freshly mulched herb garden.
After coming up with the task list and the necessary roles, we organized ourselves into small groups just like the way we would at our engineering job sites. Each group was responsible for one of the four major tasks: laying bricks, digging the soil, moving dirt and planting the herbs. To be flexible, we also had three hybrid workers that jumped between tasks whenever they were needed.
Three hours passed, we already accomplished our goal for the day! Jean and her fellow community center members could not believe how fast we worked, so we surprised them even more with some added features, including an artistic separation design between different herb spaces in the middle of the plant bed.
Another two hours went by, a beautiful, ready-to-use herb garden was complete! We moved several pots of rosemary and thyme to the back of the garden, and planted lavender and marjoram in the front as the finishing touch.
The workers and volunteers at the Community Center were so happy when they saw the completed garden. We were, too, because of being surrounded by wonderful people and the pleasant scent from the freshly planted herbs, and because of realizing the excitement and joy this tiny garden is going to bring to the dinner table of 300 families. With these fresh herbs, they will be able to cook at least one delicious dinner a month for everyone in their family!
We are extremely thankful for the opportunity we had to contribute to the local community and the connection we built with Franklin Community Center. It is truly a great organization that does amazing things for people in need.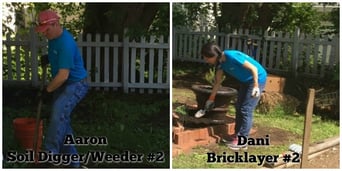 Next time when you visit Saratoga Springs, don't forget to check out this herb garden and donate if you can!
As proof for this wonderful experience, we got some stunning portraits of our people in action and the before/after shots of the garden (Drum roll please…).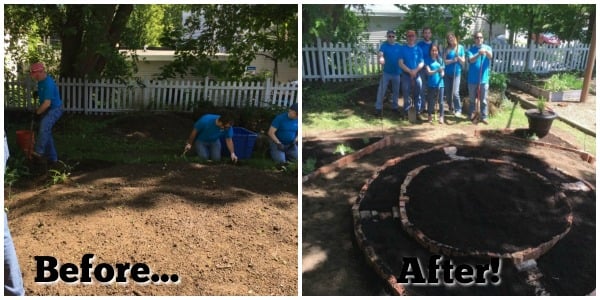 Harvesting season with parsley, sage, rosemary, thyme, tarragon, mint, marjoram AND a HAPPY JEAN!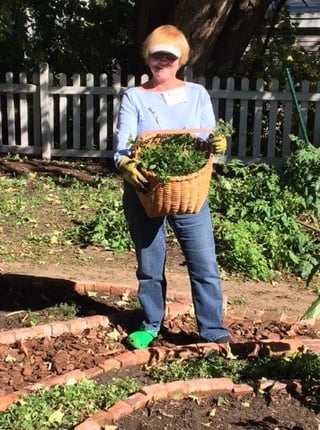 About the author
Dani has left Hallam-ICS to pursue other endeavors, but her contributions to the company continue to be valued.
About Hallam-ICS
Hallam-ICS is an engineering and automation company that designs MEP systems for facilities and plants, engineers control and automation solutions, and ensures safety and regulatory compliance through arc flash studies, commissioning, and validation. Our offices are located in Massachusetts, Connecticut, New York, Vermont and North Carolina and our projects take us world-wide.