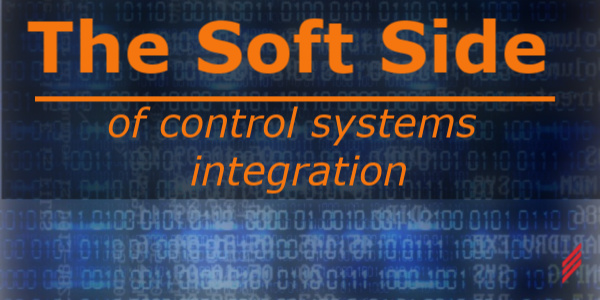 There is a plethora of topics that can be blogged about when it comes to Control Systems Integration. In almost six years at Hallam-ICS, I've touched a variety of types of documents, hardware, software, communication networks and protocols, etc. Although, this may appear to be the crux of what I do, there is another aspect to Control Systems Integration that is not tangible but equally as important. That is human communication.
We provide technical services to help customers achieve their goals. Sometimes those goals are clear cut and well defined. Other times, we must work to understand a customer's problem in order to help them find a solution we can then implement. This is where our soft skills come into play. Listening to our customer is not sufficient, we must seek to have a full understanding of their needs which involves an exchange of questions and information. Only then can we provide them with the best product and/or service.
It all starts with a customer asking for either something specific or wanting help with a problem. Gaining an understanding of what they are trying to accomplish will help us offer suggestions on how to resolve a problem, or perhaps suggest a different approach from what they might have initially considered. Whenever I hear that State Farm Insurance commercial, "we know a thing or two, because we've seen a thing or two", I think of how that applies to Control Systems Integration. The experience we have in our field allows us to make recommendations that will help get our customers where they need to be in the most efficient way possible.
In order to accomplish this we need to build a bridge between us and our customer. This involves gathering information from stakeholders. Most of the projects we work on touch many areas of a business such as operations, maintenance, IT, purchasing, and finance. Each stakeholder will have their own set of needs, as well as their own individual communication style. In order to build that metaphorical bridge, we must gather pertinent information and adjust to how that information is presented to us. Collecting this information upfront yields the best results for our customers in the end.
Have you ever seen the project management tree swing?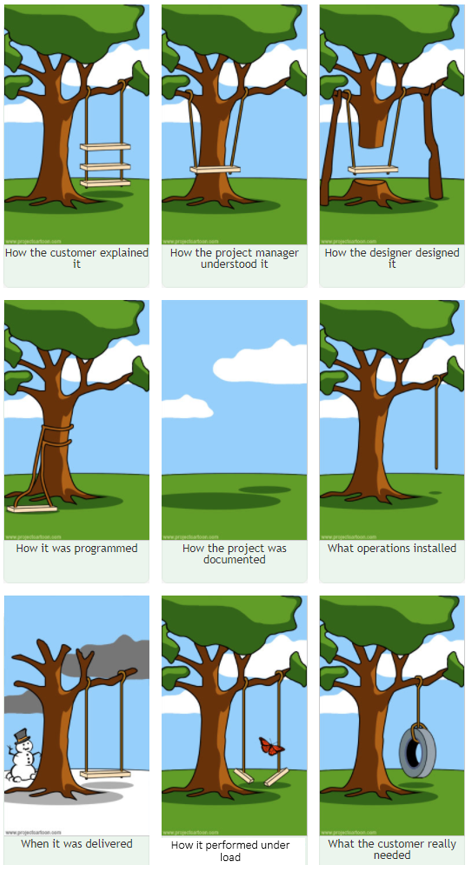 The above cartoon is a good example of what happens when importance is not placed on the communication aspect of a project. Knowing what the customer needs, documenting what you plan to deliver, and getting customer approval are all critical to a successful project. Writing a sophisticated PLC program, or designing the most efficient and easy to use HMI program are all very important, yet are irrelevant without a good understanding of the expected end result. Some people like surprises, however in our field surprises are not usually a positive thing.
When listening it is easy and tempting to apply one's own thoughts and interpretation to what we hear. Effort is necessary to avoid that temptation so that we may discover what is really important to the person requesting the work. By not allowing our own judgment to obfuscate the speaker's words, we are free to ask the questions that will shine a light on what the customer truly needs.
Though as integrators we sometimes have to make assumptions and educated guesses, having information upfront is always preferred. If you are familiar with the Zen of Python by Tom Peters, you might remember the aphorism "In the face of ambiguity, refuse the temptation to guess". This is very relevant in what we do every day. Extracting relevant information that helps us do our job is a skill that is often overlooked when discussing what we bring to the table, however it is very much a part of it.
Hallam-ICS's motto is "What's important to you becomes everything to us." Discovering what is important to our customers is achieved with good communication. I will leave you with a quote from a book I read a few months back, titled Eyes Wide Open.
"You should listen as though you've been retained as counsel for the speaker, charged to ensure that he is understood. Listen with focus, listen with purpose, listen actively. Listen like a good lawyer conducting a deposition." – Isaac Lidsky
About the Author
Brenda Rose is a Senior Controls Engineer with over 20 years experience. Brenda obtained a Technologist degree in Mechatronics, a college program heavily influenced by the automotive industry. Her career has focused on controls engineering in manufacturing.
About Hallam-ICS
Hallam-ICS is an engineering and automation company that designs MEP systems for facilities and plants, engineers control and automation solutions, and ensures safety and regulatory compliance through arc flash studies, commissioning, and validation. Our offices are located in Massachusetts, Connecticut, New York, Vermont and North Carolina and our projects take us world-wide.