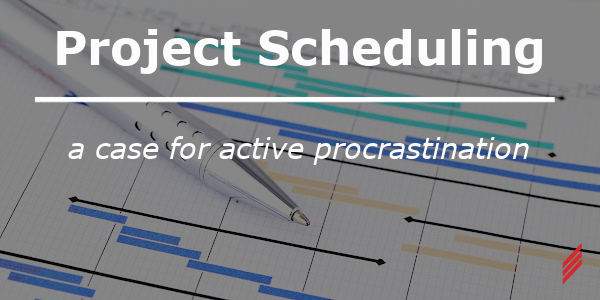 Are you still using an excel spreadsheet from 2012 to schedule your new project? Have you experienced delays on a project when it's time to order critical equipment that takes exponentially more time to arrive than at the project start? The delivery of today's projects cannot be accomplished with yesterday's model of backdating. In this article we will examine some previous concepts for project scheduling and propose an alternative that hopes to alleviate some of the surprises that have plagued us in recent years.
The year is 2015. You have a new project on your desk along with a list of material, and somewhere way at the top is The Big Day. 'This is how project schedules work,' you say to yourself. You set out a series of parallel and series lines, determine a critical path, and set the big day at the end. Major milestones fall in place, dates are disseminated for when direction is needed, and you either set these decisions aside until that day, or you give yourself a little cushion.
That probably worked 80% of the time before the supply chain experienced delays at a level we had never seen before, but modern problems require modern solutions. The headaches brought on by projects operating on this outdated philosophy have been felt across multiple industries. One thing that has not changed is the finish line. Schedule is still king and should remain. But what if instead of deadlines driven by schedule, design decisions were loaded at the front?
Active procrastination does just this by driving design decisions as early as possible based on the best information available at the time. It's not a perfect solution. It doesn't just suggest rework. It invites it and encourages it as part of a process that gets the heavy lifting out of the way at the front end. We admit that engineering work at its most efficient is based on hard numbers that are only revisited when we experience a change in scope. Rework in itself is not bad, though. It's become a given in the construction industry. Modern calculation tools and drafting software mean that a framework can be created with sound engineering basis, which leads to rework only in better definition of a flexible design. This is similar to the Level of Detail 3D modeling philosophy where models are set in place and modified along the design process from generic to specific. This is also similar in the process of schematic design through construction documents as laid out in the architectural design process.
Rework is going to happen, and the level of effort it presents varies greatly with the software and calculation tools that you use. AutoCAD is still the standard among many in the construction industry, however this software falls short in its ability to capture changes across several schematic and physical layouts saved in separate drawing files. Parametric modeling as done by Dassault-owned SolidWorks is great for physical models. It has several assembly- and part-level parameters that reduce rework in later phases, however Autodesk's Revit shines for MEP design, and I'm particularly in awe of its ability to preserve circuit and panelboard data across revisions in a single collaborative model.
Active procrastination delays 100% definition while front-loading a framework built in sound design decisions that check in at multiple phases – preferably at intervals no longer than 90 days. These intervals allow purchasing agents and expediters time to communicate with vendors and manufacturers, and to let that communication guide design decisions early enough to mitigate many of the surprises in supply chain when our manufacturers only hear from us twice: at quote and at purchase. This added level of communication from manufacturer to vendor to integrator to owner can allow adjustment in procurement at the 75% end of a project based on a more realistic deadline, rather than the 0% historical data which is the pre-COVID mindset that must be abandoned.
About the Author
Jeff has a B.S. in Electrical Engineering from Louisiana Tech University. Prior to coming to Hallam-ICS, Jeff had 7 years of experience working in prefab construction for mechanical and electrical buildings and skids. He holds a professional engineering license in multiple states, participates in all phases of the project design from concept through construction, and cooks a mean gumbo.
Read My Hallam Story
About Hallam-ICS
Hallam-ICS is an engineering and automation company that designs MEP systems for facilities and plants, engineers control and automation solutions, and ensures safety and regulatory compliance through arc flash studies, commissioning, and validation. Our offices are located in Massachusetts, Connecticut, New York, Vermont and North Carolina and our projects take us world-wide.