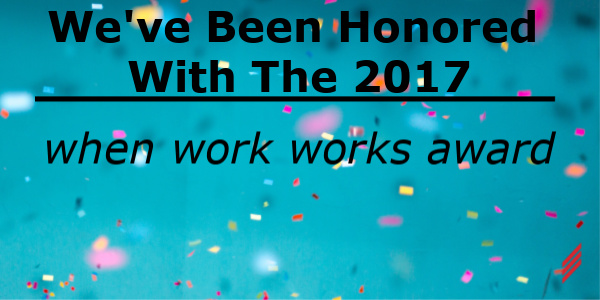 ---
Hallam-ICS was recognized for innovative and effective workplace practices receiving the prestigious 2017 When Work Works Award.

The When Work Works Award is part of the Society for Human Resource Management's (SHRM's) When Work Works project, a national initiative that helps employers become more successful by transforming the way they view and adopt effective and flexible workplaces.

The award recognizes employers of all sizes across the country that are excelling at offering a variety of top-rated employee initiatives such as work-life fit policies, flexible scheduling and transition to parenthood programs. The award goes beyond work-life programs and includes initiatives that address the additional evidence-based aspects of effective workplaces, such as opportunities for learning, a culture of respect and trust, and job autonomy.
"Hallam-ICS is proud to be recognized by When Work Works. We believe that every employee contributes to the success of Hallam-ICS and they deserve a respectful, and flexible work environment," said Keith Flaherty, CEO of Hallam-ICS.
In applying for the award, Hallam-ICS was evaluated on factors associated with employee health, well-being and engagement: opportunities for learning; a culture of trust; work-life fit; supervisor support for work success; autonomy; and satisfaction with earnings, benefits and opportunities for advancement.
"Considering that 78 percent of employers report difficulty recruiting employees for highly skilled jobs and 38 percent report difficulty recruiting for entry-level hourly jobs, When Work Works Award winners have leveraged this recognition opportunity to distinguish themselves as exemplary employers that offer new or enhanced options that help them attract and retain top talent," said Ellen Galinsky, president of the Families and Work Institute, the original creator of this award, and senior research advisor at SHRM.
"These winners have reinvented their workplaces in ways that benefit business and employees alike and are reaping the benefits in terms of employee job satisfaction and retention," said Cassidy Solis, senior advisor, workplace flexibility, at SHRM.
The award is earned after a rigorous assessment that emphasizes the real-life experiences of employees and incorporates national benchmarks of employer practices from the National Study of Employers and the employee experiences from the National Study of the Changing Workforce. Two-thirds of an organization's winning score is based on a survey of its employees.
To learn more about the awards, view an interactive map that lists winning organizations by state and a list of winners by name.
Additional information about the When Work Works Award and the When Work Works initiative is available online.
About When Work Works
When Work Works is a national initiative led by the Society for Human Resource Management (SHRM) to help businesses of all sizes and types become more successful by transforming the way they view and adopt effective and flexible workplaces. When Work Works is one of the foremost providers of resources, rigorous research and best practices on workplace effectiveness and flexibility in the nation. The initiative administers the prestigious annual When Work Works Award, which recognizes exemplary employers for creating effective workplaces to increase business and employee success. Visit http://www.whenworkworks.org/and follow them on Twitter @WhenWorkWorks.
---
About the author
Linda Kronoff joined Hallam-ICS in 1992 less than a year after moving to Vermont on a post-college whim. Clearly something resonated with the company and the state since she is still here having transitioned from Admin Assistant to Office Manager, Human Resources and now Director of People and Culture. Life and work have not been dull since and as long she can have that cup of coffee in the morning, she is up for the challenge.
Read My Hallam Story
About Hallam-ICS
Hallam-ICS is an engineering and automation company that designs MEP systems for facilities and plants, engineers control and automation solutions, and ensures safety and regulatory compliance through arc flash studies, commissioning, and validation. Our offices are located in Massachusetts, Connecticut, New York, Vermont and North Carolina and our projects take us world-wide.