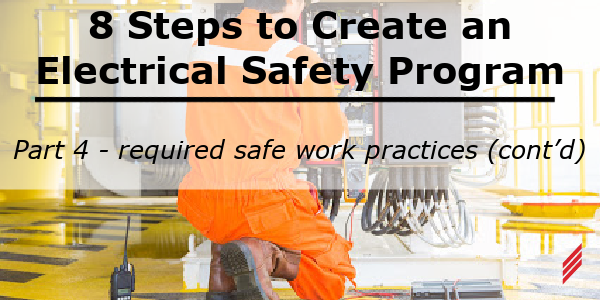 Welcome back to my 5-part blog series on Electrical Safety Plans. In part 4, I will continue the discussion from Part 3 about Required Safe Work Practices.
Part 1: Purpose, Scope and Responsibilities
Part 2: Requirements and Protective Measures
Part 3: Required Safe Work Practices
Part 4: Required Safe Work Practices Continued
Required Safe Work Practices (cont'd)
You should clearly state that your facility/facilities need to comply with your policy for creating a safe work zone or its local equivalent. The task should be reviewed by management to help identify the safe work zone steps for the task that is to be performed. The person who is in charge of the work must detail the steps listed in this section of your plan and the personnel who is responsible for completing each step. Steps to consider can be found in NFPA 70E and are as follows;
Isolation and Safe Work Zone Creation

De-energize and Confirm: The de-energize and confirm step includes instruction or switching orders and confirmation of energy isolation to protect personnel and equipment, and to minimize disruption to plant operation.

Tag and Lock Isolation Devices: Isolation devices shall be tagged and locked. Refer to the location tag/lock/verify program.

Identify Work Zone: Personnel shall identify the safe work zone with appropriate barricading and warning signs.

Verify by Testing and Ground

A qualified person shall test that all energy sources have been de-energized.

The test equipment must be verified before and after testing. Grounding is not generally used on low voltage systems. If grounding is required, it shall be approved on the Energized Electrical Work Permit by a Professional Engineer.
Signage needs to be addressed and in general the requirement is that your signs provide information regarding a potential electrical hazard. Things to consider are that signs shall be made of a durable material consistent with the anticipated environmental conditions and expected length of exposure. The color and shape of signs shall be consistent with regulatory requirements and can be found in ANSI Z 535. The signs need to be clearly visible and at a minimum be located on all substation doors, gates, and fences as well as on all doors to switchgear rooms, or other similar compartments where exposed, energized electrical parts are located.
Other safe work-related information to include in this section are switching requirements, maintenance, mobile equipment, utilization equipment operation and maintenance requirements, control houses, switchgear, motor control centers, and new electrical equipment and modifications.
Switching requirements will encompass operating electrical switches and breakers with the doors closed. I would implement the use of the stand-to-the-side method or one hand rule. It would be important to include that the following operational technique may be used by qualified and task qualified persons for operating electrical switches and circuit breakers. This method of operating switches and circuit breakers may only be used after arc flash analysis calculations have been completed and arc flash labels applied on non-internally arc resistant switchgear. For arc-resistant switchgear and motor control centers, personnel must wear PPE protection as indicated by the manufacturer of the equipment.
Your plan needs to address your maintenance program. If you do not have a maintenance program you will need to develop one for the electrical equipment in your system. As part of your maintenance program you need to perform thermographic inspection on all current carrying components and this needs to be completed annually. Remember that any equipment needing repair found during the survey should be scheduled as soon as possible. A complete list of maintenance requirements can be found in the NFPA 70B document. These requirements, if located in another document, should be referred to or included within your plan.
You need to include a section for low voltage electrical work in general. A basic outline for this would be to always consider electrical equipment energized until locked, tagged and verified for absence of voltage. All persons working in the area of low voltage systems must understand and comply with the arc flash PPE requirements established in your plan. In the instance that a task requires working near exposed energized parts, unqualified persons shall not cross the limited approach boundary as defined by 70E. An unqualified person can be escorted by a qualified person if there is a legitimate need to cross the limited approach boundary, but under no circumstances can the unqualified person cross the restricted boundary. This would be a good place to include or refer to the steps listed in NFPA 70E for determining the absence of voltage.
If the need to work on energized parts should exist you will need to draft the requirements they must follow to do so. This will include getting approval from management and it needs to be documented on an Energized Electrical Work Permit. As mentioned previously the exemptions to this are testing, troubleshooting, voltage measuring, thermography, visual inspections, and site specific exceptions that are documented. NFPA 70E lays out valid reasons to perform live work. You should be familiar with these and make sure that your policy addresses what exemptions you will accept. My feeling is that if an incident happens and OSHA investigates, they aren't going to see things like stopped production or inconvenience as valid reasons for doing the live work, just keep this in mind.
If you have a job site or facility that requires mobile equipment to be used, like a bucket truck or a crane, you need to include a section on safe operation and refer to the clearances and rules in 70E. It would be good to consider who can operate the mobile equipment and take into consideration any federal or local requirements to do so. The same goes for utilization equipment. This will encompass, but is not limited to, extension cord sets, portable cord-connected electric tools and power strips, anti-restart devices, GFCIs, etc. You will want to refer to manufacturers safe operation guidelines and it would be wise to also address what to do with damaged utilization equipment. I would recommend it be removed from service and either scrapped or repaired by the manufacturer to maintain the same operational integrity.
Other areas to consider and include are the state of the rooms that contain your electrical equipment. This should address basic housekeeping like nothing should be stored in electrical rooms unless needed for the work routinely done at that location. Having said that, materials and equipment are not to be stored in front of electrical equipment. A clear working space the width of the equipment or 30 inches, whichever is wider, and the height of the equipment or 6 ½ feet, whichever is higher, shall be provided and maintained for a minimum depth of 36 inches. No exposed, energized parts are allowed in areas accessible to the general workforce population. It should be stated that if exposed energized parts are present, control houses, motor control centers, and similar equipment shall be locked or otherwise restricted to allow access to only qualified personnel. Within your facilities control houses, switchgear, motor control centers and similar equipment, it is important to state that all equipment doors must be closed, all latches must be in place and operable, and all equipment must be kept in proper safe and operable condition.
This concludes part 4 of my series on ESPs. Part 5 will wrap up the series and will cover training and auditing. If you have any questions, please reach out to me and I will be happy to do whatever I can to make sure you and your staff are working safely. I can be reached at jmazzola@hallam-ics.com or by calling us at (508)-821-9759.
About the author
Jason Mazzola is the Director of Electrical Safety Services for Southern New England out of our Mansfield, MA office. He joined Hallam-ICS in 2019 and prior to that spent 10 years in utility industry in various engineering and leadership roles.
About Hallam-ICS
Hallam-ICS is an engineering and automation company that designs MEP systems for facilities and plants, engineers control and automation solutions, and ensures safety and regulatory compliance through arc flash studies, commissioning, and validation. Our offices are located in Massachusetts, Connecticut, New York, Vermont and North Carolina and our projects take us world-wide.