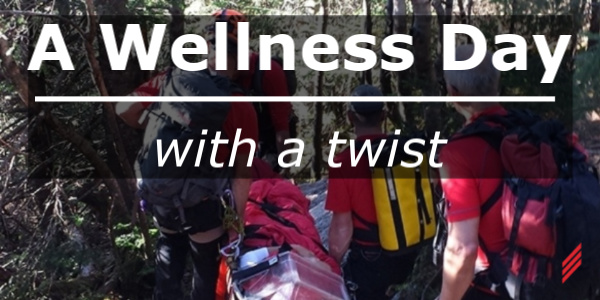 Each year, everyone at employee owned Hallam-ICS receives a Wellness Day. This is a day where you are encouraged to take the day off because "you feel too good to come in to work." I used my Wellness day in mid-October after I saw that the weather forecast for the upcoming Monday called for a spectacular fall day; mid-upper 60's and sunny. A perfect day in Vermont to enjoy the outdoors. I planned on hiking up Hunger Mountain and going for a long bike ride.
My brother-in-law and I got a later start than planned and found the parking lot to be full. It also happened to be Columbus Day and many others had the same idea as us. We started up the mountain around 11 am and had a great hike. Just before noon, as we were approaching the summit, we came across a woman on the ground. She was hiking down the mountain and had just twisted her knee. She was in obvious pain, so we stopped to see if we could help.
She couldn't put any weight on her leg, so we felt best to stay with her. We were in a clearing in the trail with a beautiful view so we sat down, had a snack and hoped that her knee would start to feel better. As we sat and chatted, her knee continued to swell and it became clear that the injury was serious. She called 911 and was told that Waterbury Backcountry Rescue would be coming to help her down the mountain. We decided to sit and enjoy the view.
The rescue team called and said they'd be up in 2-3 hours. The volunteers had to drive to the mountain and carry the equipment up the trail. When they arrived, the rescue leader asked if we were available to be part of the evacuation team.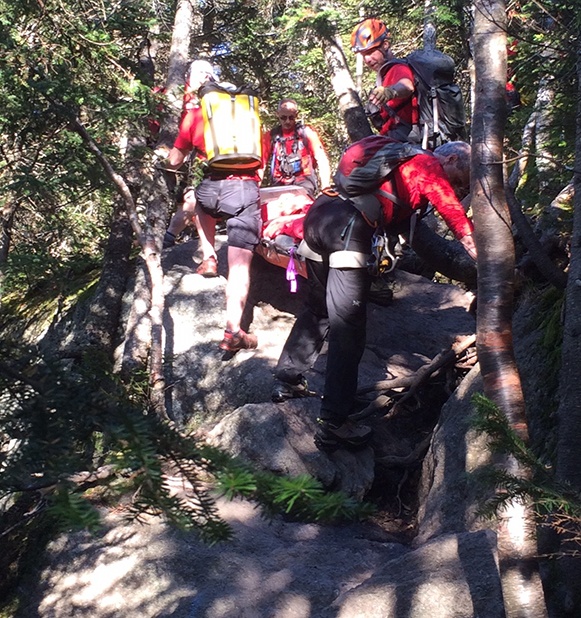 We had no experience with this type of effort but were happy to help. It was fascinating to be part of this process. The Stowe Mountain Rescue mission log described the process:
Her knee was immobilized and she was packaged in a litter for the evacuation. The team had to lower the litter down several pitches of difficult, steep, ledges using rope systems, a technique not typically employed on hiking trails. For the rest of the carry, the team was able to use a wheel. The women was evacuated before dark.
Our day on the mountain ended just before 7 pm and my Wellness Day had taken a twist (sorry for the pun….). As I think back on the day, I have several thoughts and reflections:
Enjoy the moment. My day was planned and packed. If not for the detour, we would have hiked up the mountain, stopped for a quick bite to eat at the top and scurried down. Instead, we sat, we talked, met a new friend and truly enjoyed the view of the valley in the middle of foliage season.
Be flexible. Planning and scheduling are important in business and in life. But, you have to be flexible to change. Unexpected events will occur and you have to be able to change on the fly.
Be appreciative of others and share your talents and time. Perhaps what stood out to me most was the work of the rescue team. It took 15 of us to safely transport the injured hiker down the mountain. In addition to Stowe and Waterbury Rescue, individuals from Colchester Technical Rescue and Mad River Backcountry Rescue arrived. All of these people were volunteers who dropped what they were doing to help! What a wonderful group of people who gave of their time, efforts and talents.
This particular Wellness Day may not have been what I originally had intended, but is one that I will remember for the unique experience it provided. This was a Wellness Day that was well spent.
Photos courtesy of WPTZ Chanel 5 News
About the Author
Keith is a graduate of the University of Vermont with a BSEE and an MBA. He has been with Hallam-ICS since 1988 as an electrical engineer, manager of integration services, CFO, and CEO. He focuses the company on understanding and meeting the needs of each individual client while at the same time delivering the highest possible level of technical expertise.
Read My Hallam Story
About Hallam-ICS
Hallam-ICS is an engineering and automation company that designs MEP systems for facilities and plants, engineers control and automation solutions, and ensures safety and regulatory compliance through arc flash studies, commissioning, and validation. Our offices are located in Massachusetts, Connecticut, New York, Vermont and North Carolina and our projects take us world-wide.