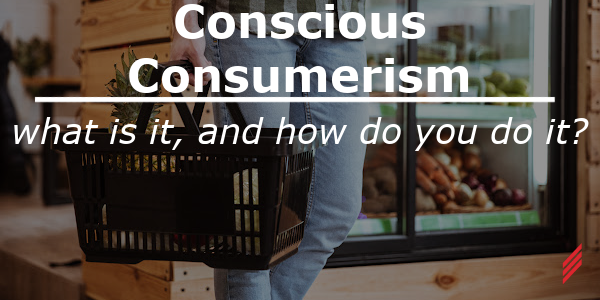 How much thought do you put into what you buy? Typically, the larger the purchase, the more thought that goes into it. What if there was a framework to make more of your everyday purchases thoughtful and in line with your values? This concept, referred to as conscious consumption, encompasses a variety of ways to engage with the economy with awareness of how your purchases impact society.
Conscious Consumerism
There are many ways to be a conscious consumer. Do you try to limit plastic in your purchases? Do you look for fair trade foods, or garments? Do you look for textiles that are easier on the earth, or companies that treat their employees well? Do you try to buy second hand? Or maybe you look for products created or made by BIPOC (Black and Indigenous People of Color) businesses. There is no one right way to try to do better, and while individual choices may not seem to make a difference, individuals are what movements are made of.
Reducing Plastic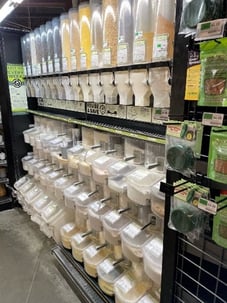 You can reduce single use plastics by looking for products that use little or no plastic in the packaging. You can go a step further towards reducing waste and find products that don't use packaging at all.
Some stores allow you to bring your own containers to fill with bulk foods, or personal or home care products.
Another source of single use plastics is plastic cutlery. To avoid it, several companies produce re-useable flatware to-go sets. If you are crafty, you can make your own using any of the many instructions available on the web.
Textiles
There are many options to consider when purchasing clothing. Thrift shopping and online resellers like thredUP and Poshmark allow clothing in good condition to have a second life before being disposed of. Shoes, pants, tops, activewear, accessories and more are available made from recycled plastic bottles, fishing nets, and ocean recovered plastics. If much of your wardrobe is made of synthetic fabrics, you may want to use a filter in your wash to catch microplastics shed in the washing.
Fabric and clothing traditionally are a huge source of pollution from fertilizers used on crops, to harmful dyes and chemicals used in processing raw materials into finished cloth or clothing. As more consumers become aware of the issues, more options are available for better choices.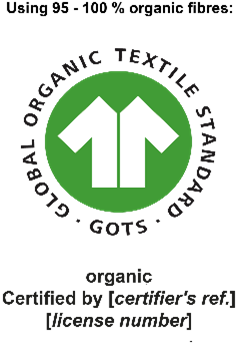 Generally natural fibers are preferable (wool, silk, linen, leather and cotton are examples), though cotton uses a tremendous amount of water and if it is not organic also relies on large amounts of pesticides[1]. Recycled textiles are also available. Buying well-made quality textiles increases the useable lifespan of the item and reduces the overall cost per use. By contrast, so called "fast fashion" is rife with poor labor and environmental records and generates enormous amounts of waste as items are thrown away after a few uses[2][3]. OEKO-TEX and GOTS certifications are two labels to look out for, though they are by no means the only sources for ethical textiles.
Caring for workers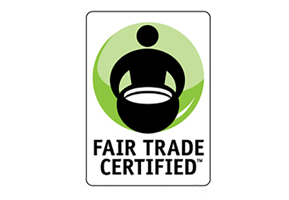 Some foods with a history of poor labor practices offer fair trade products. Coffee, chocolate, and bananas are examples of the many foods available. Fair trade certification ensures the people growing the foods get a larger share of the final price and facilitates social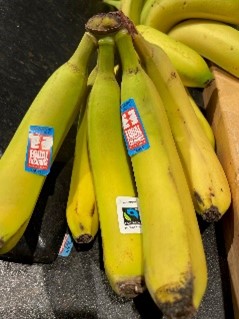 development. Some clothing companies also offer fair trade products. The Fair Trade Certified site offers several brands and retailers that offer clothing options The availability of fair-trade goods has increased dramatically in the past 20 years. According to statista.com the estimated retail sales of Fairtrade International products has grown globally from 830 million euros in 2004 to 9.8 billion in 2018[4].
Another way to tell if a company cares about its employees and the community and society they are in, is to look for B Corp certified companies. One of the characteristics that drew me to Hallam-ICS was its certified B Corp status. From the B Corp website, "B Corp Certification is a designation that a business is meeting high standards of verified performance, accountability, and transparency on factors from employee benefits and charitable giving to supply chain practices and input materials.[5]"
Diversity and Inclusion
BIPOC businesses in the US have faced structural barriers forever, from redlining in real estate to lower rates of approval for housing and small business loans and lower loan amounts being granted when they are approved. At the same time minority owned businesses are drivers for change in their communities' bringing jobs, and economic well-being. The availability of products designed or made by People of Color is increasing with large retailers adding products to their line-up. There are also apps (Miiriya is one) to easily connect customers to BIPOC businesses and allow searches by product category.
Community development financial institutions (CDFIs) and minority depository institutions (MDIs) provide funding access and financial services in low-income communities and MDIs are minority owned. With the advent of internet banking, it has become possible for people to support financial institutions outside of their local community. Alternately, community development banks and credit unions in your community may offer ways to support businesses close to home.
There are decisions to be made every day about the products and services we consume and purchase. Adding a framework for decision making that aligns with your goals and values is a way to increase participation in ethical and sustainable businesses. There is no one way, or right way to adopt conscious consumerism. This flexibility allows people to adopt what works for them, while moving incrementally toward a more just and sustainable economy.
Links and References
GOTS (Global Organic Textile Standard

https://global-standard.org/the-standard

OEKO-TEX

B Corp Certification

https://www.bcorporation.net/en-us/certification

Hallam-ICS

https://www.hallam-ics.com/social-mission

Fair Trade Certified

https://www.fairtradecertified.org/

Fairtrade International
About the author
Jen McClory joined Hallam-ICS as the Administrative Assistant in early 2022 after 8 years working for an embassy followed by 5 years in local government. That experience on top of a BA in Political Science and study abroad experiences lead her to explore the world around her near and far, in person and as an avid reader.
Read My Hallam Story
About Hallam-ICS
Hallam-ICS is an engineering and automation company that designs MEP systems for facilities and plants, engineers control and automation solutions, and ensures safety and regulatory compliance through arc flash studies, commissioning, and validation. Our offices are located in Massachusetts, Connecticut, New York, Vermont and North Carolina and our projects take us world-wide.