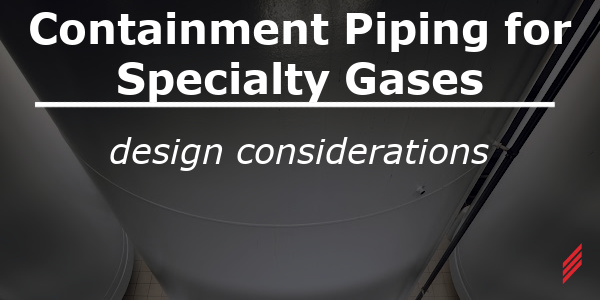 Introduction
Piping design for hazardous gases often includes double walled piping. This piping system consists of a carrier pipe and a larger concentric containment pipe. The carrier pipe carries the process gas under normal operating conditions. In the event of a carrier pipe failure, the containment pipe contains the gas.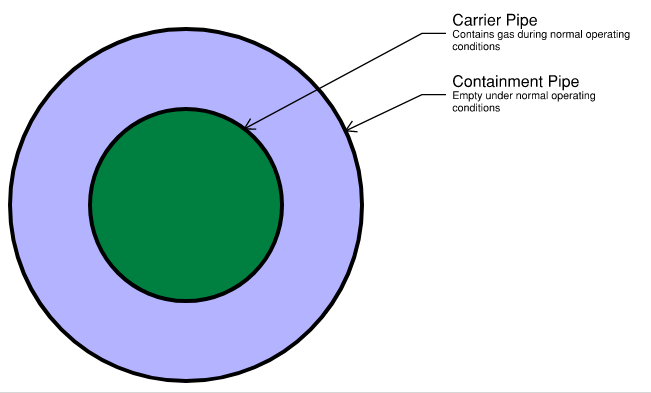 This blog explains when to employ a containment pipe strategy, what types of products are available, and important design considerations for specialty gases. For information on liquid piping, refer to my article on containment piping for liquids.
Why Use Containment Piping?
Code Requirements (Usually Not Required)
In most areas in the United States there are no code requirements for containment piping for gases.
The governing fire code for locations within the United States is usually either:
NFPA 1, the National Fire Code as published by the National Fire Protection Association, or
The International Fire Code (IFC) as published by the International Code Council.
Neither code requires containment piping for gases.
Both fire codes require compliance with NFPA 55, the "Compressed Gases and Cryogenic Fluids Code". NFPA 55 does not require containment piping for gases.
For semiconductor fabrication facilities, NFPA 318, the "Standard for the Protection of Semiconductor Fabrication Facilities" is statutory. This does not require containment piping for compressed gases.
For silane, CGA G-13: Storage and Handling of Silane and Silane Mixtures applies. This does not require containment piping.
OSHA sets Permissible Exposure Limits for many gases. This does not require containment piping, but engineers often use containment piping to confirm that these limits are met.
Non-Statutory Industry Standards
FM Global Datasheet 7-7
FM Global (a large US based insurance firm) published data sheets on many industrial situations including semiconductor manufacturing. Their datasheet 7-7 is entitled "Semiconductor Fabrication Facilities" with a date of April 2021. This standard is not statutory. This standard recommends containment piping for chloride trifluoride gas. It does not provide recommendations for other gases.
SEMI F6
Semiconductor Equipment and Materials International (SEMI) is an industry organization focused on providing standard practices which cover safety, environmental compliance, material specifications, and related information. Their standard F6 entitled "Guide for Secondary Containment of Hazardous Gas Piping Systems" provides non-statutory advice and guidance.
This standard recommends secondary containment for hazardous gases of several categories.
SEMI released this standard in 1992 and has not updated since. The SEMI website indicates this standard's status is, "inactive." This standard is not statutory.
Good Engineering Practice
For hazardous gas piping, design engineers need to lean on their judgment since there are few statutory requirements.
The statutory codes cover most but not all situations. It is our job as engineers to use good judgement when designing piping systems to protect life, health, and property in situations that the code writers did not consider. There are many situations like this. A few examples of when to consider adding containment are:
What are the potential consequences of a leak to health, life, or property?
Does the facility have gas monitoring and/or automatic gas shutoff in place?
Does the gas system design have excess flow switches to shut off gases in the event of a pipe rupture?
Does the pipe routing expose the pipe to increased risk of rupture due to fork
truck, vehicle or personnel traffic?
The hazard type of the gas is an important factor in determining whether to use containment piping. There are several common hazard types.
Health hazard gases such (e.g.: chlorine, hydrochloric acid)

Our designs usually include containment piping for these gases. Many owners require containment for health hazard gases.

Pyrophoric (e.g.: silane)

Our designs sometimes include containment piping for these gases.

Flammable (e.g.: hydrogen, ethylene, butane, natural gas)

Our designs usually do not include containment piping. We usually work with the facility owner to understand what other measures are in place to prevent explosions in the facility. This often involves a Process Hazard Assessment (PHA) of the building or system. Strategies to prevent explosions often include gas monitoring, excess flow switches, and/or automatic shutoff.
Owner Requirements
In some instances, the owner of a facility requires containment piping. This may be a general requirement for certain hazard categories, or it may be a specific project requirement that results from a Process Hazard Assessment (PHA). If the owner requires containment piping, the engineering decision is easy.
Containment Piping and Equipment
Piping/Tubing
There are many ways to provide containment piping. For specialty gases, the industry standard is to use manufactured ASTM A269/A270 double walled stainless steel tubing and fittings. Several manufacturers including Dockweiler, Swagelok, and Valex provide off-the-shelf stainless steel tube fittings for double walled piping systems.
Valves and other Appurtenances
The industry standard for specialty gases is to contain valves and sensors within a Gas Cabinet (GC) or Valve Manifold Box (VMB). These are special enclosures designed not to contain the gas in the event of a pipe rupture or valve leak, rather the enclosed space is ventilated to prevent the gas from reaching the surrounding area.
Leak Detection Methods
There are two common strategies for specialty gas leak detection with double walled piping systems.
Evacuated interstitial space

This design strategy evacuates the interstitial space between the carrier and containment pipe leaving a vacuum. A pressure transmitter continuously monitors the pressure. A rise in pressure signifies a leak into the interstitial space from the carrier pipe or from the external air.
This design strategy works poorly for process gases that need heat trace to maintain temperature because of poor heat transfer through a vacuum.

Pressurized interstitial space

This design strategy fills the interstitial space with a non-hazardous pressurized gas. A pressure transmitter continuously monitors the pressure. A change in pressure signifies a leak. The engineer needs to select the gas pressure and pressure transmitter set point to ensure that a leak is detected. If both the process gas and interstitial space are at the same pressure, a leak will not change the pressure in either space.
This strategy works better for process gases that need heat trace to maintain temperature. Helium is the gas of choice to maximize heat transfer.
With both strategies, the gas equipment shuts off the gas supply if the system detects a gas leak.
Summary
Containment piping systems can get complicated, but there are many products and best practices that engineers can use for a complete design. When used effectively, these systems can keep your piping safe and code compliant.
If you would like to learn more about containment piping or have a specific application that you would like engineering support for, contact Ash directly via email at akreider@Hallam-ICS.com.
About the Author
Ash Kreider is a Mechanical Engineer at Hallam-ICS. He has process engineering experience in multiple industries. He currently designs systems for a wide range of applications including gas distribution, cryogenic fluid recovery, process equipment hookup and HVAC.
Read My Hallam Story
About Hallam-ICS
Hallam-ICS is an engineering and automation company that designs MEP systems for facilities and plants, engineers control and automation solutions, and ensures safety and regulatory compliance through arc flash studies, commissioning, and validation. Our offices are located in Massachusetts, Connecticut, New York, Vermont and North Carolina Texas, Florida and our projects take us world-wide.