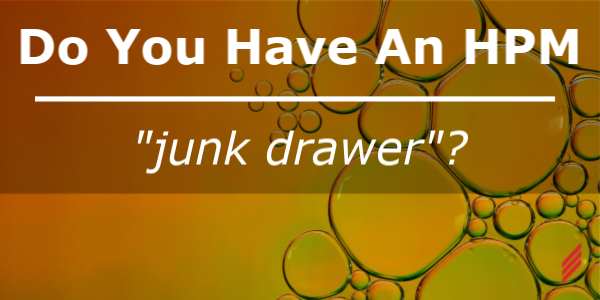 Everyone seems to have a "junk drawer" at home. It is the place that all the seldom used, but seemingly indispensable, items in our lives collect. As individuals we can choose to clear out our personal middens. But, what happens if your junk drawer at work contains hazardous production materials (HPM)?
In research facilities, and in industry, the hazardous gases and chemicals that comprise HPMs are critical to everyday function, supporting experiments or production. HPMs that are not currently in use still have value; they tend to be costly and can be difficult to obtain. They also can have extended shelf lives. Why in the world would someone want to get rid of items like that? So, over time, the junk drawer fills up. The materials may not all be located in a common area but it still amounts to an HPM junk drawer.
Create an accurate HPM Inventory
Do you know what is in your home junk drawer? Maybe you have batteries, push pins, the brackets and screws that you didn't need for the living room curtain rods. At home the exact contents are not critical. With HPMs the story is much different. Accurate inventory in important. Without an inventory of what you have and where you have it, you cannot begin to assess compliance with any of the applicable Codes and Standards. Hallam-ICS has experience with institutions that, when confronted with the reality of an accurate HPM inventory, chose to temporarily shutter lab spaces until appropriate safety measures could be implemented.
Maintaining an HPM inventory can be tedious. Without a living inventory document, it is quite easy for the tribal knowledge of who acquired what for what purpose to be lost. This is often the key source for HPM junk accumulation. Educational research institutions are often victim of this type of junk accumulation due to institutional nature of the user turnover. Students and other researchers regularly cycle thorough these institutions leaving HPMs behind.
Requirements for stored HPMs
Once an HPM inventory is established you can evaluate the total quantities. The overall amounts of the various HPM categories are subject to maximum allowable quantities (MAQ). These limits vary based upon numerous storage conditions. Storage requirements above maximum allowable quantities are the most stringent. Requirements include:
Toxic & Highly Toxic gases in amounts above MAQ require gas detection providing both local alarms and alarms to a constantly attended control station.

For Toxic & Highly Toxic gases in amounts above MAQ, Emergency power must be provided for support systems. These include: exhaust, treatment, gas detection, smoke detection, temperature control, fire alarm and emergency alarm.
Storage for HPMs below the MAQ is still quite intensive. It is not sufficient to neatly rack your unused gas cylinders in a closed room. Here are just a few of the basic storage requirements include:
Highly Toxic gases must always be stored in exhausted enclosures or approved exhausted gas cabinets. These Exhausted Enclosures must have an approved automatic sprinkler system.

Ventilation velocity shall not be less than 200ft/min. at any point of the access port or window of the gas storage cabinet or enclosure.
Individual containers must be conspicuously marked or labeled in an approved manner.
Compressed gas cylinder valve outlets must be capped and plugged as designed.
Various types of HPMs are not compatible for common storage.
Need to follow Code AND Best Practice
It can be complicated to fully evaluate your HPM inventory. At a minimum you must be aware of Local, State, and Federal requirements. Some regulatory agencies admit that codes of record have fallen woefully out of date with best practice, so establishing best practice must be your next step. Engaging qualified consultants who understand not only the code and best practice for storage and use of HPMs, but are also acquainted with the demands of research and industry can be critical to the development of a responsible plan to address your HPM "junk drawer".
Another blog you might enjoy:
About the Author
Dan Maxwell is a Senior Project Manager with Hallam-ICS's Toxic Gas Monitoring team. Dan trained in Mechanical Engineering and has worked in Project Management in the construction and manufacturing sectors before coming to Hallam-ICS in 1999.
Read My Hallam Story
About Hallam-ICS
Hallam-ICS is an engineering and automation company that designs MEP systems for facilities and plants, engineers control and automation solutions, and ensures safety and regulatory compliance through arc flash studies, commissioning, and validation. Our offices are located in Massachusetts, Connecticut, New York, Vermont and North Carolina and our projects take us world-wide.