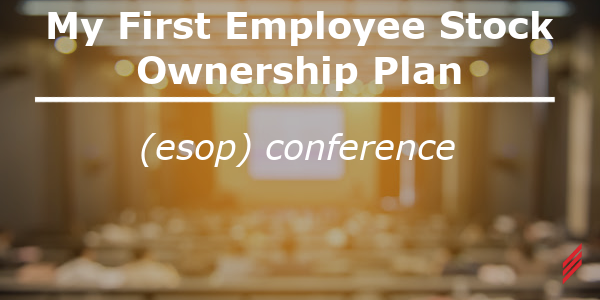 ---
In the week leading up to the annual Vermont Employee Ownership Center (VEOC) conference, we received our tickets and a parking map of various parking lots around the University of Vermont Davis Center.

A colleague had asked me if I printed the parking pass yet to which I replied, "yeah, I just hope I can find my way there" (I'm from here originally.) A little while later he generously offered to pick me up, I'm not sure if I seemed like I really wouldn't be able to figure it out to him or he was just being nice, admittedly probably both.

It was a rainy day, but it held off for our walk into the Davis Center. We a ran into another colleague in the parking lot and all proceeded to venture in together. Quickly we found a couple more of our Hallam people and chatted for a bit, indulging in coffee before our morning speaker.

We all sat together to hear several people get up and speak, most of them reflected on the past 20 years of the VEOC and this conference. The last speaker was Alex Moss from Praxis Consulting Group, who seemed to be pretty well known, and highly respected. He encouraged us several times to find someone we didn't know and ask them questions about what they hoped to get out of the sessions today and tell them what we hoped to get out of the sessions.

Once the main meeting was over, we had a short break to refill our coffees, juices, have a snack or run to the bathroom before finding our first workshop room of the day.

My first workshop was ESOP 101 for Employee Owners, in the Chittenden room, being how I am new to this whole employee ownership thing I thought this would be a good place to start. This workshop went over how a company becomes an ESOP, the intricate process of the exchanging of funds, the various approaches companies use for vesting time, and how shares work when people retire and are hired. My largest takeaway from this workshop was understanding that not all ESOPs are the same. Companies have different approaches and goals with their ESOP and the way they decide to do it is a direct reflection of that. I left this workshop really appreciating the choices and thought behind the decisions made at Hallam for our ESOP.

Next up was more coffee, water, and snacks – I must say they really crushed having this part down throughout the day, different offerings after each workshop. During this time, I had another half hour to connect with some folks and discuss some of our thoughts and opinions about the first workshop.

The 2nd workshop of the day was back in the main room again, Silver Maple from the morning. The topic was: Beyond the Announcement: Building an Ownership Culture Over Time. Full disclosure on this one, I was excited about the topic which is why I chose it, but I also got to see our very own Linda Kronoff present. This workshop was all about how companies build an ownership culture, empower their employees to be heard, and build trust within their companies.

I have to say this session was my favorite. After the MC did a little talking about company culture, the first speaker was Linda, and now while I do work at Hallam, I'm still new and it was really good to hear Linda's explanation of the Hallam culture, the things we do and why we do them. I kept thinking if I didn't already work for this company, I would apply right now! Linda was able to articulate Hallam's culture, and how we got here in such a way that really made me excited all over again about being an employee owner of this company and finding out ways to grow our culture even more. The other speaker at this one was Chris Moran from PC Construction. One of the takeaways from his talk was how their company almost crashed but they really embraced their core values of having one another's backs and all being employee owners, they cared deeply for their company, and they managed to come back and do the best year they've ever done in the history of the company. Would they have done this regardless of being an ESOP? Possibly, but I think the fact that they are an ESOP gives extra passion, drive, and motivation to the employee owners to want to succeed for themselves, their colleagues, and for their company. Chris shared their struggles and wins for seeing what works to identify places of better communication and transparency within their company and really got a foothold on what that looks like for them.

After this session, lunch was served downstairs, and we had some time to connect with some of the employee owners that were there and each other, sharing what we had learned and what had stuck out to us most so far in the day.

The session I was in after lunch was absolutely packed, people were sitting on the floor, standing up etc. The topic was Retaining and Recruiting Employee Owners. The 2 speakers were, Samantha O'Neill from Cirtronics and Christie Kane from Gardener's Supply. Some of the things we discussed was how hard the past couple years has been to find employees and keep them, and what they had to change in order to stay competitive in this new job market we are in. Both companies had to increase their referral money offered to employees, they added sign-on bonuses, had to increase their flexibility around work hours and time away from work. The overall changes seemed to put the job market back into the employees' hands, rather than the companies, and honestly what better way to sell an employee-owned company as a huge perk of the job, than in this changed market. A lot of companies found themselves needing to rush the hiring process, and submitting to every request from the potential hire, while I understand the need to have bodies, hearing this, again made me appreciate the hiring process here at Hallam. Here at Hallam, candidates are very thoughtfully interviewed, several times, by several people to ensure these people not only are good candidates for the job but they also fit our culture and have similar morals and values that make Hallam such a special place to work. I am very grateful we haven't participated in this rushed hiring process.

Once this session was over we had a quick transition to the last session of the day. On my way to find the workshop I noticed a guy who had a Phish water bottle on his backpack and commented on it. We began to chat connecting over our love for Phish, when we parted ways, we said it was nice to meet each other. As I was walking away I realized we didn't discuss ESOPs at all, but oh well I thought, it was a good connection and networking opportunity none the less. I headed to my last workshop of the day, the topic was: Reflections on Ownership Culture: Best Practices, Lessons Learned & Looking Ahead. The speaker for this one was Alex Moss (if you remember him from the morning session), and Jennifer Briggs (remotely). We didn't get through a lot of the PowerPoint as it was more of a conversation with the audience and the two speakers, asking questions and pondering ideas of what to do when employees don't understand the ESOP still, the best ways to send out communication, and the building blocks on which an ESOP is built. One of the big takeaways from this workshop was something Jennifer said about how people need to hear things we want to communicate to them. She said that things need to be communicated 7 times, in 7 different ways. Wow! I was blown away by this. You mean my 1 email I worked so hard on crafting every single word and detail and sent to the whole company, no one remembers? Also, people learn and register information differently and may need to hear things in a few ways before it sinks in or even registers for them.

At the end of this workshop, Alex as he had been doing throughout the day gave us an assignment to find someone in the room and speak with them about what you took away with you from the day, what they found interesting and to swap information and really make a connection. Since I was sitting with 2 of my colleagues, I couldn't turn to my side. As they both walked in opposite directions I turned around and saw my Phish friend I had met earlier. I thought "oh this is perfect. We can talk about ESOPs now." We spent the next 20 minutes or so discussing interesting things we had heard throughout the day, some aha moments we had, and how lucky we felt to have found our companies and to be part of an ESOP, and of course a little more about Phish 😉. I handed him my business card (first one I've given out) and told him it was great to chat with him some more. Later that night when I got home, I had a LinkedIn request from him, and he messaged me to tell me he'd already gone to the Hallam website and found my blog about Phish, we found out we even live in the same town, and hoped to see each other at an upcoming show.

I was energized when I got home, really feeling all over again how special of a place I had joined. Getting to spend some time with my colleagues outside of work, networking with other employee owners and hearing a lot about how impactful and important ESOPs are all over the country, but especially in Vermont. The whole day gave me a new and bright perspective on what it truly means to be an employee owner, and what the behaviors and attitude of an employee owner look like. I look forward to continuing this journey here at Hallam-ICS, and now that I've found this company, I can't imagine working anywhere else!
---
About the author
Sarah Lester joined Hallam-ICS as the Senior Office Coordinator in January of 2022, after 7 years in the tech industry, working for a software company that focused on Affordable Housing and HUD regulations. Sarah can usually be found at a Phish show, hiking with her husband or finishing yet another book with her kitties by her side. Sarah jumped right into getting involved in the Social Mission here at Hallam-ICS.
Read My Hallam Story
About Hallam-ICS
Hallam-ICS is an engineering and automation company that designs MEP systems for facilities and plants, engineers control and automation solutions, and ensures safety and regulatory compliance through arc flash studies, commissioning, and validation. Our offices are located in Massachusetts, Connecticut, New York, Vermont and North Carolina and our projects take us world-wide.