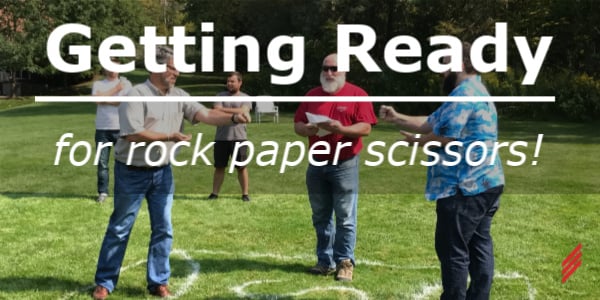 One Friday each month, Hallam-ICS provides lunch to our emlpoyees as a chance to spend some time together and enjoy some good food. Last Friday, the meal was exceptional as we took advantage of a mid-September "summer-like" day to have a barbeque. Lee Gilmond and Dylan Kerkes manned the grill and created a feast. We also used the monthly gathering to prepare for the annual "Rock Paper Scissors" (RPS) fundraiser for ANEW Place by hosting our own internal RPS competition.
As part of our Social Mission, Hallam-ICS works closely to support charitable organizations in our communities, particularly those with a focus on supporting children and families in need. Each year, we allocate a portion of our annual profits to our Giving Tree (2017's budget will be $50,000) to provide donations to local organizations. We also select five organizations (one for each of our office locations) every year to receive the Hallam-ICS Award for Community Service, along with a $5,000 check and placque. We also have an annual Service Day, where Hallam-ICS employees take a work day to donate our time, skills and materials to build, clean, cook or paint to support local charities.
We also regularly participate in local fundraising events, including the Spectrum Sleep Out, the Howard Center Curling Challenge and ANEW's Rock Paper Scissors.
ANEW Place is a great organization in Burlington, VT who we have been involved with for many years. On their website, ANEW states their mission as:
Our mission is to provide a holistic continuum of services for the homeless, centered in love and dignity, that foster growth, cultivate community engagement, and provide tools for lifelong change so that each person may start anew.
Last year was Hallam's first year of being involved with the RPS competition and we had a blast! Our own Ray Racine ended up winning the event, and the night provided an opportunity to meet others in our community, have some friendly competition and raise money for a good cause.
We intend to return to the event in 2017 (scheduled for September 28th), this time with a larger group of Hallamites. While it may seem to be simply a child's game, RPS is filled with strategy. A quick Google search will bring up videos with techniques for understanding typical approaches by RPS players. As part of our lunch, we had 12 employees sign up for our in-house event. After enjoying the barbeque, we set up on the custom-lined RPS field: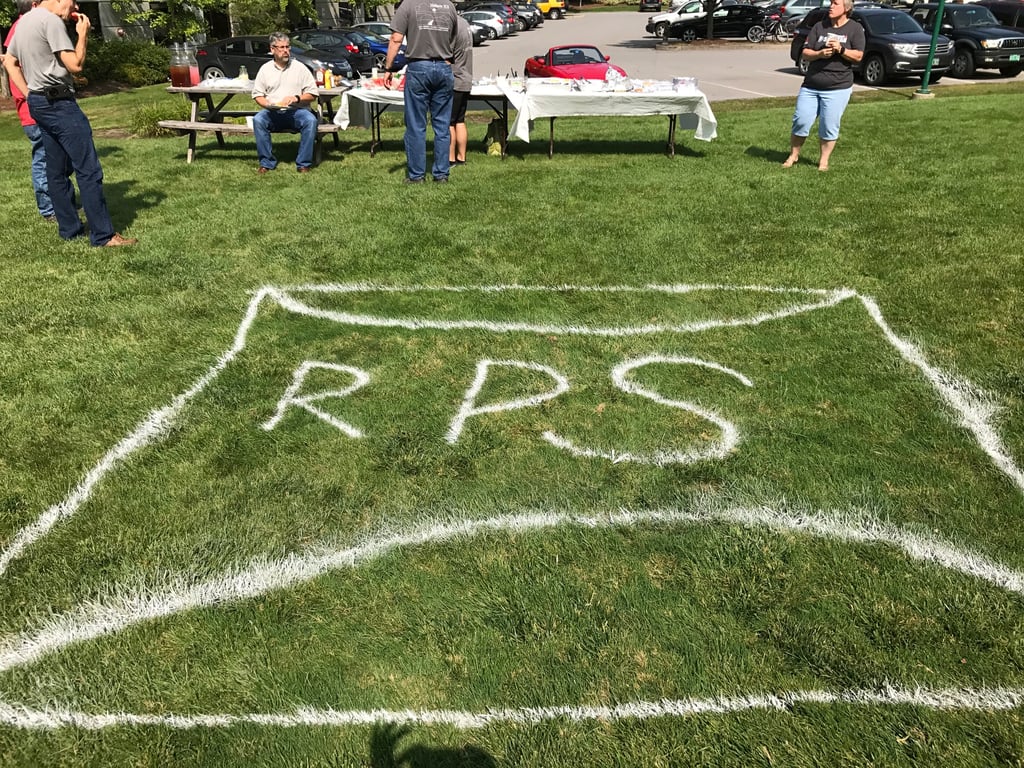 The three players who participated in last year's RPS tournament received first-round byes. This included the top seed and defending champion "Ray the Rock," along with second seed "Brenda the Paper" and "Keith the Scissors." The first round included the righty-lefty matchup of Dan Maxwell and Elizabeth Ford, with Maxwell advancing to the second round, along with Chris Groen, Leigh Tintle and "Sneaky Pete" Niarchos.
The featured match up in the 2nd round was Chris Groen versus Ray Racine. Chris jumped out to an early lead, taking the first set from Ray before Ray steadied himself to win the second set. Forced to a third set, the two battled back in forth, with Chris ending up victorious. Other 2nd round winners who advanced to the semifinals included Leigh, Keith and Dan.
Following their semifinal victories, Leigh and Dan faced off in the finals. A tense final came to a close with Dan Maxwell as champion. In the end, Dan Maxwell proved to be an RPS natural, breezing through the brackets with ease and setting him up as a strong candidate in the ANEW Place RPS tournament in 2017!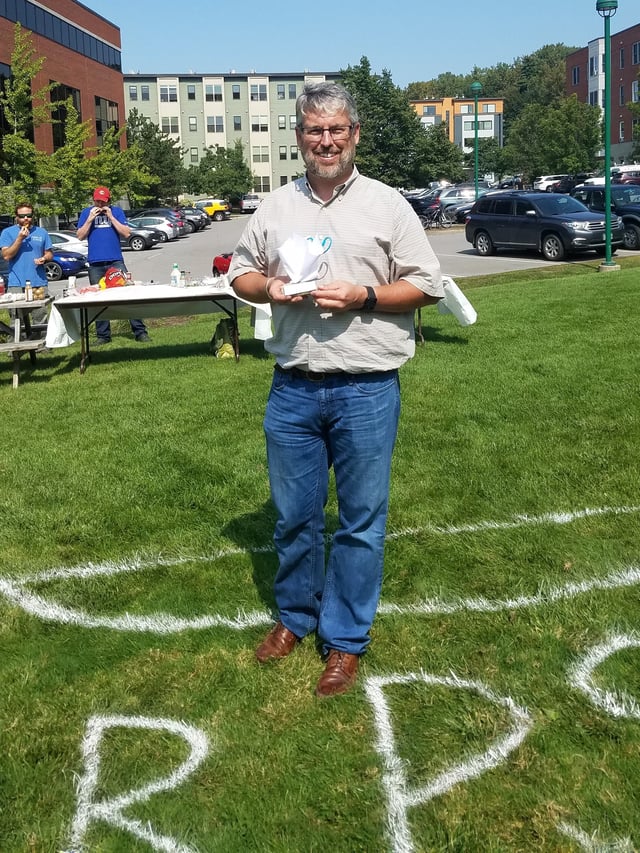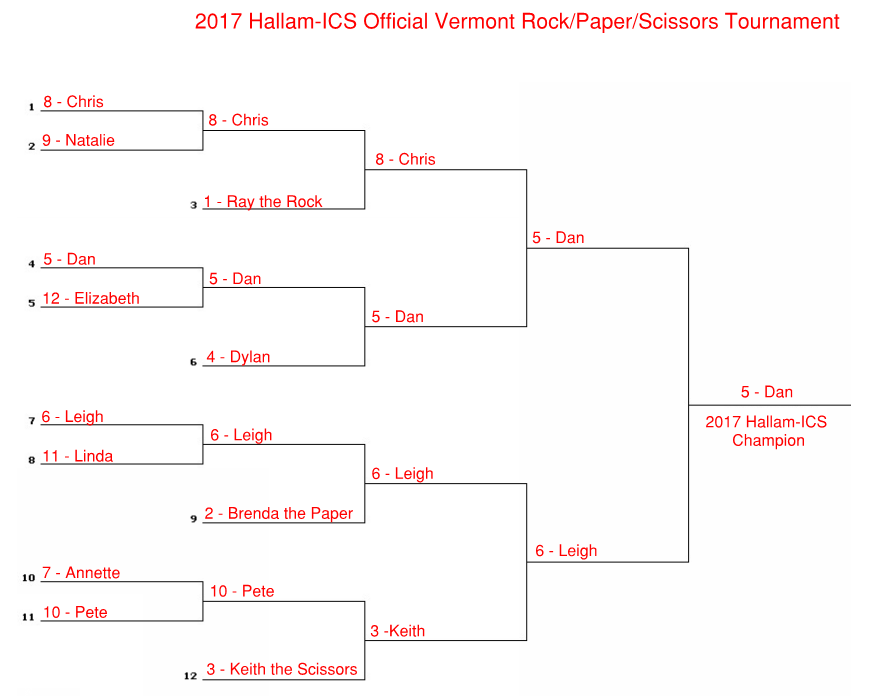 About the Author
Keith is a graduate of the University of Vermont with a BSEE and an MBA. He has been with Hallam-ICS since 1988 as an electrical engineer, manager of integration services, CFO, and CEO. He focuses the company on understanding and meeting the needs of each individual client while at the same time delivering the highest possible level of technical expertise.
Read My Hallam Story
About Hallam-ICS
Hallam-ICS is an engineering and automation company that designs MEP systems for facilities and plants, engineers control and automation solutions, and ensures safety and regulatory compliance through arc flash studies, commissioning, and validation. Our offices are located in Massachusetts, Connecticut, New York, Vermont and North Carolina and our projects take us world-wide.