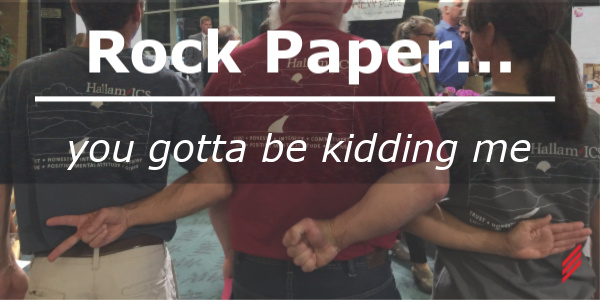 ---
When "ANew Place" put out the invitation to their annual Rock, Paper Scissors competition, I was less than excited. Luckily, Tricia Becker really jumped into it; so I decided to support her. The last time I played this game was probably over a decade ago when my kids were playing it with their friends. I mean, "How dorky" right? Tricia had a conflict with her kid's school, but had already recruited Brenda Rose. Keith Flaherty jumped in to fill Tricia's spot.
Side note: Hickock and Boardman (local Insurance and Realty group) was totally in the house. I think they had about 10 competing. This is a throw down for us next year.
ANew Place is a fantastic local charity that works to transition homeless people back into stable living arrangements. We have volunteered with them in past Hallam-ICS Service Days, and will do so again. Please check them out at this link: http://anewplacevt.org/programs/
Back to the big event… Keith took Brenda and me to a high end pizza place to discuss strategy before-hand. We had all reviewed some game tapes and were ready to roll. Upon our arrival at Burlington International Airport for the big event, they were very organized. They had raffle tables, and gift bags. Food and drink could be had at the eatery in the airport. And, just like in March Madness, they had the brackets all set up. There would be seven rounds. Brenda and I found ourselves with a buy in the first round.
The judges included, a college President, Miss Vermont, a television sports announcer, and a bank President. They all came on dead serious about the event. You know, "shake hands", "I expect clean play"…. They definitely set a tone of solemnity that was totally out of proportion to the events of the evening; very fun. On to the battle.
Keith had to battle a dude dressed up as a 4th century Greek bishop named Nikolas (yes, Saint Nicholas); however, "The Bish" had purchased three extra lives; and Keith had none. Flaherty would have to beat him 3 out 5, four times to advance. We all know how scrappy Keith can be. His strategy was amazing, and he vanquished, "The Claus".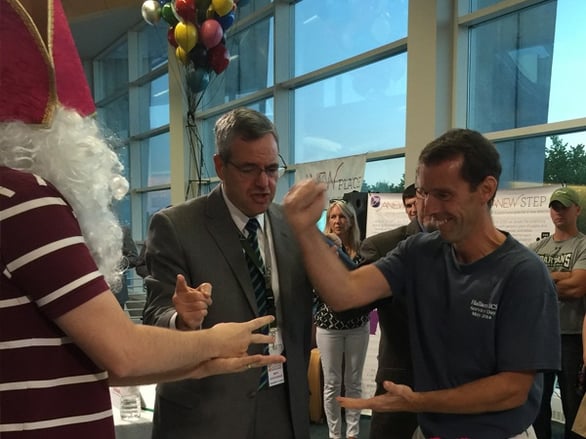 Keith Flaherty (right) crushes Santa Claus
Round 2, and Brenda got another buy. Luckily she gave the two extra lives she purchased to me. I had to use one of them to beat an absolutely wonderful woman named Nini, who became a Hallam groupie for the rest of the night. Keith and I both join Brenda in Round 3.
Some of the matches were over in 3 or 4 throws; while others took forever. The two people would keep matching throws; rock to rock – draw, scissor to scissor – draw, paper to paper – draw. Time after time. In the early matches, everybody was pretty relaxed about the whole thing. Both participants watched the hands of their opponent as they "threw down". As stupid as it sounds, people got more intense with each round. Instead of watching their opponent's hands, it became a game of eye contact. A total stare down. Nobody was watching their opponent's throw.
Round 3, and Brenda fell to a real pit bull. Apparently the lack of warm-up in the early rounds really hurt her.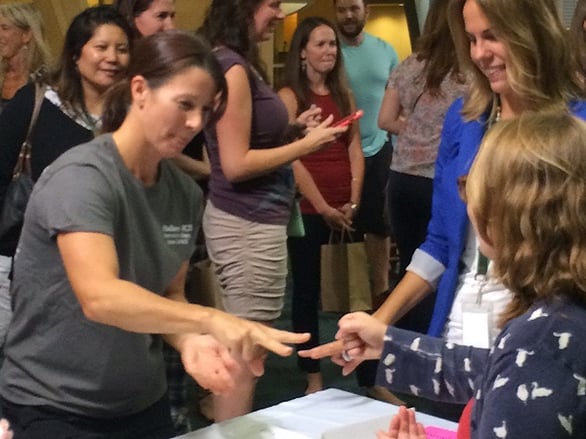 Brenda Rose (left) and the Pit Bull
I beat a real-life priest (not sure how to feel good about that).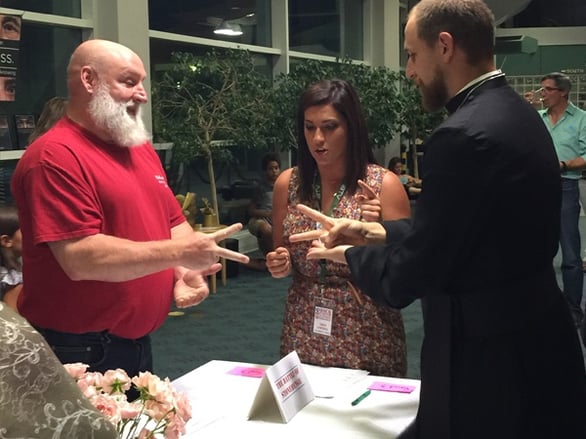 Ray faces real clergy
Keith also advanced. Keith and I were working opposite sides of one bracket. Might we have to face each other? Round 4, we advance again with only one more bracket between us. Round 5, Keith faces Sybil. She was really in his head. Keith falls, and I am the last Hallamite standing. A woman in the other bracket injures her hand from throwing so hard for so long. Things are really heating up. COVER, CUT, DRAW, CRUSH…. CRUSH, CUT, COVER.
I now have to face Sybil. Round 6, 4 out of 7. She had two extra lives to my one. I lose the first round and spend my life. Not looking good. I will have to beat her 4 of 7, 3 times in a row. We tied more times than anyone could count. Point scored – draw – draw – draw. Finally I win one she spends an extra life. I win again, and again. On to the finals with Allison.
Keith and Brenda chip in 30 bucks to buy me an extra life. My recently vanquished foe, Sybil, buys two for her friend Allison. I knew she had it in for me.
Allison and I have to win 4 of 7, three times to establish the championship. $500 grand prize on the line; and we are both gunning for it. Three extra lives on the table. We're going to be throwing down for a while. There are about 40 people standing around the table watching intently.
The judge (President of Champlain College) looks at us both and says in his most solemn tone, "You've both been at my table before, and know what I expect." I lose the first round. I spend the extra life. My third time on life support, and I do not like it. I go on to take both of her extra lives and take the next three in a row. I throw my hands up in victory and thank my fans.
They interview me, take my picture, then the award ceremony.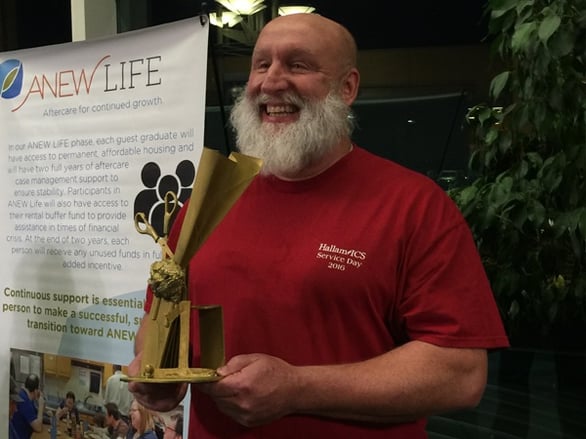 I'll be back next year to defend the title!
They give me the trophy and the $500 gift card. As is the Hallam way, we re-gifted the card to ANew Place. Hell, I was only there for the trophy.
WCAX.COM Local Vermont News, Weather and Sports-
About the author
Ray is a Senior Controls Engineer. He has been with Hallam-ICS over 20 years. Ray is very active in the social mission of the company as he appreciates the opportunity to express and apply his values in his work place. He has organized our first and second Service days; and has set up our teams for meal preparation at shelter programs; painting in child service charities; yard work & house cleaning for transitional housing and building furniture for a shelters.
Read My Hallam Story
About Hallam-ICS
Hallam-ICS is an engineering and automation company that designs MEP systems for facilities and plants, engineers control and automation solutions, and ensures safety and regulatory compliance through arc flash studies, commissioning, and validation. Our offices are located in Massachusetts, Connecticut, New York, Vermont and North Carolina and our projects take us world-wide.