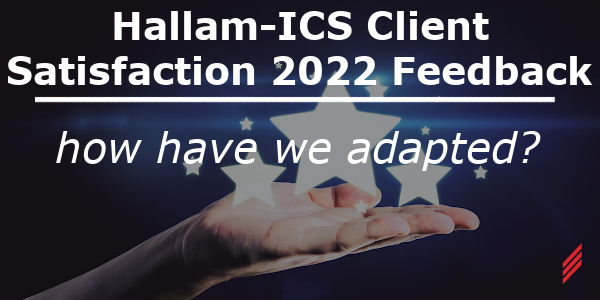 ---
Hallam-ICS recently completed our annual client satisfaction survey. This is the fifth year that we have conducted an email survey that provides our clients an opportunity to provide feedback to us on our performance over the past year. The annual survey augments regular communication that occurs between our clients and project managers, engineers, and technicians.
As we were preparing to send out the survey, I was particularly curious about the feedback we'd receive this year. Like many of you, our business environment has been evolving and changing on a regular basis for the past 2-1/2 years. In this time, we've adapted our systems and processes to allow for collaboration with our clients and our colleagues whether in-person or virtual. We've added clients and have grown our number of employee-owners by over 25%, many on-boarded in a remote or hybrid environment. How might these change have affected the perception and experience our clients have from working with us?
The Survey
The survey consists of 9 questions along with an opportunity to provide comments or feedback. The table below provides a summary of our scores for the past 5 years:
After four years of steady improvements, 2022 saw lower results on most questions. Although the results are lower than 2021, they are still quite positive overall with nearly all questions receiving an average score of 9 or above. The Net Promoter Score fell to 82.5%, down from last year but in the middle range of our 5-year results.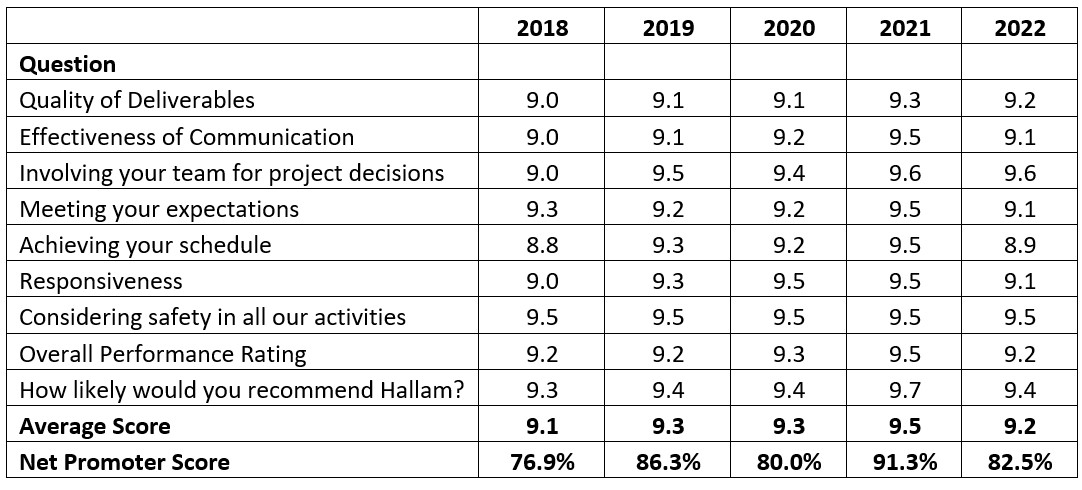 As an ISO-9001 Certified company, we have been trained to focus on continually improving our key business processes and to understand the root causes of any non-conformances within the business. The responses provide us with some areas to explore and invest additional time on in the coming year, including:
"Meeting your expectations". As in years past (and from the comments section), meeting expectations is correlated both to measurable outcomes as well as experiential elements:

Measurable - "Achieving your schedule." This question had a lower result than previous years. Reflecting upon the past 12 months, we can identify two likely root causes for this. First, our workload was extremely heavy. There were times that clients really needed support and requested us to take on important projects when we already had a full plate. Second, we experienced project delays related to supply chain issues and procuring components for our control system panels. In response to these root causes, we have taken the following corrective actions:

Hired 20 new employees in the past 6 months. These include project managers, engineers, technicians, and project managers. The additional expertise and capacity have enabled us to better manage the growing workload.
Taken a proactive approach to managing our supply chain. This includes regular communication with key suppliers, seeking out alternative solutions, and purchasing stock of frequently used components in advance.

Experiential - "Effectiveness of communication," and "Responsiveness." These two questions reflect the experience our clients have when working with us. Communicating effectively and in a timely manner have always been a foundation of our culture and is part of our CODES process. We need to dig in to find the root cause for the lower results this year. Was it due to the heavy workload? Was it impacted by COVID or the remote/hybrid work environment? Was it related to our large number of new hires? These are questions we'll need to answer. In the meantime, we have just completed a company-wide Communication & Presentation training program and have reiterated the importance of responsiveness to all employees.
I was also interested in the comments section. We've recently started our 5-year planning process and we have spoken directly with many of our clients and partners. When asked what their biggest challenges are today, the resounding answers are Staffing and Supply Chain. It seems that our clients are facing the same business challenges as us. Would the comments section provide any additional insight? And, although the overall scores were lower this year, did the nature and tone of the comments change from previous years?
We received a large number of comments, with nearly all being positive. Overall, the comments shaped a similar picture to previous years. There was one comment that referenced "key people being too busy," but the balance of the comments were very positive, with many references to both "technical" and "relationship" elements. Here are a sample of the comments:
"Hallam`s biggest value is in the people that they have working for them. Their knowledge of the system from design & install to commissioning is remarkable. People who like and care about their job deliver a good final product. Top company."

"The level of expertise and professionalism Hallam-ICS brings to the project. Hallam-ICS has helped educate our teams in areas that we are not familiar and has offered solutions that are cost effective as well as environmentally conscious."

"Everyone that I have worked with from Hallam offers a plethora of knowledge to apply to our projects and always make a point to share that with us (the customer). This is why Hallam is my preferred vendor for automation projects for the site. They truly care about what we do and how we do it and have always been professional in all aspects."

"I enjoy the people and the atmosphere they bring. I haven't met one person from Hallam whom I would not want to work with on a project."
"The Hallam team have been nothing but supportive and professional going above and beyond expectations in supporting us."

"The team understands the needs of the customer for the most part. They are a team of can do! Their insight and troubleshooting are exceptional and appreciated"

"Expertise in areas I am not familiar with. Very easy to work with. Easy to understand. Came to our facility when we had an issue to resolve."

"Hallam-ICS has been a consistently responsive and attentive partner. Our collaborative projects have been completed in a timely manner and proposed alternatives have been in the Client's best interest."

"Hallam is customer oriented, effective, efficient, and reliable company. I appreciate their prompt response and professionalism in all their dealings."

"The folks at Hallam-ICS are great to work with."

"Pragmatic and open to other input - a pleasure to deal with the Hallam team."

"I feel free to ask Hallam people anything and they always get back to me."

"Strong communication, good collaboration"

"Great people to work with. Always quick to respond to any questions that come up."
Overall, it appears that our team (and our clients!) have adapted well to the changing business environment. We need to continue to evolve as there will likely continue to be on-going changes and new challenges moving forward. We are thankful for the feedback provided by our clients and plan to use their insights to continue to improve Hallam-ICS.
About the author
Keith is a native Vermonter who has lived and worked in Vermont for the past 50 years. He is a graduate from the University of Vermont with a BSEE and an MBA. He joined Hallam-ICS in 1988 after graduating from college and has served in numerous positions for the company over his 30 years of employment, including President and CEO since 2001.
Read My Hallam Story
About Hallam-ICS
Hallam-ICS is an engineering and automation company that designs MEP systems for facilities and plants, engineers control and automation solutions, and ensures safety and regulatory compliance through arc flash studies, commissioning, and validation. Our offices are located in Massachusetts, Connecticut, New York, Vermont and North Carolina and our projects take us world-wide.