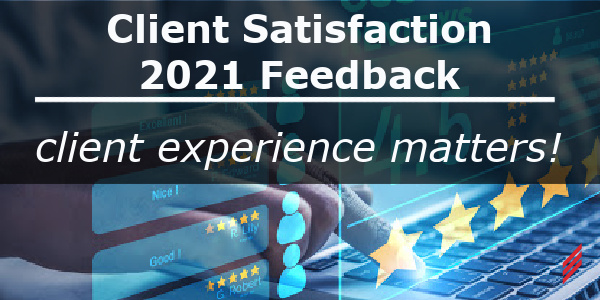 One of the reasons Hallam-ICS became ISO-9001 Certified was the focus on continuous improvement. Our annual client satisfaction survey provides a forum for our clients to offer their feedback to us on the projects we worked together on in the past year. The survey augments the regular communication that occurs between our clients and project managers, engineers, and technicians.
This is the fourth year that we have completed our client satisfaction survey. Each year provides us with additional insight into how our clients feel about working with us; what we do well and how we can improve. We take the responses, comments, and results very seriously and incorporate them into our annual Strategic Planning discussions. In addition to being ISO-9001 Certified, Hallam-ICS is also 100% employee-owned and a Certified B-Corporation. Transparency is a big part of our culture and we share the results of the survey with our employees and our clients.
The Survey
The survey consists of 9 questions along with an opportunity to provide comments or feedback. The table below provides a summary of our scores for the past 4 years: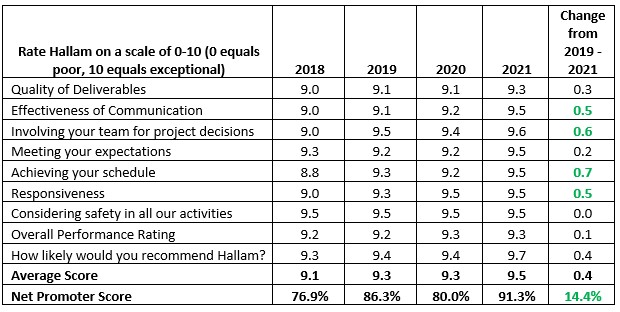 The 9th question is used to calculate the Net Promoter Score (NPS). NPS is a widely accepted measure for customer loyalty and is calculated by asking the question "How likely is it that you would recommend Hallam-ICS to a Colleague? (0 equals very unlikely, 10 equals very likely)." The individual responses are categorized based upon the response:
Response of 0 – 6. These individuals are called Detractors.
Response of 7 – 8. These individuals are called Passives.
Response of 9 – 10. These individuals are called Promoters.
To determine the NPS, subtract the percentage of Detractors from the percentage of Promoters:
((Number of Promoters – Number of Detractors) / Total Number of Responses) * 100
For example, in 2020 the company had 60 total responses with 50 Promoters, 8 Passives, and 2 Detractors. The NPS is ((50 – 2) / 60) * 100 = 80.0%. It is difficult to get benchmark data from similar companies in our industry but based upon discussions with similar companies along with some research, 80% is a very good NPS for an engineering and automation company.
Some highlights and observations from this year's results:
Our survey group included a distribution of clients from:

Each of our office regions
Each of our service lines
Each of our key markets

Every question received a higher score in 2021 than in 2018, with the the greatest improvements from the following questions:

Effectiveness of Communication (9.5 from 9.0)
Involving your team for project decisions (9.6 from 9.0)
Achieving your schedule (9.5 from 8.8)
Responsiveness (9.5 from 9.0)
Perhaps not coincidentally, three of these questions directly address CODES (Communication, Oversight, Documentation, Expectations, Schedule). Hallam-ICS has developed and trained all employees on the importance of CODES because each of these elements is vital to providing a positive customer experience on every project we undertake. We're proud to see that our clients feel that we have improved our performance in these areas.

The answers to the question "What do you value most about working with Hallam-ICS or enter your general comments here" provide insight into what is important to our clients. Each year, there may be trends or themes, but they always seem to reflect the philosophy that our business is "50% Technical and 50% Relationship":

Technical (commonly used words) – Experienced, knowledgeable, professional, thorough, detail-oriented, technical excellence, and quality.
Relationship (commonly used words) – Relationships, responsiveness, great experience, communication, helpful, great attitudes, dependable, flexible, friendly, collaborative, meets commitments, and easy to work with.

One response captured how we want all our clients to feel about Hallam-ICS:
Working with Hallam is like working with someone on your own team. They care about our company like it is their own and are always willing to do whatever they can to help us be successful.
What Next?
Each year, the responses from our clients indicate that they want to work with a team that has technical expertise required to complete the work, but also provides a positive working experience on the project. This is the foundation of our "50% Technical, 50% Relationship" philosophy. Our client feedback over the past four years has helped us to shape our plans for the future:
Technical:
Our technical expertise is core to everything we do. Our clients hire us for the value we can bring to their business by using our knowledge and experience to solve challenging problems. In the coming year, we will:
Continue to build the depth and breadth of our technical capabilities through:

Training
Certification
Hiring

Improve our quality through ISO-9001 certification of our Control System Integration team. Our Arc Flash & Electrical Safety team became certified in 2019 and our Engineering team became certified in 2020.
While we will continue to reinforce CODES amongst our team in the coming 12 months, we are also planning on making an investment into "Strategic Human Resources." Hallam's success has always been the result of hiring and retaining talented engineers who shared our beliefs and values. After all, research has consistently shown that the client experience is largely based upon the employee experience. In other words, treat your employees well and they will treat your clients well.
We are thankful for the feedback provided by our clients and plan to use their insights to continue to improve Hallam-ICS.
About the author
Keith is a graduate of the University of Vermont with a BSEE and an MBA. He has been with Hallam-ICS since 1988 as an electrical engineer, manager of integration services, CFO, and CEO. He focuses the company on understanding and meeting the needs of each individual client while at the same time delivering the highest possible level of technical expertise.
Read My Hallam Story
About Hallam-ICS
Hallam-ICS is an engineering and automation company that designs MEP systems for facilities and plants, engineers control and automation solutions, and ensures safety and regulatory compliance through arc flash studies, commissioning, and validation. Our offices are located in Massachusetts, Connecticut, New York, Vermont and North Carolina and our projects take us world-wide.