At Hallam-ICS, we often talk about our great culture, and what company culture is complete without a competitive fantasy football league? For half the year, it provides fodder for water cooler talk, friendly rivalries, and even a reason to watch Browns games in December.
Mike Abair served as the Hallam Fantasy Football League commissioner for 18 years (1999-2016) but after 5 consecutive years of finishing off the podium, he wanted to step down and focus on getting "Da 'Bairs" back to their winning ways. Once he found out that I was excited about joining the league, it didn't take him long to anoint me as the next commissioner, joining the league with my team: the "Wide Receivables" (I am an accountant, after all).
Before the draft, we hammered out a written league constitution to clarify important rules and settings, including a few rule changes this year as decided by popular vote. Then it was on to the draft!
Draft night is one of the biggest days of the year for any league, for both the social aspect of the evening as well as the foundation it can set for your team's success during the football season.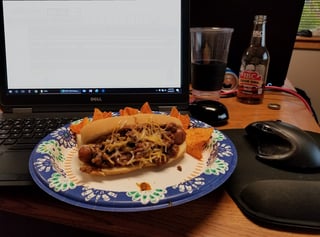 We had a tasty potluck of hotdogs, chili, chips, and cookies to graze on throughout the evening, though there were so many computers and draft cheat sheets around the table I'm not sure how we all managed to find room for our plates.
While our draft was offline to allow us the flexibility of a fun evening, we did have an unofficial 3-minute timer for each pick in case anyone's decision-making got too out of hand. Most picks were well under that limit, but I promised that anyone who let the timer go off would get a mention in here! (spoiler, it did happen twice)
One note about our league before I break down the draft results: this is a keeper league, so I'll highlight keeper selections, which are usually indications of draft pick value.
Team By Team Draft Breakdown
John Kurowski picked first, selecting David Johnson and following up with a QB anchor in Aaron Rodgers before stocking up on receivers in the middle rounds and a keeper value pick of Terrance West in the 12th. John's season became a lot harder after David Johnson was sidelined for several months due to a wrist injury sustained in week 1. John did also trigger the pick timer once while contemplating his picks of Duke Johnson and James White at the 10th/11th round turn.
Pete Niarchos picked second and quickly took Le'Veon Bell off the draft board. Comfortable with his starting running back, he selected four wide receivers over the next five rounds. By the 8th-10th rounds, he realized that the draft board was getting thin, and he also set off the pick timer while trying to find value picks. Ultimately, he ended up picking Chris Hogan in the 10th round, despite deciding before the draft to forfeit his option to keep Chris Hogan for an 11th round pick. Pete waited until late in the draft to pick a QB, but quickly made up for lost time by selecting three between rounds 11-15.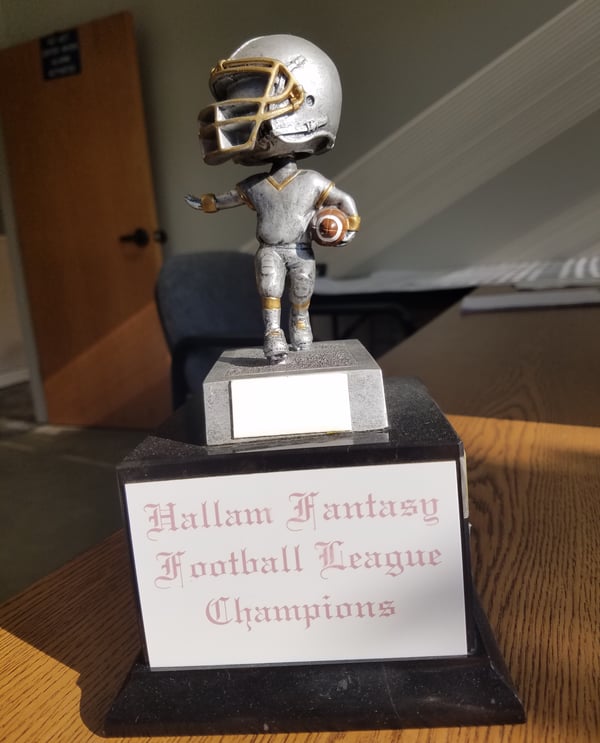 Chris Groen picked third, opting for Antonio Brown as his WR star, and followed by sniping Rob Gronkowski from Pete in the 2nd round. Chris had to wait until the 5th round to make his third selection, since he had traded draft picks to Mike Abair during the 2016 season. He loaded up on running backs, selecting eight vs. five wide receivers. Chris also did not draft a kicker, instead electing to take Spencer Ware with his last pick and stash him in the IR roster spot as a potential keeper, before picking a kicker from free agency to fill the void.
Keith Flaherty took Odell Beckham with the fourth pick, adding to an already-strong core of wide receivers that he had kept from his 2016 team: Jordy Nelson, Stefon Diggs, Michael Thomas, and Martavis Bryant. Despite starting the draft with five wide receivers, Keith finished with six running backs and six wide receivers. With Melvin Gordon as another value keeper candidate in the 2nd round, Keith's team is probably the draft-day favorite to have a successful season.
Brian Bourdeau picked fifth, continuing the run on wide receivers with the selection of Julio Jones. With the 16th pick of the draft, Brian also picked Ezekiel Elliott, who, at the time of the draft, was still expected to be suspended for the first six games before his legal team managed to at least postpone the suspension. Brian had value keeper picks of Michael Crabtree in the 5th round and Isaiah Crowell in the 7th round. His 4th round pick of Joe Mixon led him to lock down the entire Cincinnati backfield with Giovani Bernard in the 11th and Jeremy Hill in the 17th.
I picked sixth, anchoring my team with LeSean McCoy. I inherited the team and keeper options of Steve McDonald, who left the league this year. As such, I could keep Devonta Freeman in the 2nd round, Tevin Coleman in the 11th, and I traded for Jimmy Graham as a 12th round keeper. I may have let my homer bias towards the Denver Broncos show by picking Demaryius Thomas, C.J. Anderson, and Jamaal Charles. I was also the second team to skip picking a kicker, deciding to draft a keeper candidate and pick up a kicker before week 1.
Keith Sheldon's selection of Mike Evans was the seventh pick of our draft, followed by Brandin Cooks and Alshon Jeffery in the 2nd and 3rd before selecting his first running back in the 4th (Dalvin Cook). However, Keith's "steal" of the draft was a keeper selection of Jay Ajayi for a 10th round pick. Keith also didn't let the "aging veteran" argument scare him away from picking Larry Fitzgerald, Frank Gore, Adrian Peterson, and Pierre Garcon.
Mike Cook took DeMarco Murray with the eighth pick, and further anchored his RB core with Jordan Howard at pick #13. Mike's draft was balanced between running backs and wide receivers, and he also shored up his quarterback and tight end depth with backups at each position. His selection of John Brown in the 9th round (pick 88) triggered our biggest side-bet of the night, with Pete, Chris, and both Keiths (but not Mike himself) betting on John Brown having more points in weeks 1-14 than my bet and selection of Jeremy Maclin at pick 86.
"With the 9th selection of the draft, 'Da'Bairs' selects Cincinnati wide receiver, A.J. Green!" Former commish Mike Abair prefaced all draft picks with an official draft announcement, and despite all I had heard about his slow drafting, he never did run out of time on any picks. After taking 40-year-old Tom Brady with pick #12, Mike's team took on a youth movement including picks of Christian McCaffrey, Tyreek Hill, Derrick Henry, Corey Davis, and Jamaal Williams. Travis Kelce was Mike's only keeper selection, in the 5th round.
Heather Valachovic finished our 1st round of the draft by picking Lamar Miller tenth, then immediately turning around to lock up Leonard Fournette at pick #11. Heather's wide receivers could be explosive, including Doug Baldwin, Keenan Allen, and big play receivers DeSean Jackson, Mike Wallace, and Torrey Smith. Matt Ryan, last year's fantasy superstar, ended up on Heather's roster during the 6th round.
By the time this blog is published, we'll have seen two weeks of real NFL football. There will be injuries and surprise breakouts, and some of us may even have ditched a number of our draft picks for the hot waiver picks already. That's the fun of the season - as much as we think we know now, it'll all change in a few weeks!
About the Author
Jacob Hillegas is the Controller at Hallam-ICS, and an unashamed Excel nerd. Before joining Hallam in 2016, Jacob was an audit manager in a CPA firm.
Read My Hallam Story
About Hallam-ICS
Hallam-ICS is an engineering and automation company that designs MEP systems for facilities and plants, engineers control and automation solutions, and ensures safety and regulatory compliance through arc flash studies, commissioning, and validation. Our offices are located in Massachusetts, Connecticut, New York, Vermont and North Carolina and our projects take us world-wide.