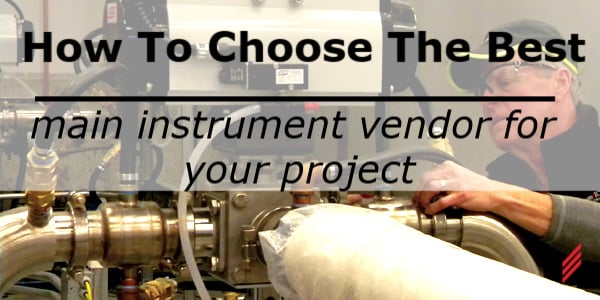 In my previous blog, I shared with you the benefits of choosing an Independent Main Instrument Vendor (MIV). Now, I'll share with you some key items to take into consideration when choosing your MIV.
Additional blogs in this series:
Our objective is always to first understand the specific needs of a project and tailor our approach to these needs. While they may vary from project to project, we have found the following to be fairly typical of our client's needs:
Schedule. Most likely, it is fast track. The client wants the facility running and making product as soon as possible.
Quality. In regulated environments, this is a given.
Cost. Price is always a factor, but the more experienced clients understand hard and soft costs, including mistakes, rework, not meeting schedule and unplanned overtime expenses.
Responsiveness & Flexibility. Most clients acknowledge that the project requirements are going to change. They want to see that you have depth to ramp up when needed and provide your on-site staff the authority to make timely decisions.
Understanding these requirements, here are 7 questions you'll want to explore before selecting your MIV:
Industry Experience
First and foremost, you'll want to understand the specific industry experience that your MIV has. If you are a pharmaceutical manufacturer, you'll want to ensure that your MIV has extensive experience working on cGMP projects. You don't want your MIV to learn about validation on your project.
Project Team
While you are hiring a company as your MIV, your experience will depend upon your specific project team. Ask for resumes and meetings with key staff members, including the Project Manager, Lead Instrumentation Technician, Field Superintendent and installation subcontractor. Understand their strengths, their depth of knowledge and staffing from design through validation, how they fit with your team, and their prior experience. It is likely you'll need them to fabricate UL508 panels (solenoid boxes, PLC and remote I/O cabinets). Do they have that capability?
Calibration System
Learn more about their calibration equipment and SOP's for receiving, bench testing and calibration PCS/BMS devices. What devices are they going to calibrate in-house? What devices will they require manufacturers support?
Management Tracking System
Ask your MIV how they plan on managing the information on the project. Do they have a real-time database that allows them to quickly identify the progress (ordered, received, bench tested, installed, calibrated) of a specific device at any point in time? Is this system web-based? Is the system accessible to you?
Financial Strength
If your MIV is procuring your instrumentation and valves, they will need to have the financial capability to do so. Ask about their financial strength? One indicator is how large a project they can receive a bond for as surety companies are in the business of assessing financial capability and risk.
Experience with Similar Scope Projects (Size & Schedule)
Is your project larger or smaller than what they typically handle? Do you have an aggressive project schedule? It's important to understand if they have the ability to ramp up for the scale of your project.
References
Finally, ask for references. Clients, construction managers, instrumentation vendors, engineering firms and subcontractors are all good sources of information about your MIV. As one client recently told me "I always check with their subcontractors. How they treat their subcontractors is a reflection of how they are likely to treat me."
Now that you have selected an MIV, the next step will be to develop a Project Plan. We'll cover this in our next blog. In the meantime, if you have any questions regarding our MIV services, please feel free to call Hallam-ICS.
About the Author
Keith is a graduate of the University of Vermont with a BSEE and an MBA. He has been with Hallam-ICS since 1988 as an electrical engineer, manager of integration services, CFO, and CEO. He focuses the company on understanding and meeting the needs of each individual client while at the same time delivering the highest possible level of technical expertise.
Read My Hallam Story
About Hallam-ICS
Hallam-ICS is an engineering and automation company that designs MEP systems for facilities and plants, engineers control and automation solutions, and ensures safety and regulatory compliance through arc flash studies, commissioning, and validation. Our offices are located in Massachusetts, Connecticut, New York, Vermont and North Carolina and our projects take us world-wide.