In our previous blog we discussed the upfront design tasks associated with a typical Instrumentation Project. The project clock is ticking, and it is time to procure the instrumentation & valves!
As discussed previously, before we purchase and begin processing any instruments, it is essential that there is a mechanism in place to easily track and report on the (work-in-progress) status of any given instrument and valve. For small projects a spreadsheet can be used but, in many cases, projects consist of thousands of devices. Hallam-ICS prefers to use, and has developed, a custom database application for managing and tracking the instrumentation through the project life-cycle. The information maintained for each device in our database includes:
All pertinent design information including instrument manufacturer, model number, serial number, tag number, P&ID cross reference, specification number, system and installation location.
Calibration information, including calibration requirements and procedures.
Calibration standards used, providing reverse trace-ability for any calibrations performed.
Tracking of any issues with an instrument.
Using this application, we have the ability to query, filter and generate standard and custom reports to plan for, and track, key project milestones. Our standard reports include:
Receiving Projection Report
In-Process Instrument Status Report
Instrument Punch list Report
Calibration Trace-ability Reports
A peak at our database application and a few reports: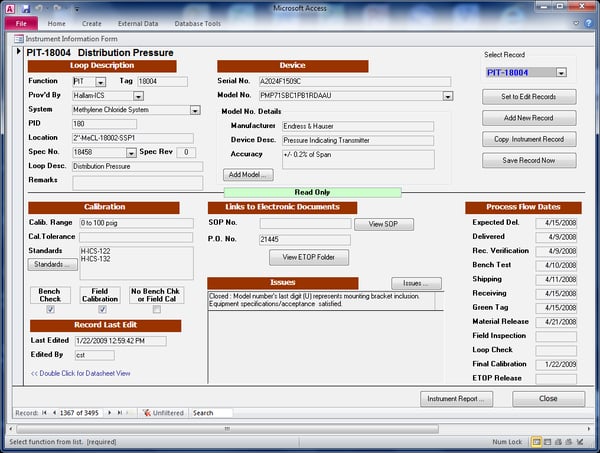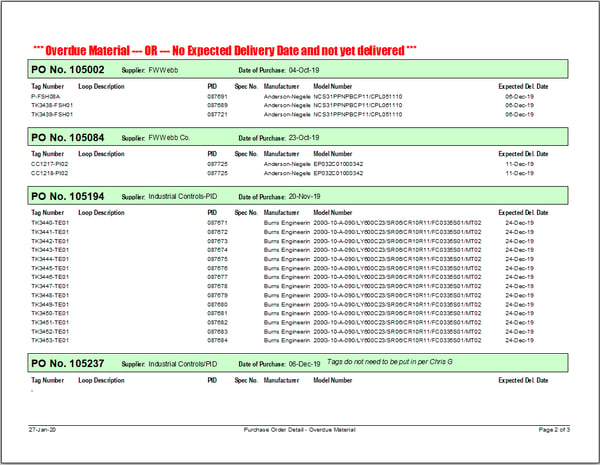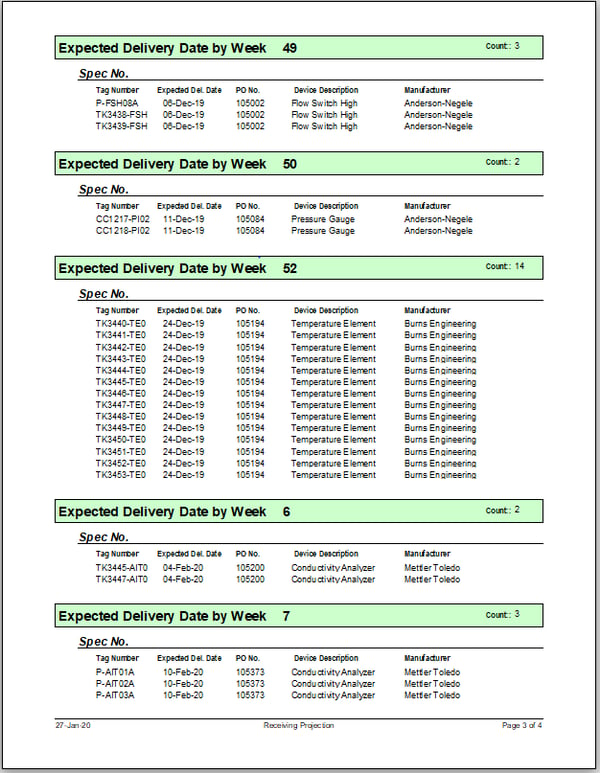 The instruments and valves are then procured using the supplied (and hopefully vetted) Instrument Data Sheets generated by the Engineer of Record. As a point of advice and experience, at the time of purchase we would recommend that you explicitly, and perhaps redundant to the Instrument Data Sheets, ask for the required quality documents such as Material Certificates of Conformance (construction and surface finish), Material Test Reports, Certificates of Special Cleaning (i.e. for O2 Service) and Calibration Certificates. These items are often overlooked by the instrument manufacturers and not easily produced after device production and delivery.
Once received, a few quality checks should be employed to ensure each instrument is ready for installation and commissioning / validation. Specifically, a Material Receipt Verification and a Bench Test should be performed. At last, the excitement can begin!
Material Receipt Verification / Inspection
First, upon receipt of a new instrument, it should be visually inspected and verified that the construction / model matches, exactly, the device specification and purchase order. Specifically, the Material Receipt process should verify the following:
Instruments and valves received match that listed on the Instrument Data Sheet or specifications and purchase order with regard to manufacturer, model number, (process connection) size, materials of construction, dimensions, calibration range and accessories.
Instruments and valves come with the required quality Certificates of Conformance (C of Cs), Material Test Reports (MTRs), Drawings and Manuals. If material traceability is required, the MTRs must have heat numbers that directly cross reference the heat numbers stamped on the instrument material(s).
Devices are free of damage and debris, oil, or other contaminants by conducting a Visual Inspection.
Devices have the proper sizing and dimensions by conducting a Physical Inspection.
In establishing our Material Receipt process, we used the ASME Bioprocessing Equipment (BPE) Standard as a guide. All material inspection results should be recorded and submitted as part of the Turnover Package to the client. To download a template of the Material Receipt Form we use please click here
For any given project, there is almost always a component that is delivered with a quality issue. Examples of things that we have found during the material receipt process:
Instruments manufactured with the wrong material (304SS vs. the required 316SS).
Wrong process connection size
Missing quality certificates (always!)
Improperly cleaned parts
Incorrect process fill fluid (think pressure transmitter)
Calibration reports cross referencing the wrong device
Calibration Certificates that show a device is out of tolerance (from the manufacturer)!
MTRs that do not properly cross reference the stamped Heat Numbers on the instruments.
Damaged parts
Bench Test
An important secondary step is to perform a basic functional test of each instrument / valve before it is delivered to the field for installation. Tests do not need to be exhaustive but should be extensive enough to ensure that instruments / valves are in good working order and have not been damaged in shipment. Valves should be stroked open and close. Instruments and gauges should be exercised through (or at least a portion of) the calibration range. A NIST traceable calibration does not need to be performed at this point. The objective is to find failures early in the project so that devices can be replaced easily and in a timely manner. Instruments found to be faulty after installation or during testing can cost you precious time and money, when you have little of either! Moreover, if devices are exposed to process conditions they are not easily returned.
All test data should be recorded and submitted as part of the Turnover Package to the client. For an example of a Bench Test Form click here.
Upon the successful completion of these tasks, you can feel confident that the devices are ready for installation! In our next blog we will discuss what needs to occur next in the field. In the meantime, if you have any questions regarding our MIV services, please feel free to call Hallam-ICS.
About the author
Pete is a graduate of the University of Vermont, with a B.S. in Electrical Engineering and a Masters of Business Administration. He originally joined Hallam-ICS in 1995 (leaving in 2001 and returning again in 2005) as Controls Engineer. Currently, he serves as a Project Manager and Team Leader for the Control Systems Integration group. Outside of work Pete enjoys skiing, golfing, music, and coaching his kid's baseball / softball teams.
Read My Hallam Story
About Hallam-ICS
Hallam-ICS is an engineering and automation company that designs MEP systems for facilities and plants, engineers control and automation solutions, and ensures safety and regulatory compliance through arc flash studies, commissioning, and validation. Our offices are located in Massachusetts, Connecticut, New York, Vermont and North Carolina and our projects take us world-wide.