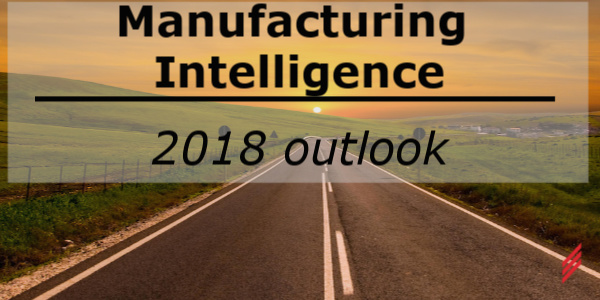 ---
The Manufacturing Intelligence Team at Hallam-ICS currently provide a variety of services from Data Analytics to Custom Multiplatform Applications for our customers.
However, the future of Manufacturing Intelligence is changing very rapidly and therefore, our team will need to adapt to these future technologies in order to offer our customers the best tools to do their jobs efficiently. Here are a few new technologies that will help us capture, analyze and display data in whole new ways in 2018 and beyond.
Industrial Internet of Things
The Internet of Things (IoT) has been a buzzword used for many technologies over the last few years from smartwatches to home appliances. However, industrial hardware manufacturers like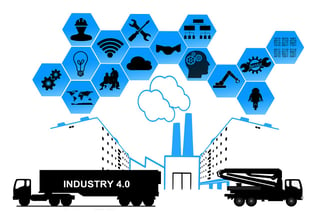 Rockwell Automation and General Electric are investing heavily in creating devices that will connect to existing industrial infrastructures and allow for the ability to collect vast amounts of data. This new class of hardware are categorized as Industrial Internet of Things (IIoT). One of the major shifts in the IIoT ecosystem has come from the online cloud and analytic companies such as Microsoft and GE. Both companies are expanding the capabilities of the IIot with edge computing, using operating systems that will run Docker containers on the IIoT devices. This will allow the analytics and data processing to run closer to the machines to provide both near real-time feedback as well as reducing costs by sending less data to the cloud.
Machine Learning
Once you have the data in your cloud hosting solution you need an efficient way to analyze it to determine patterns and to look for anomalies or generate predictions. Machine Learning (ML) is a field of computer science that uses algorithms to perform this analysis. For example, if your factory uses 500 DC motors to run your conveyor belts you could use Machine Learning to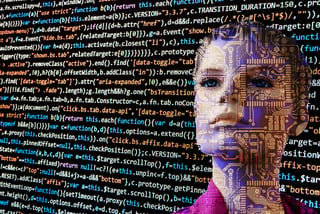 determine the typical life of a motor. You can then perform pre-emptive maintenance by replacing a motor before it would typically fail. This would reduce down-time and cost by allowing you to schedule this maintenance during convenient times during your production process. Another benefit of using Machine Learning is to look for efficiencies by comparing the output of identical equipment. If one machine is performing better than another then the configurations can be compared in order to improve the performance of the less productive machines.
Virtual Reality and Augmented Reality
Virtual Reality (VR) and Augmented Reality (AR) have been around for many years in the consumer world. However, they are starting to appear more in the industrial arena. Major companies like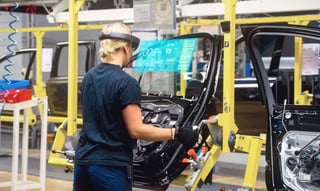 Microsoft and Google are producing wearable headsets and glasses that allow a user to view information related to the machine they are looking at. For instance, Microsoft's HoloLens is being used at large manufacturing plants like Boeing and Volvo to assist workers in complicated assembly processes. The heads-up display projects the steps to complete an assembly and can show an animation on how one component connects to another. Another application that the HoloLens is being used for is to perform maintenance in the field. For example, elevator manufacturer thyssenkrupp has used the HoloLens to reduce the length of service calls of its 24,000 service engineers by up to four times. The service engineers are able to view real-time analytics, view 3D models of the equipment they are working on and include remote experts in troubleshooting issues. Google has also been developing an industrial version of its Google Glass consumer product. However, their new industrial version is called Google Glass Enterprise Edition (EE) and are offered as OSHA-certified safety shields. Companies like GE, Boeing and Volkswagen are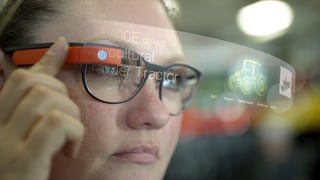 currently utilizing these devices and are measuring huge gains in productivity and quality. At AGCO, a large farm equipment manufacturer, they have replaced the use of laptops and tablets with Glass EEs. The workers on the manufacturing floor are able to view the specification for each tractor assembly and work hands-free. In addition, it reduces the amount of time it took to retrieve the same information from a laptop or tablet.
In 2018, gathering data, analyzing the data and displaying it in new and creative ways are going to help companies increase both their quality and quantity of their products. Preventing downtime by doing pre-emptive maintenance and increasing safety by having important information available when and where the user needs it, will just be the icing on the cake.
About the author
Shawn has left Hallam-ICS to pursue other endeavors, but his contributions to the company continue to be valued.
About Hallam-ICS
Hallam-ICS is an engineering and automation company that designs MEP systems for facilities and plants, engineers control and automation solutions, and ensures safety and regulatory compliance through arc flash studies, commissioning, and validation. Our offices are located in Massachusetts, Connecticut, New York, Vermont and North Carolina and our projects take us world-wide.