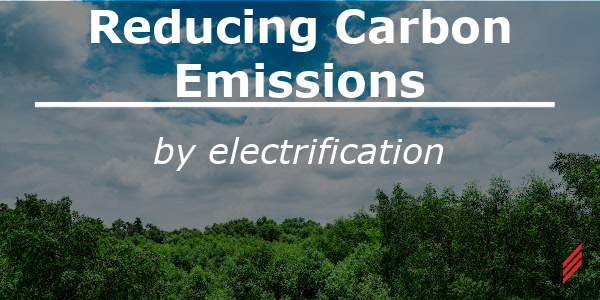 Are you considering electrification for your facility to help you meet your carbon footprint reduction goals?
Electrification is a transformative approach to building facility management that involves replacing traditional fossil fuel-based systems with electric alternatives. This shift towards electrification offers numerous benefits, including:
Reduced greenhouse gas emissions.
Enhanced energy efficiency.
Improved indoor air quality.
Increased resilience.
Cost savings from incentives and rebates as well as lower long-term operating costs and utility bills.
To get started, your facility will need to have an engineering study performed by a Professional Engineering and/or Commissioning company in order to determine strategies for electrification. Whether it is a single existing facility or a large campus, the process is the same. An engineering study will identify all systems currently utilizing fossil fuels, identify capacities of replacement equipment as well as existing electrical services, and propose alternate electrified system design strategies.
The whole building should be considered, including façade, glazing, and engineered systems. An engineering study will provide you with an incremental road map, allowing you to consider a phased approach on a schedule that fits your specific operational requirements and capital budget. A phased approach may be necessary for coordination with the electrical utility and matching their infrastructure upgrade timelines for large campuses.
The study should include carbon reduction estimates. This will enable you to track your progress against the carbon reduction plans expected in your local municipality. One such program aimed at reducing the emissions is the Boston's Building Emissions Reduction and Disclosure Ordinance (BERDO) which goal is to reduce emissions gradually to net zero by 2050.
An example of a good strategy would be to include the use of air-sourced heat pumps (ASHP's) to generate temperate water loops. These can be paired with water-source heat pumps (WSHP's) or water-cooled chillers for generating heating and cooling water. These may also be paired with energy recovery devices, to take advantage of waste energy from processes or exhaust air in the building. This allows for more practical operation of today's ASHP's in the low ambient conditions experienced in the Northeast region of the US.
Electrification in building facilities is a pivotal step towards creating sustainable, efficient, and resilient infrastructure. The benefits of electrification, including reduced greenhouse gas emissions, improved energy efficiency, enhanced indoor air quality, and cost savings, make it a compelling solution for the challenges posed by climate change and the need for sustainable building practices.
Contact Hallam-ICS to learn more about the expertise and experience we offer to help you achieve your carbon reduction goals.
About the author
Vin Calio is the Regional Manager, South New England. He is an Electrical Engineer with over 15 years of experience in automation and control systems.
Read My Hallam Story
About Hallam-ICS
Hallam-ICS is an engineering and automation company that designs MEP systems for facilities and plants, engineers control and automation solutions, and ensures safety and regulatory compliance through arc flash studies, commissioning, and validation. Our offices are located in Massachusetts, Connecticut, New York, Vermont and North Carolina Texas, Florida and our projects take us world-wide.