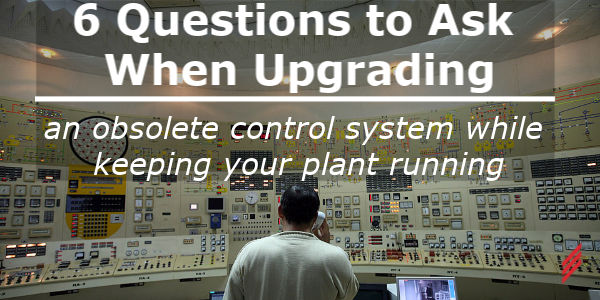 Upgrading your obsolete control system is a helpful 7-part blog series addressing the important technical aspects of upgrades and written by an industry professional with over 25 years of experience.
Upgrade your obsolete automation system and keep your plant running – Beginning your journey
When your current automation system was installed, your site's youngest engineer was not even born. You've been having sporadic hardware failures. The company that provided the hardware initially has either gone out of business or has been bought by a bigger company. The new hardware provider would like to support your legacy system, but will only do that if you completely upgrade to a different platform. The new platform is really not the same at all, and is not your site standard. Perhaps you are buying spare parts on eBay, or just scavenging control parts from around your site from small mechanical systems that have been ripped out. You are also trying to maintain software for your control system on machines running obsolete operating systems. You are getting pressure from your IT department (a department that your company didn't have when your control system was first installed) to get rid of these old computers. You have had to move them off of your site network, which makes for very inconvenient access, and everyone finds them frustrating because they have less computing power than your smartphone.
Given that your legacy control system is just a pain in everyone's side, and because it seems mysterious to people who allocate funds and don't completely understand it, you've been given a limited budget, spread out over several years, to implement a modern automation system on your existing equipment. Of course the plant can't be shut down during this process. What do you do? Don't worry, you are not alone. Every manufacturing facility has this problem. Every year there have been decisions made that have created the specific automation system that you have now. Your system has become a unique entity. But luckily, there are enough similarities with every other plant's obsolete control system, which you can borrow and steal ideas from everyone else who has already upgraded their site.
This article assumes that this will be a PLC project for you. It assumes that whether your current system is hardwired relay logic, a collection of single loop controllers, a proprietary DDC system, or an obsolete PLC system; the new control system will use modern programmable logic controllers as the base system component.
There are the 6 major questions to consider when upgrading your obsolete control system:
How can your operators effectively run your plant during an automation system conversion with a mix of old and new hardware and software?

How can you run your plant with a mix of old and new hardware at the same time? – An editorial on S88.
Why and how to ground your ungrounded control system before a system upgrade.
A note for Mechanical Engineers… Don't be afraid of the PLC programmer or the control system software. She is just translating your sequence of operations into a language that the machine understands.
I will expand on these topics in future posts, so sign up for updates.
For more information please contact Julie directly at jgruenholz@hallam-ics.com or visit our
About the Author
Julie Gruenholz is a Senior Control Systems Engineer for Hallam-ICS. As an Electrical Engineer, she has been designing, installing, modifying and programming control systems since 1991.
Read My Hallam Story
About Hallam-ICS
Hallam-ICS is an engineering and automation company that designs MEP systems for facilities and plants, engineers control and automation solutions, and ensures safety and regulatory compliance through arc flash studies, commissioning, and validation. Our offices are located in Massachusetts, Connecticut, New York, Vermont and North Carolina and our projects take us world-wide.