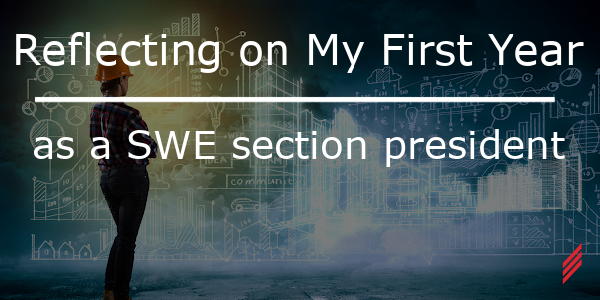 The word "president" sounds like a lofty, end-of-career achievement, so when I was elected President of our local North Country Society of Women Engineers (SWE) near the beginning of my career and life in Vermont, I was faced with an equally daunting and exciting task. Now, I am closing in on the end of my first year as President – where has 8 months gone already?
In celebration of Introduce a Girl to Engineering Day today, I spent time reflecting on my year as section president, the time that led me here, and the path looking forward.
A Quick History Lesson
Before I dive into my stories of the past year, I should first discuss a little history about SWE and our North Country section. SWE is a multi-national organization founded in 1950 as a 501(c)(3) non-profit with over 40,000 members. SWE's mission is to "empower women to achieve full potential in careers as engineers and leaders, expand the image of engineering and technology professions as a positive force in improving the quality of life, and demonstrate the value of diversity and inclusion." SWE's goals are Professional Excellence, Globalization, Advocacy, and Diversity and Inclusion, which lead SWE events and content to fall into three categories:
Professional development
Outreach (K-12 and collegiate)
Networking
Our local North Country section covers the state of Vermont and northern New Hampshire. Founded in 1986, today we have roughly 100 members spread across various industries, engineering concentrations, and career levels. The associated collegiate sections we support are the University of Vermont (UVM), Norwich University, and Dartmouth University.
A Whirlwind Year After Two Years of Shutdown
Our SWE section, like many organizations and businesses, suffered a severe slowdown in events during the Covid-19 Pandemic. Understandably, optional-participation groups like SWE got pushed to the back burner in people's lives. Plus, there's only so many things we could do virtually, and it got to the point where the last thing virtual workers wanted to attend was another virtual meeting.
As the world started re-opening and many people received vaccinations, we were able to re-introduce in-person events to SWE. Unfortunately, we quickly discovered they we had lost steam as people faced fatigue from stressful years in pandemic. When I transitioned to President in June 2022, I made it a goal to revive our SWE section, get our name back out in the community, and reinforce SWE as a resource and support network.
The first event to kick off my presidency was sponsored by my own company, Hallam-ICS, on June 23rd, 2022 – International Women in Engineering Day. We invited the members to our Vermont office, where I presented on interesting projects I was working on and my colleague Pete Niarchos gave a tour of our industrial control panel shop.

We typically take summer off as it is a heavy time for vacations and prioritizing family activities, but we started the fall strong with our first networking event in September: apple picking at Yates Family Orchard! There had been a flurry of e-mails, texts, and in-person chats to encourage as many people as possible to attend – and we were successful! We had a great day meeting a dozen old friends and new, with perfect Vermont fall weather.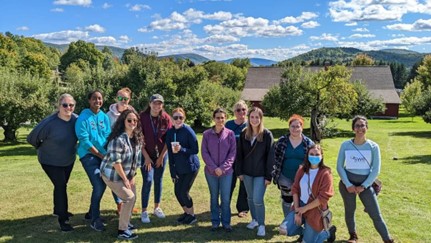 We continued the year with one of our most successful professional development events ever: a technical tour and happy hour hosted by BETA Technologies, a Vermont-founded organization pioneering a new class of electric aircraft formally called Electric Vertical Take Off and Landing (eVTOL). Tours were led by many of the awesome women on BETA's engineering staff, where we saw workshops, aircraft, and more and learned about their development process company culture. We celebrated at the after-tour happy hour, and I was so proud to see the connections being made and huge community support for the event.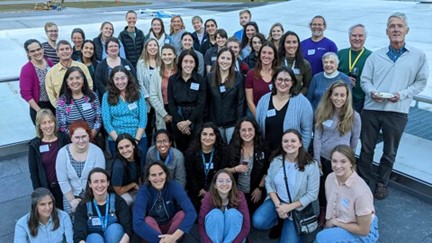 As we approached winter and the holidays, momentum for large events cooled off like the weather, but members still attended many community events:
Women's Economic Opportunity conference, hosted for 25 years by long-time Vermont Senator Patrick Leahy
Vermont Tech Jam
UVM's STEM Networking Night
Presenting at Vermont Afterschool Program's Linking Engineering to Life groups at Winooski Schools and the Boys & Girls Club of VT

We ended 2022 with our traditional SWE ugly sweater holiday potluck, with a craft activity making magnets led by one of our members (her craft business is a side hustle!).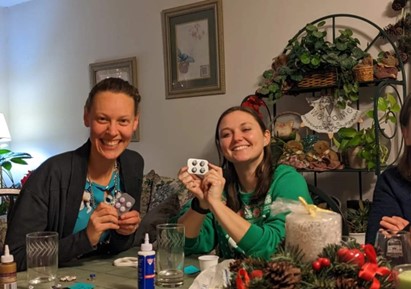 After everyone recovered from the holidays, we started developing our first collegiate activity of the year – a Galentine's day (2/13) resume review workshop with UVM's SWE section. We bribed students and professionals with pizza and had a successful night preparing the students for upcoming career fairs and interviews.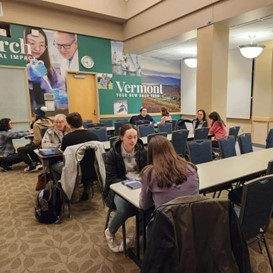 Reflections
While the past year as president has been very busy, I have gained priceless experience along the way, made new friends and mentors, and thought hard about my past to this point and my future moving forward. I have found support and supported others, and I have been reminded constantly of the inspiring engineers in my community. I discovered that SWE can be an invaluable resource and explored a particular passion for our outreach activities, especially K-12 outreach.
When working with K-12 groups, I'm reminded that even though I grew up in the 21st century, I had never met a woman in a professional technical role that I could look up to. I never saw portrayed in media an engineer who was "like me" and was often encouraged to pursue "traditional" or "easier" careers. It boiled down to being discouraged from STEM pathways, despite numerous of my personality characteristics matching a typical STEM nerd: immense curiosity of the world, wanting to take things apart, asking a million "whys", having a strong desire to solve problems, and enjoying complicated puzzles. It wasn't until high school when my mom encouraged me to look into engineering, that I realized if I combined all the above traits plus strong schoolwork in math and science, an engineer was exactly who I wanted to be when I grow up.
Looking back on just the past year of growth makes me immensely proud. I am proud of my section leaders who have helped me revitalize our group, proud of the variety of companies who we've collaborated with, and proud to call myself part of a professional organization who seeks to support marginalized communities to create better engineers and a better engineering community that can protect public safety and help our communities.
Looking forward to the future, I want to grow into a senior engineer that someone younger than me can look up to and see themselves in – the type of engineer I was looking for to demonstrate how fulfilling an engineering career can be and the impact we can have on people and society.
After today, I encourage my readers to reflect on their own journey in engineering and take a moment to Introduce a Girl to Engineering.
Onward!
With that sentimentality out of the way, I'm putting my president hat back on to dedicate this section to all the SWE activities that continue to populate my schedule. North Country has these exciting activities upcoming:
SWE Local Conference in Hartford, CT

Many North Country members are presenting

Girl Scout Engineering Badge Day 3/25

Hallam-ICS will be sponsoring an activity table

UVM's Women and Non-Binary in STEM Conference 4/12
GlobalFoundries Tour (TBA)
Certificate of Merit awards (May)

SWE North Country awards female, female-identifying, and non-binary high school students in our area who display exemplary performance in Math and Science courses
I'm always happy to talk anything SWE, please reach out to me or on our social media platforms to ask questions, get involved, or offer support!
E-mail: ncountryswe@gmail.com

TeamUp Calendar: https://teamup.com/kssnxzmixwq3vp9mkn

Twitter: @SWE_NCountry

Facebook: Society of Women Engineers -- North Country Chapter

Linkedin: SWE North Country Section

Instagram: swencountry
About the Author
Tori is part of the engineering team in the Vermont office and has been with Hallam since 2017. She designs mechanical, plumbing, and process systems on a variety of projects ranging from cleanrooms & higher education labs to paper mills & farms.
About Hallam-ICS
Hallam-ICS is an engineering and automation company that designs MEP systems for facilities and plants, engineers control and automation solutions, and ensures safety and regulatory compliance through arc flash studies, commissioning, and validation. Our offices are located in Massachusetts, Connecticut, New York, Vermont and North Carolina and our projects take us world-wide.