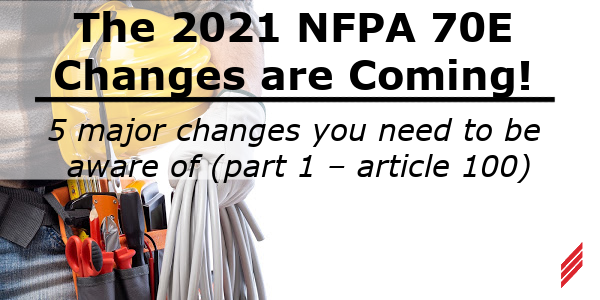 ---
Another 3 years has passed and it's time for another NFPA 70E update. This new update will be the 2021 version. This document will provide a brief summary of the proposed changes. Please note that these changes have not yet been fully adopted, but they provide a fair representation of what's likely going to be in the final version.
I was fortunate to get a sneak preview to the proposed changes by attending a webinar in July 2020 hosted by Jim Phillips of brainfiller. Jim is a Technical Committee Member of the NFPA 70E Standard for Electrical Safety in the Workplace and is well respected in the electrical industry.
I have written a series of blogs on the proposed changes, organized by Article:
Changes to Article 100 (definitions):
Since 2018, a lot of things have changed with many revisions that typically come from input from people in the electrical community. And why do we have these changes? Because it's all about:
Electrical Safety; The elimination of the Electrical Hazards.
What does this mean?
Some definitions were deleted
Some were changed to match the NEC
Existing definitions from 2018 are provided, with changes shown as either

strikethrough

for deletions or in

RED

for changes. For example; Balaclava is now called "head protective fabric" in lieu of sock or hood.


Balaclava (

Sock Hood

)(

Head Protective Fabric

)
Barrier; It's to prevent contact with energized equipment, conductors and circuit parts. It's not to

prevent unauthorized access to a work area

. Therefore, this language was removed.
Electrically Safe Work Condition; The Golden Rule as I have always said. What's important here is a clarification regarding the term "Condition". The Condition is a "State" of something not a "Procedure". Procedure is covered elsewhere in 70E. It is a "State" where the hazards (electrical conductors and circuit parts) that a worker may be exposed to are maintained in a deenergized "State" for the purpose of temporarily eliminating the electrical hazards… In the past, it was assumed that "Electrically Safe Work Condition" was a procedure to eliminate the hazards which is not the case. Therefore, an informational note is being provided as part to the 2021 version for clarity.

Switchgear

, Arc Resistant; The previous term identified arc resistant equipment as "Switchgear". However, times have changed and the manufacturers of arc resistant equipment have expanded into other equipment such as motor control centers, etc. Therefore, the term changed to "Equipment, Arc Resistant".

In addition, two informational notes are being added referencing IEEE C37.20.7 – Guide for testing Switchgear up to 52kV for internal arcing faults and referencing Annex O for additional information on "Safety Related Design Requirements".

IEEE 1814 – Coming down the road, this new standard and development

-"Recommended Practice for Electrical System Design Techniques to Improve Electrical Safety"

. My understanding is this is a couple years out but it's likely coming.

Essentially, a guide to safely design electrical systems. Most of my career in the electrical industry, I was an electrical power system design engineer, and this will be a well warranted guideline to safely design systems to prevent arc flash events.


Shock Hazard; The definition added the word "exposed". Previously, it was defined as "a source of possible injury or damage to health associated with current through the body caused by contact or approach to energized electrical conductors or circuit parts". But the key is; approach to

"exposed"

energized electrical conductors or circuit parts.

Why? Let's look at an example; your office has a main corridor that runs down the middle of the building in order to get to the restrooms or exit the building. Along this corridor there may be a flush or surface mounted panelboard personnel need to walk past. If you think about it, that panelboard is an "electrical hazard" with the potential of shock. Shouldn't you have to wear proper PPE to walk past it? NO. Because the covers are likely closed assuming the panel was installed properly per the NEC and there is no "exposure" to any of the live energized parts within the panel. Therefore, there is no "shock hazard" unless you remove the covers and interact and/or inadvertently interact with the equipment where you now have electrical conductors or circuit parts not suitably guarded, isolated or insulated.

Voltage, Nominal; Informational noted (#3) added about DC voltage covering the "float" voltage above nominal voltage. For example; 48 volt dc nominal but with a float voltage up to 58 volts.
I realize there is a good deal of information here to digest but I hope this gives you an idea of what's to come. I want to thank Jim Phillips for helping us all learn more about the proposed NFPA 70E 2021 changes. As always, if you have any questions or want to learn more, please feel free to reach out to me anytime.
About the Author:
Scott King is the VP & National Director of Electrical Safety Services. Scott has been with Hallam-ICS for over 30 years. Scott and his team have been conducting power system studies for over 15 years.
Read My Hallam Story
About Hallam-ICS:
Hallam-ICS is an engineering and automation company that designs MEP systems for facilities and plants, engineers control and automation solutions, and ensures safety and regulatory compliance through arc flash studies, commissioning, and validation. Our offices are located in Massachusetts, Connecticut, New York, Vermont and North Carolina and our projects take us world-wide.