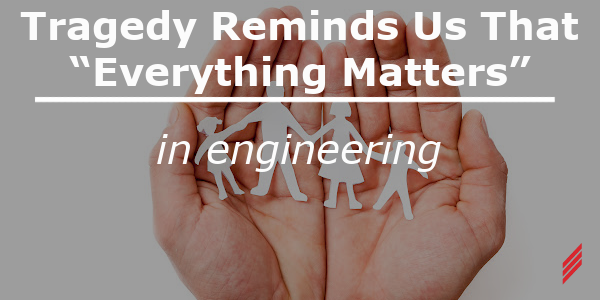 I saw in the newspaper a person passed away on Christmas Day 2022 in Lockport, NY (near Buffalo) from carbon monoxide poisoning. Their combustion appliance's vent (discharge, stack, exhaust, there are multiple names for the vent) was covered by snow and caused two people in the residence to be overwhelmed, one fatally.
Thinking about this person's avoidable death reminded me of our duty (as engineers and designers) to protect human life as the most important thing we do, every day of the week. Those of us who are registered have signed an oath to protect the public; those of us who are not registered but work in an engineering company have the exact same duty.
What safety-focused elements exist to help prevent this kind of death:
There are codes (NFPA 54 or International Fuel Gas Code) that detail where combustion appliance vents are allowed to be. Specifically The Fire Code of New York State section 3 and Appendix C show where vent terminals can be.




The Fire Code of New York State (based on the International Fire Code) requires carbon monoxide detectors in section 915.
The combustion appliance has an instruction manual that includes details of venting (boiler or furnace installation manuals always have detailed chapters on venting). Those instructions cover distances from doors and windows, and elevations above the ground. Here is one

for a sidewall vent kit similar to what I have on my boiler at home, it has specific rules about location of the sidewall vent kit, including "The bottom of the vent terminal shall be located at least 12" above finished grade or maximum expected snow height."
The installer likely has (or had) a professional contracting license.
The equipment vendor likely offered technicians training.
Carbon monoxide detection is mandatory in New York State (and many other jurisdictions).
The Property Maintenance Code of New York State (based on International Property Maintenance Code) covers venting and maintenance of venting in section 603.
I share this tragedy to remind ourselves "everything matters." The vast majority of the time, the work we as engineers and designers deliver is safe; codes, customary practices, installation instructions, standards, etc. provide this safety. We must avoid becoming complacent in this respect; safety requires active thinking and evaluation. It is our duty as engineers and designers to ask for help if we are uncertain about something. We have to read the installation manual, check the code, watch a relevant YouTube video. The things we design do not keep the public safe by chance, it is by intention.
We must honor the duty we have as being protectors of the public.
About the Author
Bill has been a mechanical engineer since 1995 and with Hallam-ICS since 2010. His career has brought him to the top of the Transamerica Pyramid Center, chemical plants, underground mines, paper mills, and semiconductor fabrication facilities. He has experience designing, specifying and installing mechanical and electrical systems in the built environment covering industrial, institutional and commercial facilities.
Read My Hallam Story
About Hallam-ICS
Hallam-ICS is an engineering and automation company that designs MEP systems for facilities and plants, engineers control and automation solutions, and ensures safety and regulatory compliance through arc flash studies, commissioning, and validation. Our offices are located in Massachusetts, Connecticut, New York, Vermont and North Carolina and our projects take us world-wide.