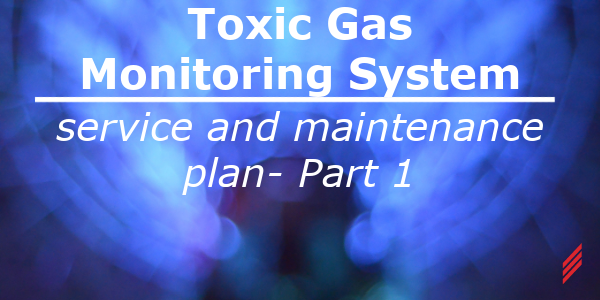 A Toxic Gas Monitoring System (TGMS) is a life safety system that protects personnel in facilities that utilize harmful gases. To maintain system integrity and ensure proper operation, a TGMS needs to have a well designed and implemented service and maintenance plan. This two-part blog series will help you to understand the different aspects of creating and implementing TGMS service and maintenance plan.
What is a Toxic Gas Monitoring System?
A TGMS is a dedicated life safety system, like a fire alarm system, that is designed to detect the presence of harmful gases in an environment and signal that presence to the building occupants.
It is commonly used in semiconductor, nanotechnology, and other facilities where harmful gases can become present. These can be manufacturing, research and development or academic facilities.
A typical TGMS consists of the following major components:
Gas sensors or detection equipment located throughout the facility where protection is required.
Signaling devices such as beacons and horns located throughout the facility that indicate the presence of a hazardous condition.
A centralized, PLC-based control system with operator interface that displays system status.
Connections to other life safety and building automation systems such as:

Fire Alarm Systems
Gas Delivery Systems
Building Automation Systems (BAS)
Types of Gas Detection Equipment
Several different types of gas detection equipment are available and can be separated into the following major categories:
Chemical Tape
Electrochemical cell
Infrared sensors
Catalytic
Semiconductor
Some of these sensors are mounted directly at the detection point while others are mounted more centrally and utilize an air pump and tubing to transport an air sample from the detection point to the sensing equipment.
By selecting the right type of equipment for the application, a TGMS can detect any combination of highly toxic, pyrophoric, flammable and oxygen deficient gases.
Many factors go into selecting the right type of gas detection equipment.
Applicable Regulations
There are many codes, standards and best practices involved in the design of a TGMS. Some of these include:
International Building Code
International Fire Code
International Plumbing Code
International Mechanical Code
NFPA 1 – Fire Code
NFPA 2 – Hydrogen Technologies Code
NFPA 30 – Flammable and Combustible Liquids Code
NFPA 45 – Standard on Fire Protection for Laboratories Using Chemicals
NFPA 55 – Compressed Gases and Cryogenic Fluids Code
NFPA 70 – National Electric Code
NFPA 72 – National Fire Alarm and Signaling Code
NFPA 318 – Standard for the Protection of Semiconductor Fabrication Facilities
NFPA 496 – Standard for Purged and pressurized Enclosures for Electrical Equipment
NFPA 497 - Recommended Practice for the Classification of Flammable Liquids, Gases, or Vapors and of Hazardous (Classified) Locations for Electrical Installations in Chemical Process Areas.
Maintenance Programs
The specifics of any TGMS Maintenance Plan will depend on several factors including:
The size and scope of the system.
The type(s) of sensors used.
The ability of the facility to accommodate shutdowns of portions of the system for maintenance.
Involving the system owners as well as operations and production in the maintenance plan creation will provide for the most efficient maintenance program possible while minimizing disruption to ongoing operations.
Responsibilities
Before I get into the specifics of a maintenance plan, it is important to consider the responsibilities associated with a TGMS. It should be noted that, as with any safety program, the ultimate responsibility for the proper implementation of a TGMS maintenance plan rests with the system owner even when the actual maintenance work is contracted to an outside vendor.
From an operational perspective, it is important for an organization to determine which internal group or department will maintain ownership of the TGMS and its operation and maintenance. Sometimes this can be the group using the space protected by the system (such as operations or manufacturing) but more commonly this responsibility is assigned to the organization's Environmental Health and Safety (EH&S) group, like other life safety systems. Regardless of which group assumes ownership of the system, it is important to identify which specific individuals are responsible for the following:
Periodic checks of the system status.
Document control and management of system design and maintenance records for compliance purposes.
Response to system alarms and notifications. Note that this could be during off-work hours.
Coordination with operations group(s) for planned and unplanned maintenance and shutdowns.
Coordination with the outside contractor for scheduled maintenance and emergency repairs.
System owners choose to perform some of these tasks internally while others choose to hire a contractor for the entire program. This will depend on your specific resources and expertise.
Maintenance Program Components

The major components of a comprehensive maintenance program include the following:
Procedure Development
Document Control
Visual Inspections
Recommissioning
Filter Replacement
Chemical Tape Changes
Sensor Replacement
Integration Support
Gas Challenging and Calibration
While not all these items will apply to every TGMS, I will cover them all in my next blog so that you can be aware of them. I will go into detail about the documentation and procedures and maintenance program components required for a complete and comprehensive service and maintenance plan.
Please don't hesitate to contact my via email, vcalio@hallam-ics.com with any questions you might have or contact our Help Desk by clicking the button below.
About the author
Vin Calio is the Regional Manager, South New England. He is an Electrical Engineer with over 15 years of experience in automation and control systems.
Read My Hallam Story
About Hallam-ICS
Hallam-ICS is an engineering and automation company that designs MEP systems for facilities and plants, engineers control and automation solutions, and ensures safety and regulatory compliance through arc flash studies, commissioning, and validation. Our offices are located in Massachusetts, Connecticut, New York, Vermont and North Carolina and our projects take us world-wide.