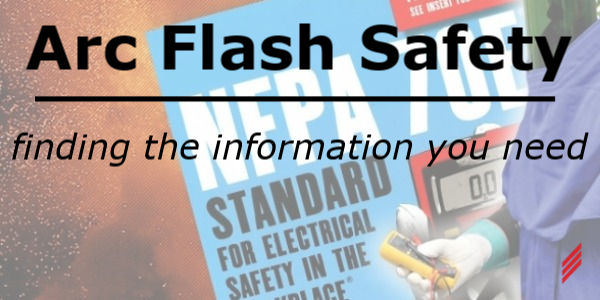 ---
Safety professionals are responsible for developing employee electrical safety programs for their organizations. Often, they learn about arc flash and electrical safety from on-line Google searches that lead to blogs that are typically written by other safety professionals who sell arc flash studies or electrical safety training... and it can get kind of stale.
We're all writing and reading about the same thing, so it becomes this whirlwind of similar content that can be hard to sift through to find things you didn't already know. It's hard to stay inspired, too.
To help you break out of your typical content mold and learn something new to help you better understand what the issues are with electrical arc flash safety and why it's imperative to take action, we've compiled these entries that will be shared in future blogs:
Establishes minimum requirements to prevent hazardous electrical exposures of personnel working on or near live electrical equipment.
Ensures compliance with regulatory agencies; OSHA 1910.333, .335 and NFPA 70E guidelines.
Provides the owner with the necessary tools to predict possible electrical system failures to reduce facility downtime.
Establishes minimum "personnel protective equipment" (PPE) designed to protect specific areas of the body.
Equipment properly labeled with the arc flash boundary, incident energy levels and PPE will reduce arc flash hazards.
How is it done
How are you involved
Mitigation solutions to lower the hazard

This video helps to illustrate the impact an arc flash.

This first blog entry at least gets the dialogue started of why this high profile subject matter is incredibly critical to the safety of your facility and personnel. We've chosen to write about Arc Flash and Electrical Safety because of the direct impact it can have on the lives of people who work on and around electrical equipment. This is an important topic and one that is very near and dear to the team of degreed electrical engineers at Hallam-ICS .
Whether it be arc flash analysis, how it's performed, simple awareness, qualified electrical safety training, understanding the many forms of electrical hazards, we can help you understand what this is all about, provide that education to your staff and ultimately ensure personnel safety and compliance. Our engineers have performed 100's and 100's of these studies over the past 15 years and we would very much be honored to help you out as well. We do it in a very understandable and simplistic way.
Would you like to learn more? Okay, let's take the next step together!
For more information about Arc Flash Analysis or Electrical Safety you can contact me directly via email sking@hallam-ics.com or through our
About the Author:
Scott King is the VP & National Director of Electrical Safety Services. Scott has been with Hallam-ICS for over 30 years. Scott and his team have been conducting power system studies for over 15 years.
Read My Hallam Story
About Hallam-ICS:
Hallam-ICS is an engineering and automation company that designs MEP systems for facilities and plants, engineers control and automation solutions, and ensures safety and regulatory compliance through arc flash studies, commissioning, and validation. Our offices are located in Massachusetts, Connecticut, New York, Vermont and North Carolina and our projects take us world-wide.