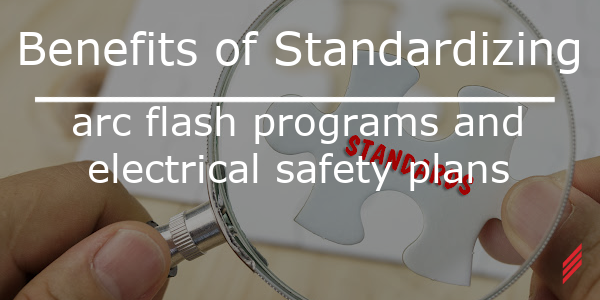 Managing OSHA and NFPA 70E compliance can be a challenge. If you are responsible for multiple sites or your company operates in many different regions, that can complicate those efforts even more. In the past, in managing Utility workers, I have seen this struggle firsthand. However, when managing a workforce that deals directly with a life safety hazard, it becomes even more critical to tackle these issues in the most effective ways possible. I have seen this work the best by standardizing work methods and safety rules. In the case of Arc Flash compliance, there are several benefits to using a single firm to help you complete these efforts.
The first benefit is quality control of your studies. When you source a single firm to help you come into or maintain compliance, you can be sure that the final deliverable is consistent throughout your network of facilities. For example, if you would like a specific format or additional information included on your labels, you can rest assured that input will be carried across your entire system. Likewise, when reviewing your reports, it is easy to carry that information across all facilities if any errors or minor modifications are found or requested. Striving for consistency also allows you to address inputs from your team. It will enable them to bring their ideas and critiques about the report or related work practices forward, and any valid or significant changes will carry across your entire system.


The second benefit is a consistent appearance. When you source a single firm to carry out your Arc Flash Study, you are ensured that all reports, labels, and recommendations are consistent at each location. This has the added benefit of allowing electrical or maintenance workers to move between sites without the need to brief them on the study or labeling differences. From a management and EHS standpoint, familiarity with the reports and labels, and PPE requirements are shared, so when managing multiple groups, you only have to refer to one style of report and label. Anyone familiar with your Arc Flash Study can go to any site and easily retrieve the information they need to safely conduct their work at that site.


The third is consistent content. Having all safety-related documents match is helpful when managing a large organization. This allows the management and safety team to be on the same page and be interchangeable. It also helps improve your organization's ability to make safety-related changes around Electrical work based on the information and findings in the reports. The Electrical Safety Policy or Plan for your site is an important document. Having consistent content to help build your company's policies around safe work practices is extremely helpful. This will eliminate the need to have multiple documents, and minor modifications can be made to the master ESP to address site-specific situations at each facility. This also helps when it comes to workers or managing teams that work across multiple locations.


There are many other benefits, but the last one I will touch upon is updating. When revisiting your Arc Flash Studies or ESP, having fewer hands in the mix is a big advantage. When choosing a single firm, you can rest assured that all the documents will be easily attained to be reviewed and revised. Again if anything from an operation perspective has changed in the last 5 years for a study update or 3 years for your ESP review, those changes can easily be integrated into the reports and carried across all facilities.
This has given insight into the benefits of partnering with a single firm to help you get into or remain in compliance. At Hallam-ICS, we have many partnerships that have adopted this model. It really curves the compliance struggles around electrical compliance. If you would like more information or would like to discuss your facility's needs, please reach out to me. Be sure to check out my blog on how to build a budget for long-term arc flash compliance.
Jason Mazzola
Director of Electrical Safety – SNE
508-821.9759
About the author
Jason Mazzola is the Director of Electrical Safety Services for Southern New England out of our Mansfield, MA office. He joined Hallam-ICS in 2019 and prior to that spent 10 years in utility industry in various engineering and leadership roles.
Read:
About Hallam-ICS
Hallam-ICS is an engineering and automation company that designs MEP systems for facilities and plants, engineers control and automation solutions, and ensures safety and regulatory compliance through arc flash studies, commissioning, and validation. Our offices are located in Massachusetts, Connecticut, New York, Vermont and North Carolina and our projects take us world-wide.